Energy and Natural Resources Minister Berat Albayrak announced a possible drop in natural gas prices in an interview with Daily Sabah on Tuesday. Albayrak said that there has been a mutual agreement between Russia and Turkey on the matter. As the two countries continue the process of normalizing bilateral relations, the energy minister said that both Turkey and Russia are taking sincere and positive initiatives in relations. The two countries had signed an inter-governmental agreement on realizing the construction of the planned Turkish Stream gas pipeline to pump Russian gas under Turkish waters in the Black Sea toward Europe.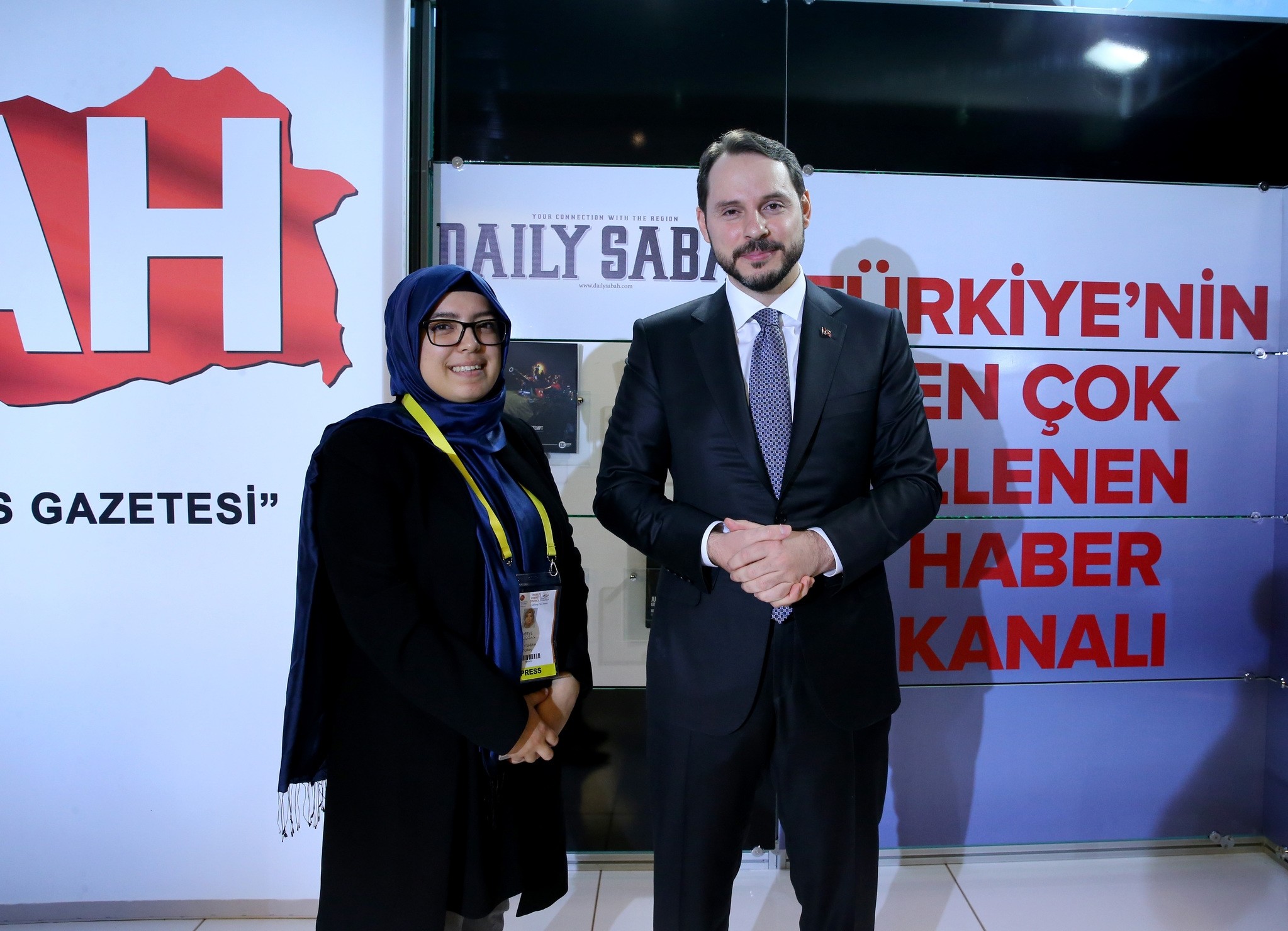 Minister Berat Albayrak (R) and Daily Sabah's Merve Aydoğan
Commenting on the Turkish Stream project, Minister Albayrak said that there are two pipeline transports within the framework of the recently signed pipeline project.
The Turkish Stream gas pipeline project, which was initially announced by Russian President Vladimir Putin during visit to Turkey on December 2014 to carry gas from Russia under the Black Sea to Turkish Thrace as one line, with a 15.75 billion cubic meters capacity, is expected to supply the Turkish market with a second carrying gas to Europe. However, the negotiations over the pipeline were halted after Turkey shot down a Russian jet over the Turkey-Syria border in November last year but have since been resumed. "We have been communicating with Russia in the framework of a win-win policy thus [we] have displayed a positive stance in this respect," said Minister Albayrak. While Albayrak in his remarks underlined that the first pipeline is to be implemented for domestic markets by the end of 2018, he said that exporting natural gas via Turkey will be more meaningful after finalizing work on the second pipeline. Albayrak announced that Turkey and Russia have reached a mutual agreement as Turkey will continue to make its appeals during the arbitration procedure. "We are working toward natural gas and electricity prices. There will be good news in the upcoming days [regarding the matter]. We will continue our efforts in price cuts on this and in other relevant areas," he added.
In regards to the Akkuyu Nuclear Plant, which is the first of three nuclear power plants Turkey currently plans to build to reduce its energy dependence following a decision to nationalize the power transmission lines, Minister Albayrak said that the government's efforts in this matter is rapidly continuing. He further added that 10 percent of Turkey's energy will be provided from all three nuclear power plants once finalized. Albayrak urged people to not be concerned by Turkey's energy demand and security. Albayrak announced that Turkey has signed a number of agreements on energy, natural gas and infrastructure investments. Commenting on the 23rd World Energy Congress, Albayrak stated that the congress has attracted great interest and has experienced significant attendance. "We have signed important agreements with Cyprus in the field of all kinds of infrastructure... I will hold an important meeting with the Israeli energy minister in Istanbul," he said.