As more than 60 percent of African nations are without basic energy services, the 23rd World Energy Congress in Istanbul marked its final day on Thursday with a special focus on Africa, under the theme of securing a sustainable energy future for the continent. Though Africa poses a number of challenges, it also provides great opportunity for energy sector investors, especially with its huge prospects for renewable energy.
Speaking at the congress on Thursday, Andrew Kamau, Principal Secretary in the State Department of Petroleum at the Kenyan Ministry of Energy and Petroleum, drew attention to the necessity of renewable energy. He urged for a stable legal system, which would not change according to changes in regimes and thus attract investors to African nations. He also noted that "Africa is a black box and there is a lack of transparent information." The final day of the congress provided discussion on disruptive business models, as rural development opportunities in Africa were addressed in the scope of off-grid versus on-grid solutions and small-scale versus large-scale projects.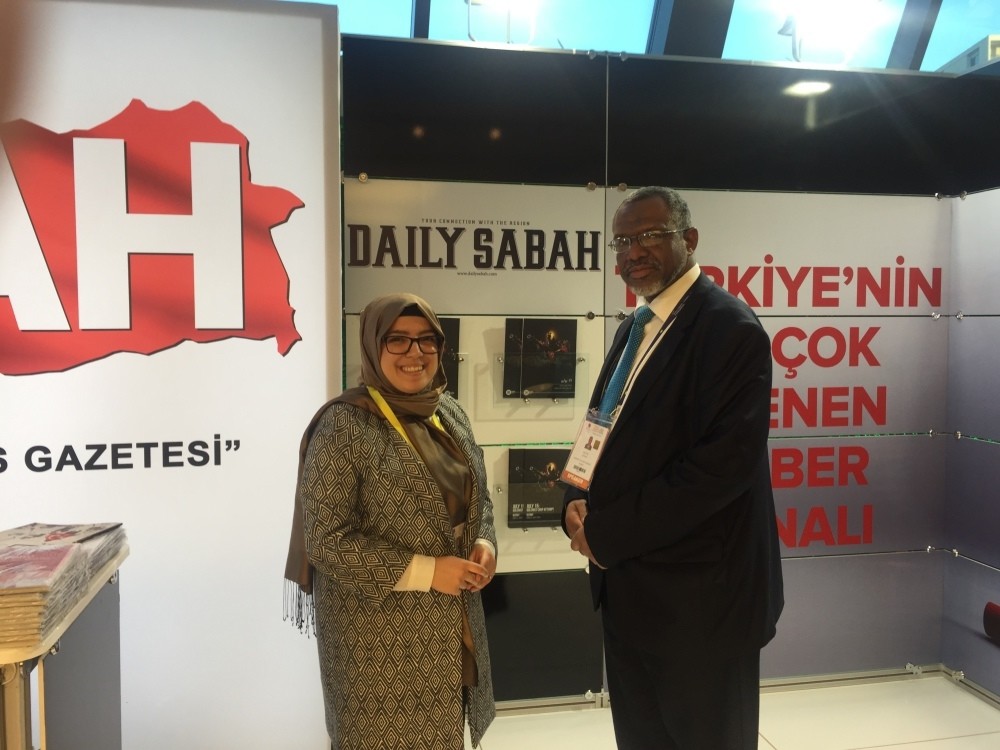 Daily Sabah's Merve Aydoğan meets with Sudanese Minister of Water Resources and Electricity at the 23rd World Energy Congress in Istanbul Thursday.
The term "trilemma" was widely used at the congress in reference to the balancing act between energy security, equity and sustainability. It was also applied to the Africa discussions as prominent energy experts addressed the necessity of mobilizing more private funds to deliver sustainable energy systems within this framework. While Africa has a diverse wealth of energy resources including deep oil and gas reserves, along with great potential for renewable energy including solar and hydropower, the International Energy Agency (IEA) has reported that the energy received from renewable sources across sub-Saharan Africa will increase by nearly 65 percent between now and 2040. With this in mind, the chairman of Standard Bank Group Ltd., Thulani Gcabashe, stressed the necessity of energy diversification and energy efficiency, noting that the demand for energy is not equal throughout Africa.
Sudan determined to enhance energy resources
Speaking to Daily Sabah in an exclusive interview on Wednesday, the Sudanese Minister of Electricity and Water Resources Mutaz Musa Abdullah Salim announced that Sudan is already engaged with Nubia for four years, currently supplying almost 5 percent of the country's energy needs. Minister Salim further noted that Sudan is planning on seeking further partnerships in the region in the coming year, with Turkey prioritized, followed by Egypt.
As the Sudanese Minister noted that Turkey and Sudan had experienced rapid cooperation, he said that the countries agreed on "certain specific land to be aggregated as a pilot project for Turkey." He continued by adding that "we are close to implementing the project as the land and necessary water are already assigned; so the next step is to implement it, which is planned for early 2017."
Implementing projects in African states remains risky for investors according to experts at the congress. However, Minister Salim said that Turkey is one of the promising markets, as he noted that the main criteria are confidence and the ability to implement. Commenting on possible projects between Turkey and Sudan in the energy sector, Salim said, "We are starting with small-scale projects as I have discussed with the Turkish Minister of Energy [Berat Albayrak] this afternoon. We are coming together with a common understanding to work on solar systems and wind generation early next year as we are to witness development in this regard." Praising the Turkish government for dedicating one full day to Africa at the congress, the Sudanese Minister noted the usefulness of the discussions, and underlined that the event "reflected the generosity of the Turkish character."
Regulation in financial projects a must, says Uganda
Uganda is one of the fastest-growing countries in the energy sector, with Germany recently providing 93.5 million euros ($103.1 million) in grants to finance new projects in energy, water and agriculture over the next two years. Uganda's Energy Minister Simon D'Ujanga said on Thursday that the country had invested in different projects in the energy sector to create clean energy and incentivized others to follow suit.
He noted at the congress that, "We have to fill the gap in power transmission and distribution in Uganda. There is a need for regulations in financial projects, as the return on investment can take 20 years to realize in some projects." He added that a skilled workforce, which could be achieved through the education of future leaders, was required along with the acceleration of infrastructure development and regional integration.
Speaking to Daily Sabah on Thursday, Minister D'Ujanga said the congress had met expectations, noting that participants had a chance to address their issues over one whole day. Underlining that he had met with Turkish Minister of Energy, Albayrak, Uganda's Minister said, "We would like investments in areas including hydro-generation, solar, wind and petroleum, but most important is receiving training from the Turkish government. As we discussed with Turkish officials, we want our young minds to come here and train here." He noted that the projects in energy investments as well as training of Ugandan youth in Turkey are to be proposed to the Turkish government in early 2017. Commenting on the current prices of petroleum, D'Ujanga said that, "even though it may go down, we always know it will eventually come up."