Jihad al-Jebrini has found a solution for West Bank's electricity shortage by turning the Al-Jebrini Dairy Products Factory into an ecological power plant.
Al-Jebrini, who owns one of the largest cattle farms in the West Bank, decided to meet his own electricity requirements with cattle manure due to power outages that crippled his business in the Yatta district where his factory is located.
CEO al-Jebrini told reporters from the Anadolu Agency that when the factory was founded in 2009, he had tried using a diesel generator. As disposing of the cattle manure is already a big effort on such a large farm, he decided to put it to better use.
Around 1,000 cattle on the farm produce tons of manure every day, al-Jebrini explains, saying, "We did research for a long time on finding a different solution, and that research led us to produce electricity from the methane gas produced by processing animal waste."
The excess electricity from the factory is directed into the local power system, helping to relieve the shortages that are a common problem in the West Bank.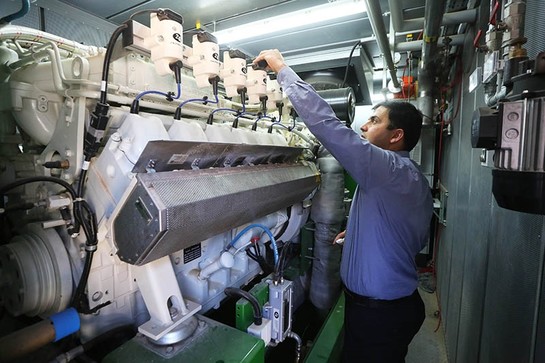 An expert in sustainable energy at Hebron's Palestine Polytechnic University said that the manure system produces 380 kilowatts of energy an hour, with only 20 kilowatts going to the factory itself and the remainder going into the area's energy grid.
The power entering the grid from the factory is given free of charge, with ongoing negotiations about selling the excess electricity.
Al-Jebrini's factory alone outputs enough electricity to meet the energy needs of one-third of the 100,000 population of Yatta district.
By collecting organic waste, such as fruit and vegetables, al-Jebrini plans to increase the factory's power output to as much as 7 megawatts, which they hope will solve the shortage in the Hebron region.
A further plan on the farm is to install solar panels across the 20,000 meter-squared farm, producing additional 4 megawatts of energy.