With current coal reserves of more than 15 billion tons compared to nearly 8.3 billion tons in 2005, Energy and Natural Resources Minister Berat Albayrak late Friday said at an iftar (fast-breaking) dinner held with the employees of Turkish Petroleum (TP) in the northeastern city of Kırklareli located in Thrace that the region's potential for coal production coupled with the demand for resources gives rise to the urgent need for developments and the maximizing of those resources for the economy.
In his address to TP employees, Minister Albayrak emphasized the significance of energy as a driving force of the economy, saying: "Energy is essential for a civilization to broaden its horizons and is at the core of a country's economy, industrialization, manufacturing and employment."
Emphasizing that Turkey's national energy strategy necessitates the more efficient use of domestic and renewable resources across the country, including solar and wind powers, coal, hydro-powered energy and natural gas, the minister explained that the production of coal from domestic reserves, which stand between 12-13 percent compared to 40-50 percent in the Europe and worldwide. He further noted that the Ministry aims to increase this rate to 17-18 percent in the near future as energy; particularly energy based on domestic resources, is crucial to the development of the Turkish economy, which outpaces many fellow emerging-market economies.
The minister talked in particular about the abundant resources in Thrace, stressing the coal reserve in Thrace with nearly 2 billion tons. Indicating that Thrace consumes almost one-fifth of Turkey's electricity, the minister underscored that the region has to generate most of its energy from the local reserves located on the other end of Turkey in the eastern Black Sea. To meet the energy demand of the region from the far end of the country, the ministry has to install a very long production line. However, the region will sustain its energy from its local resources as it has a coal reserve worth $50-70 billion in economic value, Minister Albayrak noted. At present, there is only one thermal power plant with a 300-megawatt (MW) capacity but there are a few coal-powered thermal power plants planned for construction in a few Thrace districts.
Coal's share in overall domestic energy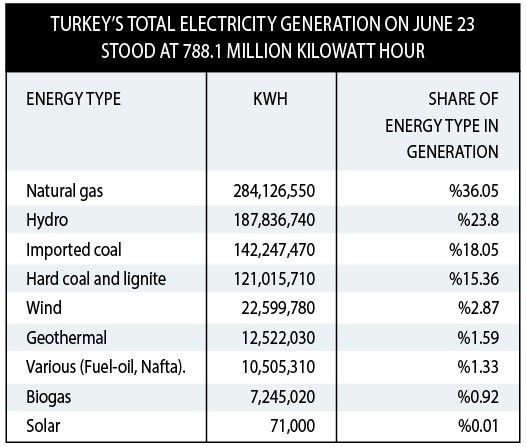 Having grown rapidly over the past decade, Turkey has depended on energy to a great extent. However, since its domestic resources are limited to mostly lignite - a type of coal generally used as a fuel in thermal power plants - and hard coal, it has heavily relied on natural gas for electricity generation.
Amid aims to meet the demand for energy which increased in tandem with industrialization and the population increase, efforts to find new coal fields and develop the existing ones have been sped up within the framework of the national energy strategy. These efforts have highlighted the utilization of domestic resources and lessening the country's dependence on imports in the production of energy since 2005. In addition to the 8.3 billion in existing reserves in 2005, 7.3 billion tons of new lignite reserves were discovered as a result of these explorations, which, in return, expanded the share of coal in overall energy production and consumption.
According to statistics published by the Ministry of Energy and Natural Resources, by the end of 2015, Turkey possessed 126.9 million tons of Equivalent Petrol (MTEP)* with the share of coal in total primary energy consumption standing at 27.3 percent compared to its share worldwide of 40 percent.
Moreover, the statistics provided by the ministry also revealed that as of the end of 2016, the installed capacity of coal-powered power plants in Turkey was 17.316 MWs, equal to 22.1 percent of the total installed capacity. The installed capacity of domestic coal-fired was 9.437 MWs, corresponding to a 12.1 percent while imported coal-powered capacity was 7.879 MWs, which makes 10 percent of total installed capacity.
In 2016, 32.1 percent of electricity generation was derived from natural gas while 33.9 percent (92.3 terawatt hours) was based on coal. Of the overall electricity generation, 24.7 percent was hydro-based. Wind power, geothermal plants and other resources constituted to 5.7, 1.8 and 1.8 percent of electricity generation, respectively.
The estimated potential in production of lignite coal as a local resource used in energy production in accordance with Turkey's Coal Strategy - is around 25,000 MWs. Once this capacity is commissioned, 32.5 billion cubic meters of natural gas - worth $7.2 billion - can be eliminated from current energy imports.
The development of clean coal technologies
As clean coal technologies are improving on a constant basis with intensive research and development (R&D) investments, the CO2 emissions by coal have decreased to a significant extent. For instance, Germany, secured 43 percent of its energy from coal as the country developed the means to turn one "black" mine to "green."
Determined to further development and advance the application of a range of clean coal technologies, Turkish utilities, technology developers and universities are pursuing a number of projects. There is increasing involvement in international projects and, in many cases, growing links with overseas counterparts.
Gasification is one of the clean coal technologies Turkey employs. It is the process of producing syngas, a mixture consisting primarily of carbon monoxide (CO), hydrogen (H2), carbon dioxide (CO2) methane (CH4) and water (H2O), from coal and water. Historically, coal was gasified using early technology to produce coal gas, which is a combustible gas traditionally used for municipal lighting and heating before the advent of industrial-scale production of natural gas.
The Turkish Coal Enterprises' (TKİ) gasification-based R&D is focused on three related categories: Namely, conventional gasification plus associated downstream syngas processing - gas cleaning, conditioning and separation underground gasification - and advanced processes.
In 2011, the TKİ engaged with the investment banking firm Taylor-DeJongh (TDJ) to evaluate a lignite-based gasification project for the production of syngas.
A feasibility study was also funded by the U.S. Trade and Development Agency (USTDA) on the gasification of Turkish lignites and was completed in 2011. The USDTA provided the TKI with a working grant. The study examined the technical, economic and financial feasibility of converting Turkish lignites to pipeline-quality syngas via gasification.
Coal gasification research is also undertaken by the Energy Center of Koç University Tüpraş (KÜTEM), established in 2012 with funds from Turkish oil refiner Tüpraş primarily to address Turkish energy-related challenges. Main areas of interest are the development of new coal utilization technologies for low-ranking Turkish lignites, synthetic fuel production from coal-derived SNG and the development of associated technologies for gas separation and clean-up.
The private sector is also involved in gasification R&D. In 2011, Zorlu Energy, a subsidiary of Turkey's Zorlu Group, completed construction of a 2 MW pilot-scale fluidised bed gasifier and associated R&D unit. This is operated in partnership with the Scientific and Technological Research Council of Turkey (TÜBİTAK).
*The MTEP is a unit of energy defined as the amount of energy released by burning one ton of crude oil, which is approximately 11,630 kilowatt hours (kwh).