Malaysia has seized more than $2 million worth of scales from pangolins, the world's most poached animal, at Kuala Lumpur airport in the largest haul seen in the country, officials said on Monday.
Customs officials acting on a tip-off discovered 712 kg (1,570 lb) of scales at the airport's cargo warehouse, where they had been shipped in 18 sacks using false documents, Customs Department assistant director-general Paddy Abdul Halim said.
Wildlife and National Parks Department deputy director of enforcement Rozidan Md Yasin said an estimated 1,400 pangolins had been killed to produce the amount of scales seized.
Shy and near-sighted, pangolins only venture out from the safety of their burrows or tree-top homes at night to scour for insects. When startled, they curl up into a ball – a technique that is futile against the cable snares set by hunters.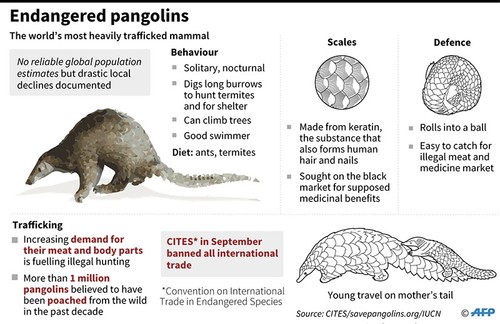 The scales were shipped from Africa in two separate shipments, Paddy said. The first shipment from Accra, Ghana had been sent to Malaysia via Dubai, United Arab Emirates on an Emirates Airlines flight.
The second was sent from Kinshaha, Congo on Kenya Airways to Nairobi, Kenya, where it was then transferred to an Emirates Airlines flight and shipped to Malaysia via Dubai.
"We are still investigating whether the two shipments are linked," he told a press conference.
No suspects had been detained and it was still unclear whether Malaysia was the final destination for the scales as no recipients could be traced.
Pangolin scales shipped to Malaysia were usually sent on to Vietnam and China, Rozidan said.
The value of pangolin scales varied according to region but could fetch up to 1,500 ringgit ($346) a kg on the Malaysian black market, he added.
The offices of Emirates Airlines and Kenya Airways did not immediately respond to requests for comment.
Pangolins are indigenous to the jungles of Indonesia, parts of Malaysia and areas of southern Thailand, and their meat is considered a delicacy in China.
They are classified as a protected species under the UN's Convention on International Trade in Endangered Species and international trade in any Asian pangolin species is banned under the convention.
The shy pangolin's brown scales are made of nothing more than keratin -- the same substance as fingernails -- but are highly prized in Vietnam and China where they are misleadingly touted as bearing medicinal properties.
Soaring demand for the products has seen an estimated one million pangolins plucked from Asian and African forests over the past decade, shunting them onto the list of species at the highest risk of extinction.
Wildlife officials have said pangolins face a serious threat from poachers and smugglers in Southeast Asia with inadequate punishment and lack of information encouraging the burgeoning trade.