Prime Minister Ahmet Davutoğlu on Tuesday visited Strasbourg to give a speech at the Parliamentary Assembly of the Council of Europe (PACE), as Turkey is a founding member of the organization. After his speech, Davutoğlu said three dimensions of his visit are significant: "First, we made a speech in the council for the first time since the Nov. 1 elections. We had an opportunity to explain the new government's approach and reform program. Secondly, as I emphasized in my speech, Turkish was named a working language, which is a first. And thirdly, we became a grand payer, being listed among the top-six countries for our contributions: Germany, Britain, France, Italy, Turkey and Russia." Prior to his departure to Ankara, Davutoğlu answered questions asked by the press.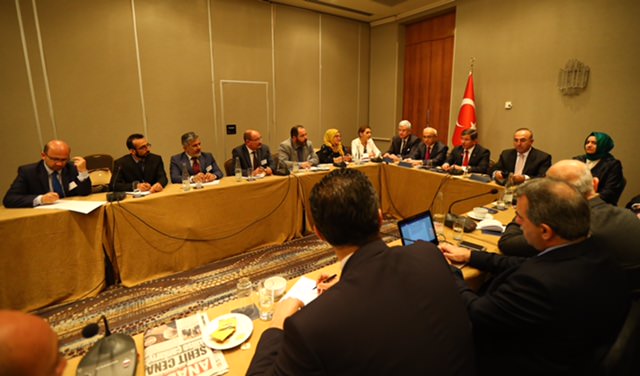 PM Davutoğlu (2-R) with journalists, including Daily Sabah's Solmaz (far L), in Strasbourg.
It is said that there are some negative signals lately regarding the EU's promises about visa exemption and readmission agreement. There are claims about the government. Is there any obstacle that hinders the complete maintenance of this agreement?
As for the government, none of us – me, the foreign minister and the EU minister – have a negative approach to the subject. There is only a news report published by a German newspaper. And no European authority has yet used a negative expression. It is an if question. When it is said what will Turkey do if Europe does not keep its promises, it should be remembered that this is a reciprocal promise. We would not have any option other than saying that we would not keep our promises, either. I do not regard such a thing as possible. For the first time since November, a process has been functioning with reciprocal moves and without implicating each other. For instance, we were all deeply touched by the baby Aylan's body. Do you follow what is going on in the Aegean? While we were signing the agreement, it was said Turkey would turn into a county of immigrants. We've been implementing the agreement since April 4. During the summit in November, the average daily number of refugees was 6,880; this number declined to around 60; in other words, it decreased to 1 percent. On April 10, no refugee passed. We successfully managed the psychology of this issue and organized the groundwork and mechanisms effectively. The number of refugees heading to Turkey is around 300 while some of them in Turkey are leaving the country. A well-calculated action plan is being implemented. There is no malfunction so far. The readmission agreement and visa exemption are in the same package. If they do not issue the visa exemption, we will not implement the readmission agreement. Then the issue returns to its initial state. This is an interdependent subject. There is an inclination in Turkey to point out the negative aspects. Why not try thinking positively; why is a crisis expected? It goes well. This weekend, [German Chancellor Angela] Merkel and [European Council President Donald] Tusk are to visit Turkey. The process is ongoing with the principle of "pacta sunt servanda". But still, some people in Turkey and the EU expect the process to collapse.
The opposition in Turkey and radical movements in the EU expect failure. We covered a great distance concerning the terms and conditions of visa exemption. I spoke to [European Council President Jean-Claude] Junker about that; no one was expecting such a high performance. There were 72 criteria, but now the number decreased to a single digit. The political ethics law and the return of convicts law are currently in Parliament. Some eight international conventions are to get through the commission this week. We are always putting new checks on the list [EU Minister and Chief Negotiator] Volkan [Bozkır] has. At each Cabinet meeting I ask about the progress. We are to receive the visa exemption in June. Will someone create obstacles? Of course, there will be some efforts in this direction, but even the most dissident groups started to understand that the process is healthily operating and achievement is on the horizon. Rejection of the visa exemption won't only be against Turkey, but against everyone in the equation. Only one way leads to acquisition: They will issue the visa exemption, and we will implement the readmission agreement.
There was a pro-PKK demonstration in front of PACE. Let me assume, if French President François Hollande and Merkel visit Turkey and proponents of DAESH, which is listed as a terrorist group by the EU, demonstrated, what would your government's approach be to that?
We would not allow any demonstration by a terrorist group with their own symbols. While the EU summit was held in Brussels, I stipulated lifting the tents in Belgium, which were lifted afterward. Unfortunately, Europeans still cannot empathize on that matter. They cannot think in our shoes. We had a positive meeting with the president of the European Court of Human Rights. I said during the meeting: "Turkey respects universal human rights, but in the face of the terrorism threat in the region where we are located, you cannot expect Turkey's implementations to be as peaceful as the ones in Norway or Sweden."
Here, we are obliged to take immediate security measures. They show solidarity while sending their condolences, but none of the Europeans has so far proposed to declare mourning for Ankara as they declared for Paris. PKK proponents insulted me at the place where I was to make a speech. They shouted slogans of violence and threats. Unfortunately, the culture of empathy is weak in Europe since they do not regard people as equal. Every life matters, but European lives come first according to them. We cannot accept such a mindset.
On the Turkish border with Syria, DAESH's assaults on Kilis are ongoing. DAESH also made another assault in Bashiqa, Iraq.
We are taking some measures regarding that. A major conflict is ongoing between the moderate opposition and DAESH just across our border. The rockets that hit Kilis are a sign of that. The opposition seized Çobanbey and made serious progress. Unfortunately, the factions claiming to fight DAESH remained insufficient in providing security for the opposition. There is gunfire support for Turkey. … The regime and Russians revived DAESH. Some rockets hit our territory, and sometimes they target our land deliberately. Our artillery is engaging in required interventions. It is an obligation to support the opposition for Turkey's national security. In Bashiqa we made DAESH suffer great losses. Lately, in Bashiqa, anti-DAESH factors saved some territories from the control of DAESH. All these developments indicate that Turkey's security begins across the border.
What kind of a result do you think will be issued in Parliament regarding lifting immunity? Some possibilities of missing votes are being discussed. Also, what do you think about the Peoples' Democratic Party's (HDP) approach to the subject?
Speculation indicates the AK Party would not favor lifting immunity and would be afraid of implementation. Large-scale negative propaganda was conducted. I asked my colleagues for 316 signatures. Fortunately, all 316 names signed without any missing person.
[Republican People's Party (CHP) Chairman] Kemal Kılıçdaroğlu and a CHP spokesman said the prime minister declares war on anything that does not affect him. So, what do they suggest I do, commit a crime and lift immunity afterward? I have never heard such nonsense. They even blamed me for not having a summary of proceedings. Do they suggest I commit an offense and be on equal terms? They want equality in negativities. First of all, I would like to ask about his summary of proceedings. I do not understand why he blames me. I have not committed an offense, and therefore do not have any summary. The judicial process must operate.