In an exclusive interview with Daily Sabah, Justice Minister Abdulhamit Gül said that Western countries are openly hypocritical about the war on terror. Gül asserted that Europe only cooperates with Turkey against Daesh but fails to do so against the PKK and Gülenist Terror Group (FETÖ). He also stated that most of their red notice requests are denied by Interpol.

"The Interpol secretariat general's uncooperative demeanor hinders Turkey's war on terror and delays the judicial process," the minister stressed.
Regarding the change in Turkey's counterterrorism laws demanded by the EU as a prerequisite for visa-free travel, Gül underscored that it's impossible to "implement changes that could weaken" Turkey's counterterrorism efforts.

He also talked about the Peoples' Democratic Party's (HDP) presidential candidate, Selahattin Demirtaş. The minister responded to the calls of the opposition to release Demirtaş saying it is a matter of the judiciary and that they wouldn't "tolerate any advice, statement or suggestion aiming to manipulate the judicial process."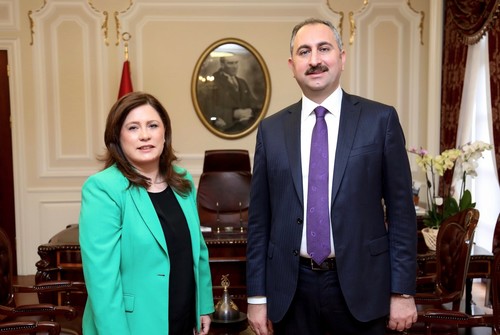 Touching on the status of Pastor Andrew Craig Brunson, who is a U.S. citizen currently under arrest in Turkey for committing crimes on behalf of the PKK and FETÖ, Gül underscored that "the independent and objective courts of Turkey will decide whether he is a pastor or a spy, not the Americans."
Meanwhile, he highlighted the new presidential government system that Turkey will transform into after the elections on June 24, Gül underscored that the new system will usher Turkey into an era with a more powerful Parliament and government.
Here's the full interview:

Daily Sabah: What is the latest on the extradition of FETÖ members who have been a part of terrorist activities including the coup attempt? How do you evaluate the demeanor of states who continue to protect these individuals despite mutual extradition agreements?
Abdulhamit Gül: These requests were made by the judiciary and according to the international agreements. In this regard, especially the Interpol secretariat general's uncooperative demeanor hinders Turkey's war on terror and delays the judicial process. The main reason for this is Interpol insistently avoids defining FETÖ's murders as terrorist attacks.

Interpol is disregarding the terrorizing coup attempt on July 15 2016, which martyred 251 and injured 2,194 our citizens. Our President Recep Tayyip Erdoğan is following the topic quite closely.

As you know, recently the Greek Court has decided to extradite one FETÖ member to Turkey. This is a result of Turkey's decisive stance on the matter. As our president states, our National Intelligence's intensive work on this matter have been yielding results effectively.
Meanwhile, some Western countries don't even feel the need to hide their hypocritical demeanor, despite the fairly recent terrorist attacks in France, Belgium, the U.K. and Germany which led to the death of hundreds of innocents.

These bitter facts are out there, the West should stop categorizing terrorist organizations on the basis of whether they are harmful to their countries or not. International documents such as U.N. resolutions, the Council of Europe Prevention of Terrorism Agreement and bilateral and multilateral extradition agreements validate our requests.

However, Europe only cooperates when the enemy is Daesh. Meanwhile, we as Turkey seek cooperation against all terrorist organizations including Daesh. Frankly, I believe there isn't a country beside Turkey, which approaches to this subject matter sincerely and comprehensively.

Our counterterrorism efforts will continue until the last terrorist is deactivated, no matter their name; Daesh, FETÖ, DHKP-C [Revolutionary People's Liberation Party/Front] or the PKK. There is no importance about the name of the terror organization for Turkey.

DS: The European Union presents a change in Turkey's current counterterrorism laws as a prerequisite of visa exemption negotiations. What is your take on this matter?
AG: For the implementation of visa-free travel, the EU is demanding Turkey to render its counterterrorism laws compatible with the European standards; they are asking us to soften these laws.

Before discussing this matter, it should be expressed that visa-exemption isn't a grace of the EU; it was a result of seeking resolutions that would address the refugee crisis.

Therefore, despite being a natural process, we cannot allow these negotiations turn into a control mechanism imposed on Turkey. This process shouldn't be transformed into a political debate and abuse the trust of our citizens to EU.

On the contrary, it should deepen the relations between Turkey and the EU. We want the process to proceed and we're evaluating all steps; however, it's not possible for us to implement changes that could weaken our counterterrorism efforts. Since there are premises, which were taken, there are also efforts to daunt Turkey with perpetual new conditions.

Actually, the principal interlocutor of the matter is our Foreign Ministry but it needs to be said that our country has taken every step to show its commitment by meeting with 65 out of the 72 criteria in addition to continuing efforts for the other seven criteria.
DS: The leader of the main opposition party, along with almost all presidential candidates of the opposition, request the release of the Peoples' Democratic Party's (HDP) presidential candidate Selahattin Demirtaş, who is currently incarcerated. Demirtaş is still on trial. Could you evaluate this in the context of the judicial process?
AG: The opposition might have a wish or might criticize, this is fine; however, we won't tolerate any advice, statement or suggestion aiming to manipulate the judicial process.

While talking about Selahattin Demirtaş all should be aware that he is currently incarcerated because of "administering a terrorist organization, propagating terrorism, opposing the law on meetings and demonstrations, openly inciting hate and animosity, inciting the public to disobey laws, inciting to commit a crime and praising a crime and criminal" and his trial continues.

Opposition parties are disregarding these facts and trying to discredit an ongoing trial before the public. Demirtaş was designated as a presidential candidate while he has been arrested more than a year ago. Should he be freed because he is a nominated candidate? This is absurd.

This decision is within the jurisdiction of only the judiciary. The public is watching all of these discussions and will respond at the ballot box. Justice cannot be trampled just because a person is a presidential candidate. Justice is for all, not for a select few.
DS: The main opposition's presidential candidate Muharrem İnce said that a U.S. citizen told him that Fetullah Gülen's extradition request wasn't a proper one. What is your response to this allegation?
AG: Muharrem İnce is a presidential candidate and aims to become the president with public support. I believe it's our right to expect a more national and supranational stance from him in regards with Turkey's counterterrorism efforts. These matters cannot be discussed with vague statements like "a U.S. citizen."

He is obliged to prove his allegation. Precisely with whom has he spoken with? What proof does İnce have? From where in the U.S. was he called? Washington, D.C., New York or Pennsylvania? He should specify these first.
We have appealed to the U.S. seven times for the extradition of the FETÖ ringleader. All of our appeals were in line with the "Agreement on the Return of Criminals and Mutual Legal Assistance on Criminal Matters between Turkey and the U.S."

Moreover, we have attached adequate evidence. In terms of content and formality, our requests satisfy all provisions that are specified in the mutual agreement. Although we have processed our requests over the return of FETÖ's ringleader in a proper way, we invited the delegation of the Republican People's Party (CHP) to our ministry for an information meeting.
DS: What's the latest about the return process of FETÖ's leader? Considering the legal process in the U.S. judiciary, where does Turkey stand at the moment?
AG: As I have expressed in the previous question, we have submitted seven separate return requests to the U.S. for Fetullah Gülen; four of these requests are related to crimes prior to the July 15 coup attempt, while the remaining three are related to the coup attempt and the attempted assassination of President Erdoğan.

Our president, the prime minister and foreign minister are closely observing the legal process; they also continue to express Turkey's expectations regarding the immediate extradition of Gülen whenever they have high-level meetings with their foreign counterparts. We are waiting for the U.S. to approve Gülen's extradition as the files we have submitted are proper and complete.
DS: What are your opinions about the Hakan Atilla trial?
AG: This trial shouldn't be evaluated by its results; it should be considered as a process. If we remind ourselves how this trial began and proceeded, we will have a clearer picture whether it has any value legally.
It's an ongoing trial which is "supported" by witnesses bought from the treacherous FETÖ along with acquired fabricated and illegal evidence.

In our opinion, this trial, which became rebuttable due to the loss of objectivity by the actions and statements of U.S. prosecutors and judges, is nothing but an attempt of FETÖ to conclude a half-finished operation in the U.S. In this respect, his sentence wasn't a surprise.
With sadness, we watched the U.S. legal system become a tool for such a scheme. This process has lost its legality a long time ago and is of no worth to us.
DS: The U.S. is constantly demanding the release of Pastor Brunson. There are claims that this matter is being used as a means to hinder military and political agreements between Turkey and the U.S. What is your take on this subject?
AG: The independent and objective courts of Turkey will decide whether Andrew Craig Brunson is a priest or a spy, not the U.S. This is an ongoing trial and we cannot talk on behalf of the court; the independent court will decide what is what. This is a public case and the trial is transparent; the court will have the last say in this matter. We should not allow this matter to create a political crisis between the two countries; let's allow the judiciary to do its job.
DS: The Justice and Development Party's (AK Party) election manifesto foresees more freedom, a more independent judiciary and more justice. What concrete steps will be taken to realize this discourse?
AG: We believe justice is an infinite ideal. You cannot just reach the pinnacle of justice and stay there; you have to continuously seek ways to improve it. It's an essential to human life just like food and water. We have to keep this source alive, as it is a task given to us by the public. For this reason, we advocate more freedom and justice in our election manifesto.
What will we do in this respect? Firstly, we will maintain our reformist identity. We will continue to implement the most rational and necessary legal regulations, establish the most advanced infrastructure, improve the quality and education of judicial personnel for a better service and bring the best judicial applications to our country. Our aims and efforts are stated in the Judiciary Reform Strategy document.
For instance, we will improve disadvantaged groups' access to justice. We will render judicial assistance more effective. We will also make the criminal justice system more sensitive towards victims. We will establish the legal infrastructure which will bolster the rights of victims and popularize assistance services.

Moreover, we will focus more on protectionist legal applications and improve the newly implement legal guardianship insurance.
To prevent our citizens from going to debt collection agencies for small amounts and to allow swift and costless collection, we will create a new proceedings system. We will take both the interests of debtors and creditors into consideration.
We will popularize the integration of the informatics network between courts and other public institutions to shorten legal processes.
We are on the same page with the public in terms of counterterrorism; we want all criminals punished and innocent people spared. We will continue to increase the capacity of the judiciary to ensure this. We will consolidate the independent, objective, effective and swift justice.
We will continue to make courts more humane rather than cold and distant, regulations with fewer loopholes. Moreover, legal processes will no longer become an infinite trial of patience; sentences will not hurt the public conscience; on the contrary, it will satisfy it.
DS: The presidential system Turkey will transition to after the June 24 elections foresees a stricter separation of powers. What developments should the public expect from the judiciary?
AG: Turkey will transition to presidential government system rather than presidential system; even though there are similarities, there are also nuances. One of the similarities is the stricter distinction between the legislation and the executive.

Nevertheless, the state is a whole despite all of its components; all functions should work in harmony with each other. Otherwise, regardless of the system, it won't be beneficial.
In the new system, the judiciary won't be much different. It was already independent and separate; this will continue to be the case. After all, the government systems are usually about the relation between the legislative and executive.

However, the judiciary will benefit from certain features like the reduction of bureaucratic procedures, increased transparency and dynamism in administration, and active engagement of the public in the government. It will usher Turkey into an era with a more powerful Parliament and government. A more democratic government system will be implemented and stability will be institutionalized.