SIMFEROPOL
–
Reshat Ametov, 39, was found dead on March 16 - nearly two weeks after he went missing after participating in a March 3 protest against the Russian troop presence in Crimea.
The body of the local activist, bearing marks of violence and torture, was discovered by police in a forest near a village about 60 kilometers east of the Crimean capital.
The Crimean television channel ATR has aired a video reportedly shows Ametov passing through a line of pro-Russia "self-defense" forces in front of the Crimean Council of Ministers building on Simferopol's Lenin Square, where the protest was held.
Local media have reported that when discovered near the Bilohirsk district village of Ortalan, Ametov's body showed signs of a violent death.
Ametov's funeral in Simferopol on March 18 came amid growing anxiety among Crimean Tatars are a Turkic ethnic group that currently make up 12 percent of the Crimean peninsula's population.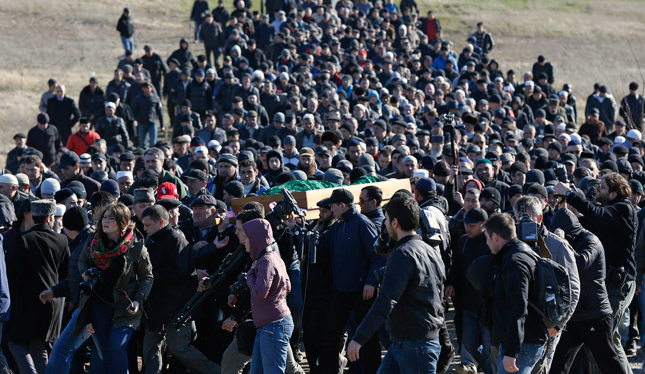 During World War II, they were accused of collective collaboration by Stalin and deported, and amid the ongoing crisis in Ukraine many expressed fears of reprisals by the Crimean Peninsula's majority ethnic Russian population.
'Complete lawlessness' in Crimea
The Crimean Tatars openly talk about their fear. Parents are afraid for their children, Russia and another deportation.
Speaking from Simferopol, Yulia Gorbunova of Human Rights Watch (HRW) expressed concerns about what she described as "complete lawlessness" in Crimea.
Gorbunova said the authorities in Crimea have no control over local self-defense forces or the armed men in unmarked uniforms who have appeared there in recent weeks. HRW has documented several attacks and disappearances of pro-Maidan activists and journalists in Crimea in the past week.
The population of Crimea has voted in favor of the Autonomous Republic of Crimea should joining the Russian Federation, but the chairman of the Mejilis - the unofficial political association of the Crimean Tatars - declared that referendum's results 'predetermined' and tatars opposes the referendum.
MK | Compiled from RFE/RL Inc.