European leaders finally sealed a deal Friday on British Prime Minister David Cameron's reforms after hours of haggling at a marathon summit, paving the way for a referendum on whether Britain will stay in the EU.
The European Union's two top figures, Donald Tusk and Jean-Claude Juncker, presented its 28 leaders with draft proposals at a long-delayed dinner after hours of painstaking face-to-face talks on an issue that threatened place in the union.
Shortly afterwards, Lithuanian President Dalia Grybauskaite wrote on Twitter: "Agreement #UKinEU done. Drama over."

Tusk also wrote on Twitter: "Deal. Unanimous support for new settlement for #UKinEU."
Cameron then tweeted that his country will have a "special status" in the European Union following a reform agreement struck with his 27 EU counterparts.
"I have negotiated a deal to give the UK special status in the EU," Cameron's tweet said.
"I will be recommending it to cabinet tomorrow."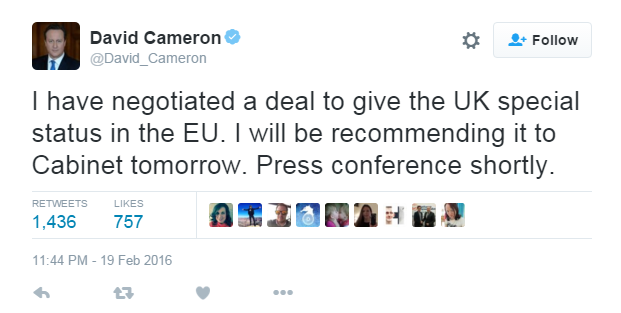 The deal paves the way for campaigning to start in earnest in Britain ahead of a referendum expected on June 23 -- and for Cameron to lead the "In" campaign.
He is now expected to return to London where, after a cabinet meeting on Saturday, the referendum campaign will whirr into life as ministers who want Britain to leave will be allowed to speak out for the first time.
The deal came after France, Belgium and eastern European countries dug in their heels over changes to areas including regulation for non-eurozone countries and benefit payments to EU migrants.
The talks that started on Thursday afternoon have dragged on for more than 30 hours as Cameron sought to cajole fellow leaders into supporting a deal.
"Negotiations are continuing into this evening. A cabinet meeting won't be possible tonight. One will be held if and when a deal is done," Cameron wrote on Twitter earlier.
Cameron must now sell his hard-earned reform package to eurosceptics in his party and to the British public, which opinion polls suggest is finely balanced on whether to back a Brexit.

- A 'credible' deal? -
Cameron was pushing for an agreement to limit the number of EU migrants coming to Britain and reassure voters that the key EU principle of ever-closer union did not apply to them.
However, eastern European countries were concerned that his plans were discriminatory and violated the EU principle of freedom of movement.
Brussels offered an "emergency brake" which Britain could invoke for a limited period if its welfare system is overwhelmed by the inflow of workers, as it believes it has been.
Maltese Prime Minister Joseph Muscat indicated that most countries looked set to accept a seven-year period for the emergency brake but British officials had said they wanted to see detail on this.
Cameron had said that without a satisfactory agreement, he would campaign for Britain to stay in the EU in a referendum and was prepared to walk away from the summit.
Under pressure from eurosceptics in his Conservative Party and an anti-EU popular press, Cameron has been pushing since his re-election last May for sweeping changes to the EU which he hopes will stop Britain from becoming the first nation to leave the bloc.
On day one of the meeting Thursday, Cameron urged his fellow EU leaders to reach a "credible" reform deal.
He added that the issue "has been allowed to fester for too long" and there was now a chance "to settle this issue for a generation".

- Headaches at home -
With the EU negotiation out of the way, domestic politics are set to cause him fresh headaches as key allies including London Mayor Boris Johnson make up their minds whether to support Cameron in urging Britons to stay or join the leave side.
One of his closest allies, Michael Gove, has already reportedly made up his mind to campaign for Brexit.
On Monday, Cameron's government is expected to table measures in the Houses of Parliament to set the date of the poll.
This will be Britain's second referendum on European membership in just over 30 years -- in June 1975, voters backed membership of the then European Economic Community (EEC) by just over 67 percent.
However, that failed to prevent years of divisive quarrelling about Britain's role in membership in the Conservative party, now led by Cameron.
It was this, fuelled by a surge in support for the anti-EU UK Independence Party led by Nigel Farage, which first prompted him in 2013 to promise a referendum.