An EU lawmaker affiliated with Greece's extremist far-right Golden Dawn party was ejected from the European Parliament plenary session on Wednesday, after making racist remarks about Turkish nationals.
Parliament President Martin Schulz said the unusual move was justified to maintain the "dignity of our house" and undercut efforts to make racism "socially acceptable."
He said the EU parliamentarian, Eleftherios Synadinos, would later get a chance to state his case. Schulz has in the past fined EU lawmakers who use racist language.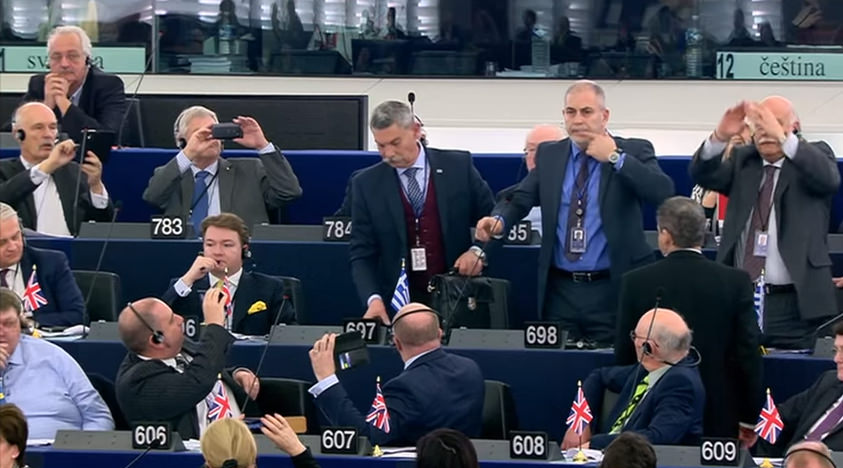 Synadinos made his controversial remarks during a debate that took place Wednesday morning at the plenary in Strasbourg, France, on a migration summit that the EU held with Turkey earlier this week. Synadinos in Greek described Turks as "spiritual barbarians, impious, cheaters and dirty," Schulz said. Synadinos went on with his racist remarks and said "the fist and decisiveness" is the only way to handle Turks.
Greece and Turkey historically have had a sour relationship, but have cooperated during the migration crisis and contributed toward a permanent solution to the reunification of Cyprus. Schulz called Synadinos' comments "unacceptable" and said they violated the EU's values and principles.
The Greek lawmaker left the plenary of his own accord after Schulz dispatched ushers to accompany him. The parliament president also quashed a protest by French far-right parliamentarian Bruno Gollnisch, telling him: "If you don't calm down, you will get a tranquilizer."
The incident took place on the day when Prime Minister Ahmet Davutoğlu and his Greek counterpart Alexis Tsipras co-chaired a joint cabinet meeting in the coastal city of Izmir.