An explosion, believed to be caused by a terror bombing, ripped the central Maelbeek station of Brussels, in which 20 were killed while 55 people were injured, 10 of whom remain in critical condition.

The death toll was initially announced by Brussels transport operator STIB as 15 killed, however, a later update by Belgian public broadcaster VRT raised the toll to 20.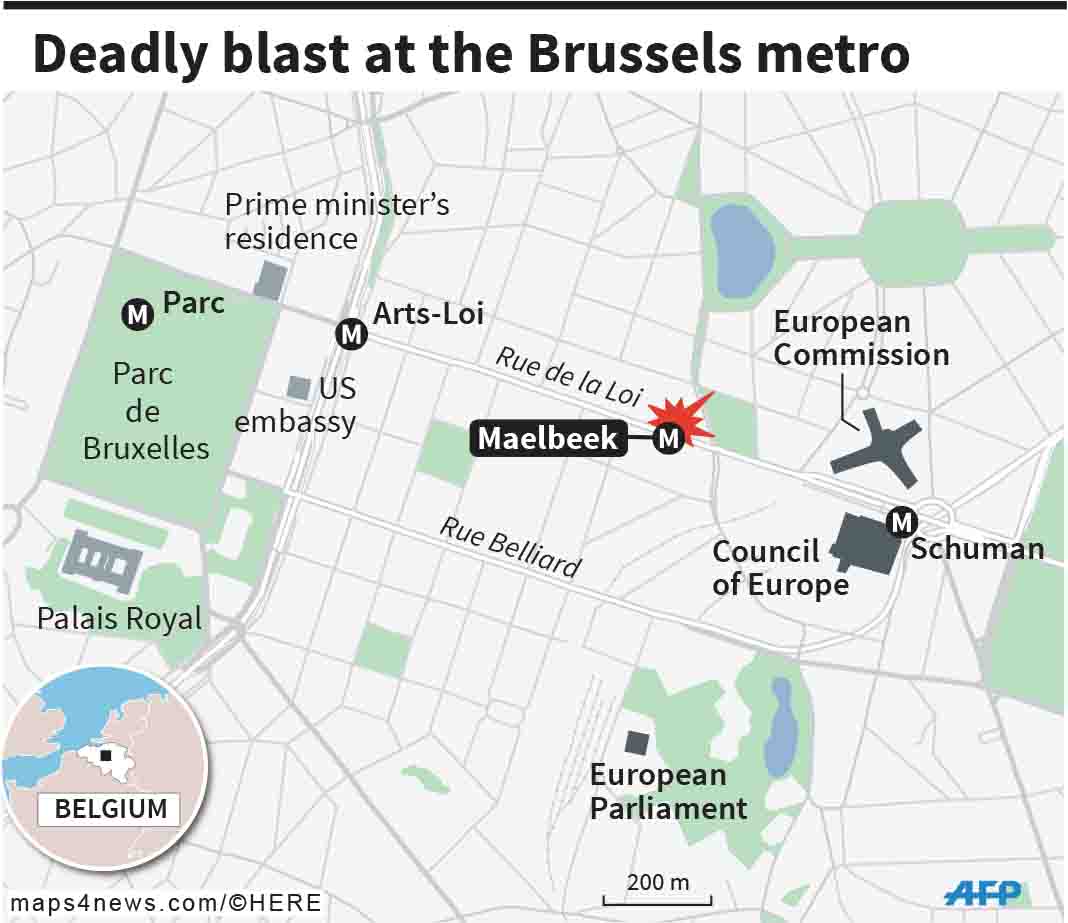 Maalbeek is located near the seat of most European Union institutions, and it is very close to Belgium's Royal Palace and prime minister's residence. Initial reports suggested that nearby Schuman station was also targeted, however, these reports are likely to be based on fumes rising from the station.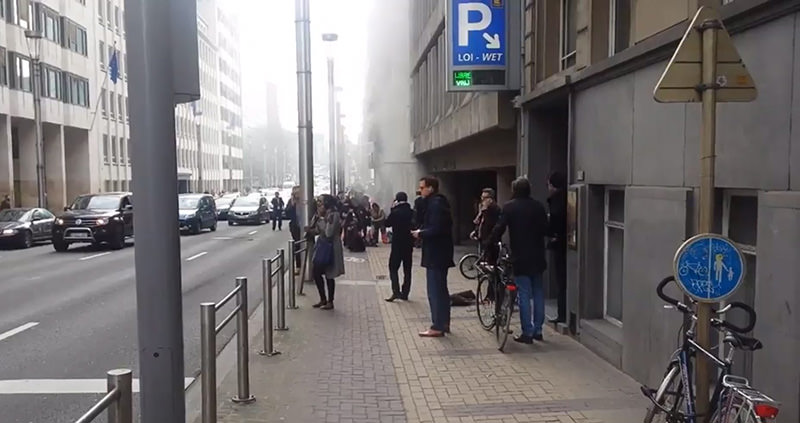 Meanwhile, Brussels Zaventem Airport was also targeted by twin blasts and gunfire, killing at least 14 people. The attack in the airport was identified as a suicide bomb attack by the Belgian federal prosecutor.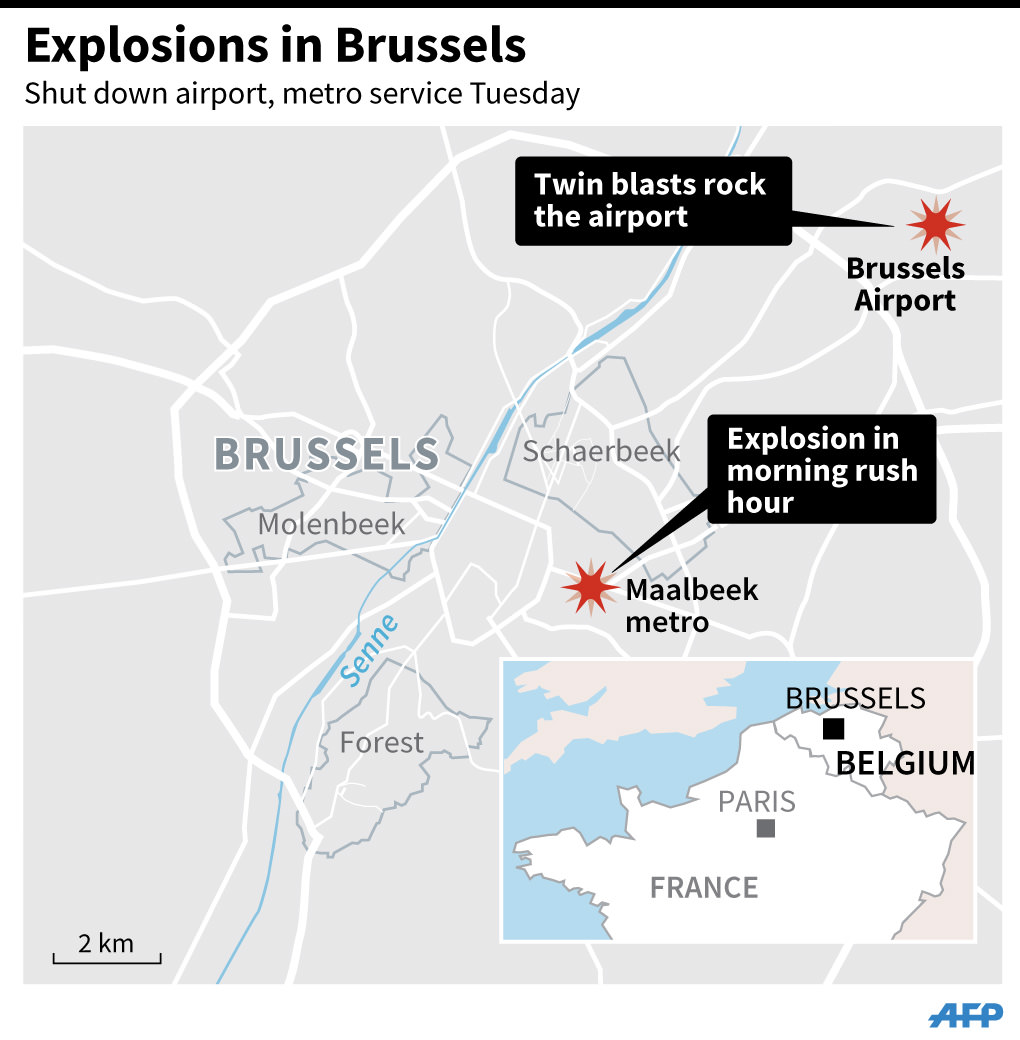 The explosions triggered a transport shutdown in the city. Flights were halted with metro, tram and bus services all suspended.
Brussels was entirely locked down for days shortly after the Paris attacks because of fears of a major incident there. The city has maintained a high state of security alert since then, with military patrols a regular occurrence. Last Tuesday, a shootout in the city's south saw a Kalashnikov-wielding man killed and four police officers wounded, while the key Paris suspect, Abdesselam, was arrested three days later in Brussels' gritty Molenbeek district – just around the corner from his family home. Stricter measures and a higher security alert were visible following the arrest of Abdesselam in Brussels last week.
Brussels attacks prompt tighter security across and beyond Europe
European security officials have braced for a major attack for weeks, and warned that DAESH was actively preparing to strike. Abdesselam's arrest on Friday heightened those fears, as investigators said many more people were involved in the Nov. 13 attacks that killed 130 people in Paris than originally thought, and that some are still on the loose. As expected, governments in Europe and beyond have responded to the deadly terrorist attacks in Brussels, calling emergency national security meetings and stepping up controls at airports and other sensitive sites. Airports swiftly announced they were boosting security, including in London, Paris, Frankfurt and Amsterdam.
France: Interior Minister Bernard Cazeneuve announced the deployment of some 1,600 additional security forces to secure airports and train stations. Thalys trains connecting Paris to Brussels, Amsterdam and Cologne have been suspended.
The Netherlands: Dutch Prime Minister Mark Rutte said the Netherlands advises against travel to Belgium after the attacks, and security was stepped up at airports, train stations, along the Belgian border and in the parliament in The Hague. Possible further measures on the border may be taken in consultation with Germany and France.
United Kingdom: Prime Minister David Cameron said he planned to chair a meeting of the government's emergency committee. At London's main airport, Heathrow, police were "providing a high visibility presence." Extra police are being deployed in London and other cities. The deployment at "key locations, including transport hubs" is "not in relation to any specific information or intelligence," said Metropolitan Police Assistant Commissioner Mark Rowley, who is Britain's national lead officer for counterterrorism. "These additional officers are deployed as part of [public] reassurance measures," he said.
Germany: Germany is also tightening measures at the country's border with Belgium, Luxembourg and the Netherlands following the terrorist attacks in Brussels. Foreign Minister Frank-Walter Steinmeier said his ministry had created a crisis hotline for Germans traveling in Belgium and their relatives. Italy: Prime Minister Matteo Renzi was due to chair a national security meeting at the Interior Ministry, while police sources said controls have been intensified in key Rome locations, including metro stations, airports and train stations.
Spain: Acting Interior Minister Jorge Fernandez Diaz called a meeting of anti-terrorism experts to decide whether to raise the national terrorism alert level from the current 4 to 5, the highest possible.
United States: Across the Atlantic, New York and Washington stepped up security in the wake of the attacks in Brussels on Tuesday, deploying elite counterterrorism reinforcements to crowded areas and train stations, police said. The New York Police Department said there was no indication that the attacks in Belgium were connected to New York City, but ordered the steps as the U.S.'s biggest city of 8.4 million began the morning commute. In the U.S. capital, metro transit police said additional K9 sweeps and patrols would start as a "precaution," adding that there was no known, specific or credible threat to Washington.