Belgian police issued a wanted notice for a man suspected of involvement in Tuesday's bomb attacks at Brussels airport that left at least 10 people dead.
Calling for information, they issued a photograph of a man, dressed in a white shirt and jacket and wearing a dark hat as he pushed a luggage trolley through the airport.
The photograph was a crop of a larger frame, taken by a security camera and released earlier by Belgian media. The uncropped picture also depicts two other men, walking side by side with the wanted suspect. Prosecutors said the other men subsequently died in the suicide bombing at the airport.
The wanted notice on Tuesday follows a similar call issued by the investigating judge on Monday for a Najim Laachraoui, 25, who had traveled to Hungary in September with Paris attacks suspect Salah Abdeslam. He was arrested in Belgium last Friday.
The poor quality of the images on the two wanted notices left it unclear whether the man in the white shirt at the airport could be Lachraoui, whose picture was on the front pages of Belgian newspapers on Tuesday morning.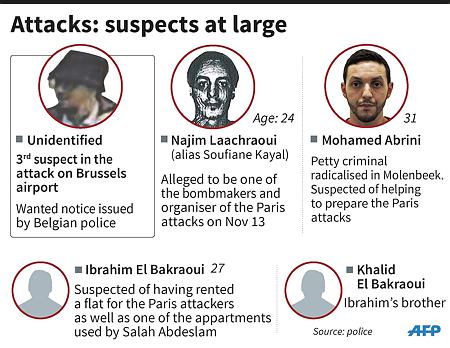 Belgian Federal Prosecutor Prosecutor Frederic Van Leeuw also said on Tuesday that a house search in the Brussels neighborhood of Schaerbeek has "led to the discovery of an explosive device containing, among other things, nails."

Investigators also found chemical products and a Daesh flag.

Their statement said the Daesh group had claimed responsibility for the attacks in Brussels via a press agency but that this information still needs to be verified.

Prosecutors said that it's not possible at this stage to establish any links between the attacks Tuesday in Brussels and those in Paris on Nov. 13 that left 130 people dead.

Police raids are happening around the country after two men "probably" staged suicide bombings at the Brussels airport and a third fled, the prosecutor said.

At least 31 people were killed and nearly 190 wounded in the two airport bombings and another in the Brussels subway system.

Prime Minister Charles Michel said the country will tighten security at its borders. He declared three days of national mourning after what he says were probably the most tragic attacks the country has seen in peacetime.