At least 14 people died and many others were injured following multiple explosions at Brussels Airport on Tuesday morning, as the country raised security alert to maximum level 4.

Belgian federal prosecutor said that all three explosions "were terrorist attacks."
The Belgian public broadcaster VRT said that Brussels airport bomb was an apparent suicide attack, and said 11 people were killed and 35 people were severely injured in the attack. Reports suggest that gunshots were also heard prior to explosions.
Another explosion also took place in the Brussels subway station Maalbeek, which is located near the seat of EU institutions. At least 10 people were killed in the attack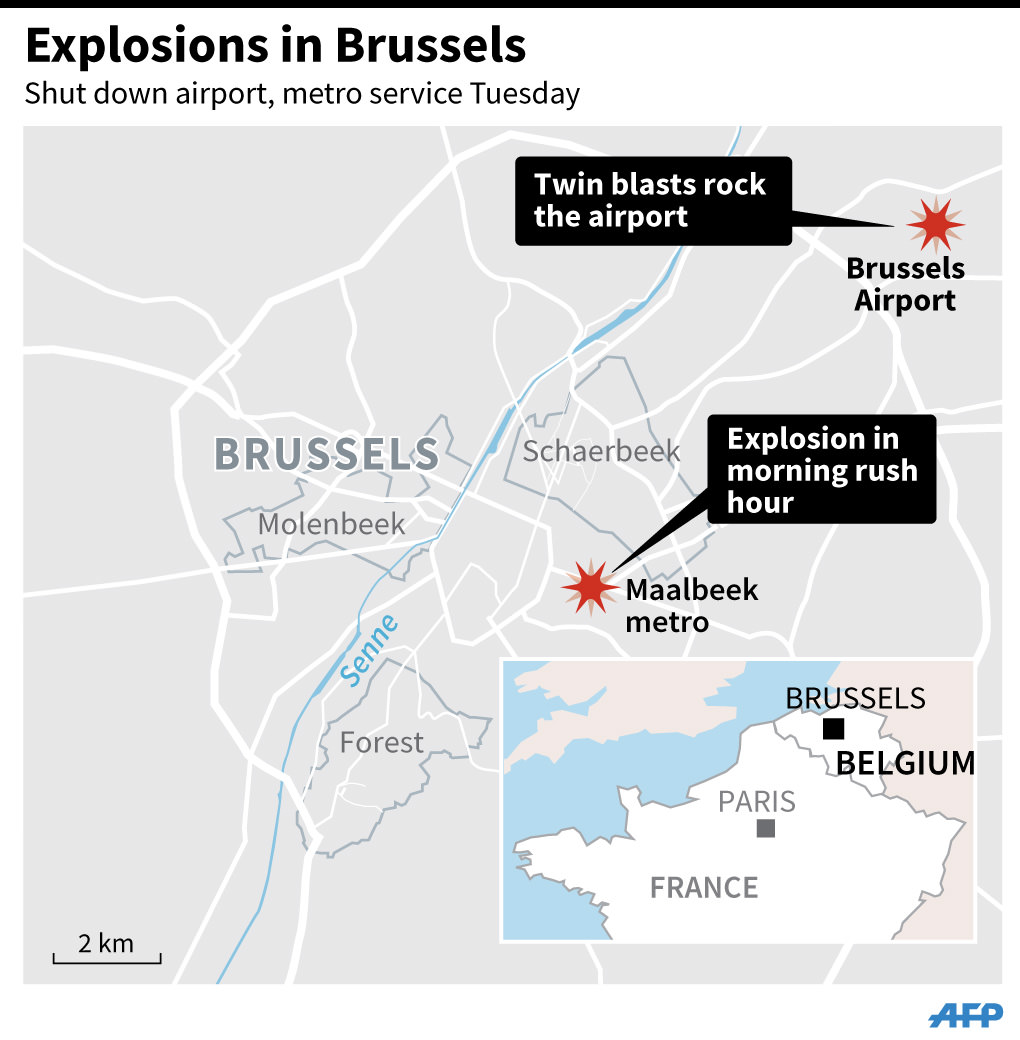 The Belga news agency quoted unnamed sources as saying that a blast had occurred too at the Schuman subway station, which is adjacent to the European Commission.
Sky news in London said the blasts had occurred in the departures lounge and cited reports it had occurred near the American Airlines desk.

The blasts occurred four days after the arrest in Brussels of a suspected participant in November terror attacks in Paris that killed 130 people. Belgian police had been on alert for any reprisal action.
Social media showed pictures of smoke rising from the departure hall where all windows had been shattered by the blast. Passengers were seen running away down a slipway from the departure lounge.

Sky News television's Alex Rossi, at the scene, said he heard two "very, very loud explosions".

"I could feel the building move. There was also dust and smoke as well...I went towards where the explosion came from and there were people coming out looking very dazed and shocked."

"The thinking here is that it is some kind of terrorist attack - that hasn't been verified by any of the authorities here at the airport."

Florence Muls, a spokeswoman for the Brussels Airport, said that a third bomb was neutralized at the airport after two other bombs killed at least 10 people there Tuesday morning.

Muls told The Associated Press the third bomb was dispensed of "with a controlled action" once the chaos of the first explosives had eased somewhat.

Elsewhere in the Belgian capital, anti-bomb squads detonated suspicious objects in at least two locations the Maelbeek subway station and close to Brussels University a few miles further away. Authorities said those two did not contain explosives.
Airport is currently under a lockdown and rail traffic has been suspended.

Turkish Airlines flight bound to Brussels was safely diverted to Liege after explosions hit the airport.

Maltese Foreign Minister has reportedly delayed his visit to Turkey after ministry officials were wounded in Brussels Airport explosion.

One Turkish citizen was among the wounded in the deadly attack in Brussels on March 22, Doğan News Agency has reported.

A Turkish official working at the Brussels Airport said that he could not get information about his colleague but later learnt that he was hospitalized at Leuven Hospital.