The results of a poll conducted by Chatham House, also known as the Royal Institute of International Affairs, revealed that 55 percent of Europeans think that all further migration from Muslim-majority nations should be stopped.
The London-based NGO released Tuesday on its website the results of the survey conducted in 10 European countries, with a sample of more than 10,000 people.
The results are a testament to the widespread fears and Islamophobia in Europe, which have resulted from decades-long anti-Muslim propaganda and stigmatization policies.
55 percent of those sampled said they agree with the statement, ''All further migration from mainly Muslim countries should be stopped'' whereas only 20 percent disagreed, and 25 percent neither disagreed nor agreed.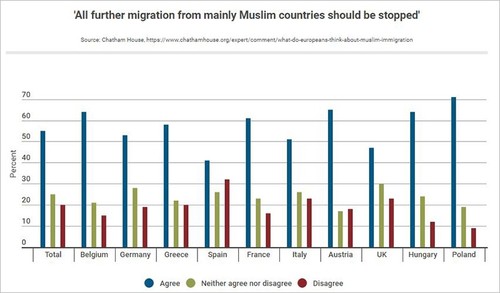 Poland topped the list of countries believing that all further migration from Muslim countries should be stopped, with 71 percent of respondents agreeing with the statement.
Poland was respectively followed by Austria with 65 percent, Germany with 53 percent, Italy with 51 percent, the U.K. with 47 percent, and Spain with 41 percent.
Chatham House noted that Austria, Poland, Hungary, France and Belgium had at least 38 percent of respondents strongly agreeing with the statement, despite these countries having very different sized resident Muslim populations.
The survey also noted that in urban areas, where migrants of Muslim background tend to concentrate, respondents were less likely to agree with the statement to stop Muslim immigration, whereas in rural areas, where there are fewer Muslim migrants, the rate of samples agreeing with the statement reached 58 percent, further proving that anti-Muslim sentiments and Islamophobia are motivated by politics, inaccurate media portrayals and stigmatization.
The NGO also stressed that the survey was organized between Dec. 12, 2016, and Jan. 11, prior to U.S. President Trump's travel ban on immigrants from seven Muslim-majority countries.