French President François Hollande called for "justice" Tuesday over the alleged rape of a black youth with a police baton, appealing for calm after more than a week of riots.
"Justice must be served," Hollande said during a visit to the working-class suburb of Aubervilliers, situated in the tough Seine-Saint-Denis region northeast of Paris where Theo, a 22-year-old youth worker, was assaulted while being arrested.
But Hollande also condemned the nightly violence after the February 2 incident in a high-rise housing estate, calling the rioting "unacceptable".
He said France was determined to "show that we are capable of living together in a peaceful society, but where respect is the rule and where we must be firm towards those who diverge from this principle."
Theo's treatment by four officers during a stop-and-search operation has sparked clashes with police and arson attacks in a string of impoverished, ethnically-mixed suburbs around the French capital.
Dozens of people have been arrested, including 25 overnight Monday.
Theo was hospitalised with severe anal injuries after one of the officers allegedly sodomised him with a truncheon.
The officer in question has been charged with rape and his three colleagues with assault. All four have been suspended.
On the other hand, at least 11 people were arrested overnight as riots continued over the alleged rape perpetrated by French police.
The arrests were made after clashes erupted between 50 protesters and police in the streets of Argenteuil - a northwestern suburb of Paris.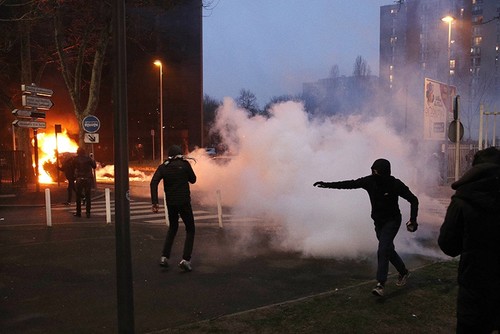 French daily Le Parisien reported other groups attacked a local police station, torched three police cars and threw Molotov cocktails in Les Ulis town, in the department of Essonne, south of Paris.
Some 2,000 demonstrators had gathered on Saturday in Bobigny, near Aulnay-sous-Bois where the alleged assault took place.
The protest turned violent and riot police fired teargas to disperse demonstrators. Footage from the scene showed cars set on fire -including two vehicles belonging to media organizations- and local authority buildings attacked with stones.
At least 37 people had been arrested, according to police.