British dockworkers have found a 250-kilogram unexploded bomb dating back to World War II on Wednesday in the southern English port city of Portsmouth, which halted all ferries and trains near the area for hours after the discovery.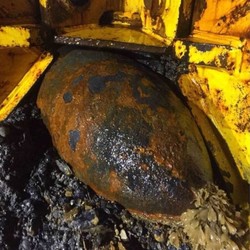 The bomb contains 135 kg of "high explosives" and was described as a "serious threat" by the Royal Navy. After the discovery, the Royal Navy Ordnance Disposal moved the German SC250 bomb to a secure location for deactivation.
Last week, another unexploded World War II bomb was discovered near Frankfurt airport and the device was successfully defused.
Unexploded bombs dating back to the aerial bombardments of Germany during World War II are still frequently found and many local authorities have teams working full-time to detect and defuse them.
In 2009, a Russian bomb from World War II was discovered just outside the Berlin apartment of Chancellor Angela Merkel, triggering a city-center lockdown as well as the evacuation of local residents, including Merkel.