With Britain's House of Lords giving the final parliamentary approval to the country's government to trigger Brexit Tuesday, Britain's withdrawal from the EU, which was backed by 52 percent of the British electorate in a referendum held in June 2016, the EU is experiencing its biggest setback ever since its creation.
The genesis of the European Union began after World War II, when the leading Western European nations felt the need to create an union in order to avoid future conflicts among European nations, boost and organize the trade, and the need to counter the Soviet Union, which controlled most of Eastern Europe at that time.
Within the framework of this project, Belgium, France, Italy, Luxembourg, the Netherlands and West Germany signed the Treaty of Rome in 1957, which established a customs union and created the European Economic Community (ECC).
In the following years, the Union gradually grew with several European countries joining the bloc one after the other.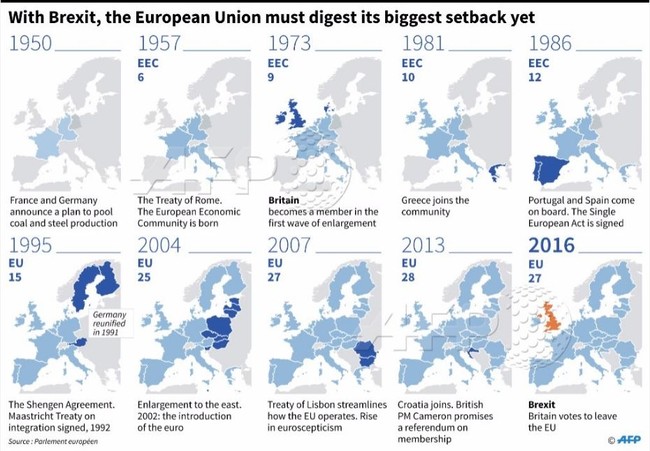 In 1973, the United Kingdom [which is now leaving], Ireland and Denmark were the first three countries to join the established union. In 1981, Greece followed these three countries as a new member. The union incorporated Portugal and Spain in 1986.
With the downfall of the Soviet Union and the Eastern communist bloc, Eastern Germany became part of the community by joining West/reunified Germany.
The European Union was formally established with the Maastricht Treaty of 1992. In 1993 Austria, Finland, and Sweden joined the EU.
In 2002, the EU introduced a common currency known as the euro, and in 2004 the EU saw its biggest enlargement ever when the Czech Republic, Cyprus, Estonia, Hungary, Latvia, Lithuania, Malta, Poland, Slovakia and Slovenia. Bulgaria and Romania joined the Union in 2007. Croatia became the 28th member state in 2013.
However, the EU started to face serious challenges after the 2008 global financial crisis. The huge debts of crisis-hit southern European countries [Greece in particular], the bailout of these countries, and increasing immigration from the rest of the world undermined the cohesion of solidarity between the member states.
On June 23, 2016, the United Kingdom organized a referendum and submitted the country's EU membership to the electorate. 52 percent of the electorate voted to leave the community.
Britain, the first country having decided to leave the union with popular decision, is set to mark the first drawback for the EU since its creation.