A Norwegian anti-immigrant group has been widely mocked for confusing empty bus seats with Muslim women wearing burqas, or full-face veils.
Johan Slattavik shared a photo of an empty bus Friday to a private Facebook group "Fedrelandet viktigst," which translates to "Fatherland First," with the caption: "What do people think of this?"
Slattavik's post triggered a debate within the group, which has recently been worried about Muslim influx in Norway.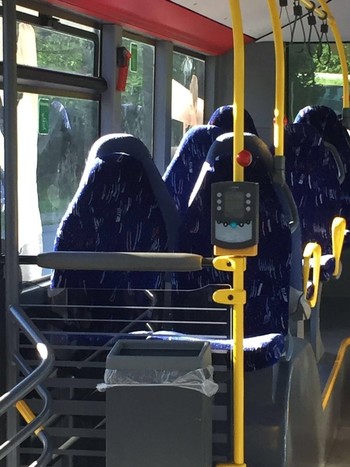 Many members of Fatherland First described the picture in comments as "disgusting," "tragic," or "frightening."
"It looks really scary, should be banned. You can never know who is under there. Could be terrorists with weapons," a user said in one of the comments, while another member of the group called to "get them out of the country."
Slattavik told WorldViews that he shared the photo as a "practical joke," adding that the number of people who fell for it shocked him.
"I ended up having a good laugh," he confessed after the joke.
The joke went viral when another Facebook user shared screenshots of the comments under the photo. After the affair became public it drew widespread ridicule to the Fatherland First.
Slattavik said that he had received some angry reactions but decided to ignore them.
"I would say that has also been educational. I have thought about the differences between legitimate criticism of immigration to Europe and blind racism and xenophobia. I wanted to look into these differences: something I think I have achieved by setting up this practical joke and watching the reactions," Slattavik added.
The joke came after Norway's right-wing government proposed to ban burqas in the country.
Prohibition of burqas has been a topic of broad debates in Europe in recent years, stirring controversy over issues of freedom of religion, integration and security.
France pioneered on the issue with a nationwide ban on burqas in 2011.
Since then, Bulgaria and Belgium have also prohibited the Muslim veil, while partial or regional bans were introduced in Denmark, Italy, Spain and Switzerland.