A bus with Spanish license plates and containing gas bottles was found near a concert hall where earlier on Wednesday a rock concert was cancelled due to a threat, Rotterdam's mayor said.
Ahmed Aboutaleb told a news conference it was not clear whether the threat and the bus were connected. The bus driver was taken into police custody for questioning, he said.
"The ring that the police set up around the (concert hall) led to the detention of a bus with gas bottles", Aboutaleb said.
"Whether the bus with gas bottles can be linked to the threat, that cannot now be established."
He warned against "swift conclusions". A bomb squad was examining the bus.
Police said the concert, which was to feature Californian band Allah-Las, was cancelled around 7 p.m. local time, shortly before doors were to be opened for guests, after a tip from Spanish police.
As concert-goers were sent away from the Maassilo, a former grain silo complex on the Maas river that has been converted into an event hall, the venue was cordoned off.
No arrests or detentions were reported until the bus driver was detained around 9 p.m. local time.
The National Coordinator for Security and Counterterrorism's office said the threat level in the Netherlands was unchanged at "substantial", where it has been for several years.
Concert organizer Rotown said earlier on Twitter that the concert venue, a former grain silo called Maassilo, was being evacuated because of the unspecified threat and concertgoers would get their money back.
The show hadn't yet started when the decision to cancel it was made.
Dutch television showed officers in body armor outside Maassilo and what appeared to be members of the band leaving the venue in a white van with a police escort. The band did not immediately respond to emails seeking comment.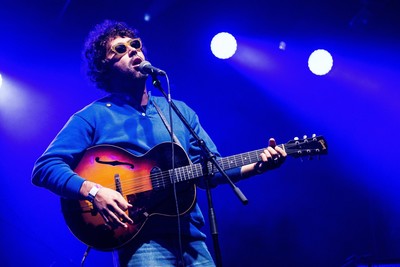 Allah-Las is a four-piece band from Los Angeles.
In an interview with British newspaper The Guardian last year, band members said they chose the word Allah, Arabic for God, because they were seeking a "holy sounding" name and did not realize it might cause offense.
"We get emails from Muslims, here in the U.S. and around the world, saying they're offended, but that absolutely wasn't our intention," lead singer Miles Michaud told the newspaper. "We email back and explain why we chose the name, and mainly they understand."