At least 22 people were injured after a bomb detonated on a packed London Underground train during the morning rush hour on Friday in what police are treating as a "terrorist incident".
Witnesses reported seeing a "wall of fire" and passengers with facial burns and hair coming off at Parsons Green station in west London after the explosion on the train.
Police say the explosion was a terrorist attack, the fifth in Britain this year. Britain's domestic spy agency is helping out in the investigation.
Police were alerted to an incident at 8:20 a.m. local time (0720GMT) after commuters reported a noise and a flash aboard the District Line train at Parsons Green station in the southwest of the city. Chaos then ensued as hundreds of people rushed to get away from danger.
"I ended up squashed on the staircase, people were falling over, people fainting, crying, there were little kids clinging on to the back of me," Ryan Barnett, 25, said of the "absolute chaos" as people tried to leave the station.
Mark Rowley, head of counter-terrorism for the Metropolitan Police, said "we now assess this was a detonation of an improvised explosive device."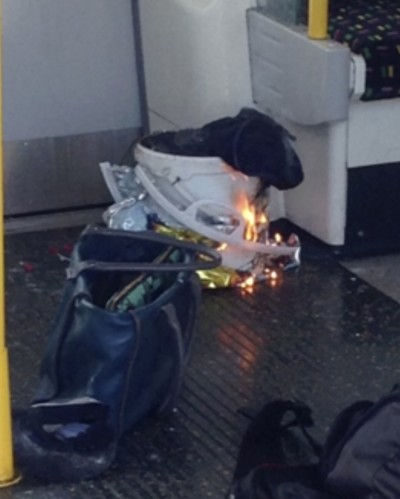 Photos taken inside the train show a white plastic bucket inside a foil-lined shopping bag. Flames and what appear to be wires emerge from the top.
Rowley said the domestic intelligence service, MI5, was assisting with the investigation, led by the police counter-terrorism unit.
He gave no information about potential suspects, saying "It's very much a live investigation." Forensic officers combed the scene for clues and detectives examined surveillance camera footage in an attempt to get a glimpse at who planted the bomb.
There was out of the corner of my eye a massive flash of flames that went up the side of the train," eyewitness Chris Wildish told Sky News, then "an acrid chemical smell."
He said many of those on board were schoolchildren, who were knocked around as the crowd surged away from the fireball.
Transport for London said subway services were suspended along the line.
London Mayor Sadiq Khan said the city "utterly condemns the hideous individuals who attempt to use terror to harm us and destroy our way of life."
London has been targeted by attackers several times this year, with deadly vehicle attacks near Parliament, on London Bridge and near a mosque in Finsbury Park in north London. Beyond the capital, a May 22 suicide bomb attack at Manchester Arena killed 22 people.
The London Underground itself has been targeted several times in the past, notably in July 2005, when suicide bombers blew themselves up on three subway trains and a bus, killing 52 people and themselves. Four more bombers tried a similar attack two weeks later, but their devices failed to fully explode.
Last year Damon Smith, a student with an interest in weapons and extremism, left a knapsack filled with explosives and ball bearings on a London subway train. It failed to explode.