The resort town of Ostia, on Italy's west coast, is a magnet for tourists in the summer but is also mafia territory where clans carve up the drugs and extortion business.
"If you don't see anything, hear anything or say anything, then you can live to be 100 here," a sexagenarian resident of Ostia, about 30 kilometers (19 miles) west from Rome's city center, told AFP, declining to give his name.
"But if you want to change things, then you are going to have some major problems ahead," he added.
"That should have happened a lot earlier. These problems are enrooted and now it's no good lopping off a branch because another will grow and the tree will be just the same."
Ostia, a town with a population of 85,000, where many live on impoverished estates, has been in the media spotlight since Tuesday when the brother of a mafia boss violently assaulted a journalist.
RAI broadcast video showing reporter Daniele Piervincenzi repeatedly asking Spada, on the doorstep of his gym, whether his family had supported CasaPound and if he thought it could change the down-at-heel neighborhood.
"I don't give a shit," Spada eventually replies, before head-butting Piervincenzi in the face and chasing the bloodied journalist with a baton.
RAI said the blow broke Piervincenzi's nose and doctors had told him he would need 30 days to recover.
Public broadcaster Rai's reporter has been attacked by brother of Spada mafia clan's boss while questioning ties with a neo-fascist group, prompting outrage in Italyhttps://t.co/b1O4s0khNv pic.twitter.com/clPbcQls6d

— DAILY SABAH (@DailySabah) November 11, 2017
Video Credit: AP

In Ostia on Friday dozens of Italian journalists protested in defense of freedom of speech after the attack on their colleague.
Piervincenzi was questioning Spada for a report for national broadcaster Rai about municipal elections, two years after the local council was dissolved due to mafia infiltration.
CasaPound, suspected of links to organized crime in the area, won eight percent of the first round votes.
Italian police arrested Spada on Thursday for assault, with prosecutors saying his behavior was typical of methods used by organized crime groups to control territory.
While no one in the town openly talks about the mafia, its influence is all pervasive.
"Look at that beach. Not long ago the beach huts, towels, life guards were all abusively managed by the clan," one resident said.
"But since last summer, nothing. The municipality decided to seek tenders for the management, but no one has bid," he added, smiling knowingly.
'Digging a bit too deep'
The attack on Piervincenzi didn't just upset fellow journalists. Ostia residents also turned out to defend freedom of expression.
"Let's just say that the presence of the press has forced law enforcement to lift the lid on the issue," Silvia Frau, a resident, told AFP.
"I hope they stay once the media rush is over," she added.
However another local passing by said that the reporter "was looking for it and he got it".
"He should have known when to stop. He was too insistent, he wanted to dig a little too deep".
Rome Mayor Virginia Raggi, of the populist Five Star Movement, was one of the first politicians to react to the attack, calling the violence unacceptable and pledging a crackdown on crime.
The images of the assault quickly went viral, sparking an outcry and prompting Italy's Prime Minister Paolo Gentiloni to call Piervincenzi to express his "solidarity after this brutal attack".
"Spada's arrest is proof that there are no lawless areas in Italy," the interior ministry said in a statement.
CasaPound came fourth in Sunday's first round voting in the municipal elections and is hoping to do better in the second round on November 19.
It is calling on voters to kick out Raggi who it claims "hasn't even managed to move an abandoned mattress in 18 months".
The Spada clan is notoriously violent. Seven members of the family were sentenced to a combined 56 years in jail in October, and Roberto's brother Carmine was ordered to serve 10 years last year for extortion and mafia association.
Spada apologized for the attack on Facebook, but said the journalist had come to a members-only club and was "frightening my son", adding that "patience has its limits".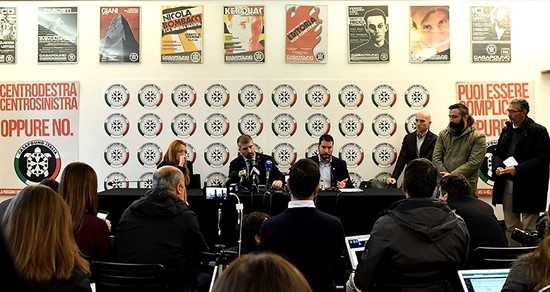 Members of Italy's far-right CasaPound movement, Luca Marsella (R), CasaPound Vice-President Simone Di Stefano (C) and Carlotta Chiaraluce (L) speak during a press conference at CasaPound's headquarters in Rome on Nov. 9, 2017. (AFP Photo)

CasaPound insists that is all part of a campaign to discredit the movement and denied any links to the Spada clan while denouncing the attack as "gratuitous, despicable, unbelievable".
"What CasaPound has done on the ground is anti-mafia work, anti-organized crime," the group's vice president Simone Di Stefano said Thursday.
Di Stefano called on the prosecutor's office to open an investigation "to clarify for us, for you and for everyone, whether there is any truth in the accusation of collusion between us and a mafia clan".
He also the party would not answer for Spada's behavior as he was not a member. The local candidate said the photo taken of him with Spada had happened to be snapped at a neighborhood event.