The European Parliament endorsed on Wednesday Parliament head Antonio Tajani's proposal to "systematically deny access to all persons, groups or entities" involved in terrorist acts.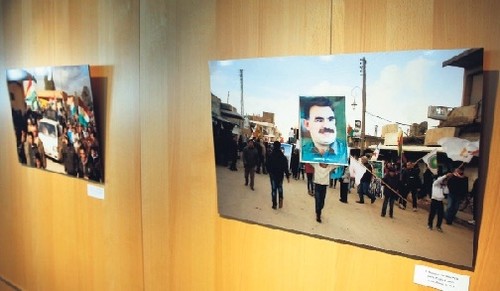 An exhibition that consists of pictures of PKK terrorists as well as their leader Abdullah Öcalan is organized in European Parliament in Brussels, Belgium, July, 2016.
According to a statement, members of the EP and political groups are requested not to invite the people listed in the Council Decision or individuals representing entities or groups on that list, and refrain from facilitating their access to Parliament.
"In case of doubt or the possible presence or promotion on Parliament's premises of any of the persons, entities, groups or individuals affiliated with them, please contact the directorate General for Security and Safety," the statement reads.
Turkey often criticizes the European Union's reluctance to prevent rallies and events related with the PKK terror group in Europe, accusing the bloc of being indifferent to terror groups.