Former Georgian president Mikheil Saakashvili threatened to jump off a building Tuesday before being detained by Ukrainian police and then freed by his supporters.
Special police forces came to Saakashvili's apartment in the Ukrainian capital Kiev on Tuesday morning for a search.
As police entered the apartment, the ex-governor of the Odessa region ran to the building's roof and threatened to jump off it. He accused Ukrainian President Petro Poroshenko of trying to kidnap him and called on his supporters to prevent the abduction.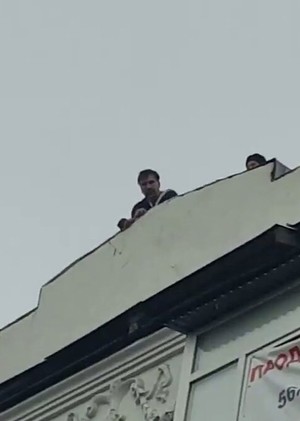 More than hundred people gathered outside the building, where some of Saakashvili's supporters clashed lightly with police.
According to Security Service of Ukraine (SBU), the former president is suspected of "aiding members of criminal organizations and concealment of their criminal activity."
Dozens of supporters of the former Georgian president blocked the car in which security forces were trying to take him away. The people also built barricades using paving stones.
According to media reports, several protesters were detained.
General Prosecutor Yuriy Lutsenko said in a press conference that Ukraine was not considering extraditing Saakashvili because his detention is related to alleged crimes against Ukraine.
"What's next? Currently it's not a matter of deportation or extradition (to Georgia), it's a matter of questioning the suspect about a particularly serious crime," Lutsenko said.
Supporters freed Saakashvili from a police van after his detention sparked clashes with police in central Kiev.
"I urge you to start a peaceful protest to remove (President Petro) Poroshenko, you should not be afraid of anything," Saakashvili told a crowd through a loudspeaker after he was hauled out of the vehicle despite resistance from police in riot gear.
Saakashvili, once Porosheko's ally, was invited to Ukraine by the country's president to serve as a governor of the Odessa region in spring 2015. During his time in office, he was one of the most popular politicians in Ukraine.
He resigned in November last year, citing corruption in the region and the country as a whole. Saakashvili criticized Poroshenko and the government for hesitant and obstructed anti-corruption drive and reform process in the country.
Saakashvili formed a new political party called "Movement of New Forces" in February, but Poroshenko stripped him of Ukrainian citizenship in late July, paving the way for his possible extradition to Georgia where he is wanted on multiple charges.
In September, Saakashvili forced his way into Ukraine despite a police blockade designed to keep him out.