Sympathizers of the PKK-affiliated Democratic Union Party (PYD) and its armed wing the People's Protection Units (YPG) attacked two mosques in Germany on Sunday night, sparking outrage among the country's Turkish-Muslim community.
In the small northwestern town of Minden, the assailants hurled stones and bottles filled with paint at the Green Mosque, which is run by DITIB, a moderate Muslim organization founded by Turkish migrants.
Sabahattin Çiğdem, the head of the mosque association, condemned the attack and said they suspected that PKK sympathizers were behind it.
The name of the PKK's Syrian offshoot the "PYD," and slogans such as "Afrin" and "Revenge" were written on the walls of the mosque.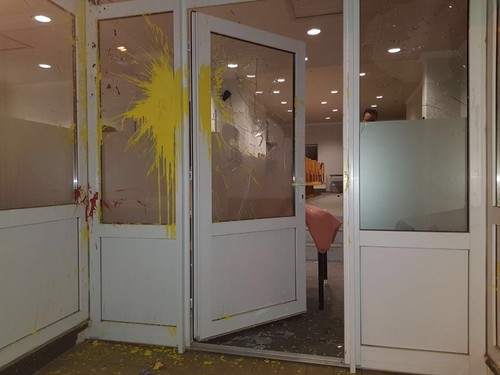 Police announced it has opened an investigation into the incident.
In the eastern German city of Leipzig, sympathizers of the PYD/PKK terror organization attacked Eyüp Sultan Mosque, smashed the windows and spray-painted the names of PKK and YPG, armed wing of the PYD.
Local daily Leipziger Volkszeitun reported that a far-left group had claimed responsibility for the attack.
Supporters of the PYD/PKK organized demonstrations in various German cities over the weekend to protest Turkey's ongoing military operation against the terrorist group's targets in northwest Syria.
Turkey on Saturday launched Operation Olive Branch to remove PYD/PKK and Daesh terrorists from Afrin.
The PKK is banned in Germany since 1993, but it is still active with nearly 14,000 followers among the country's Kurdish immigrant population.
Mustafa Yeneroğlu, a senior lawmaker of Turkey's ruling Justice and Development (AK) Party, has called on German authorities to take serious measures to protect mosques.
"This puts more responsibility on politicians and security organs to protect Muslim and Turkish organizations from terrorism," he tweeted.
Germany has a 3-million-strong Turkish community, many of whom are second- and third-generation German-born citizens of Turkish descent, whose grandparents moved to the country during the 1960s.