Supporters of the PKK terror group's affiliates the Democratic Unity Party (PYD) and its armed wing the People's Protection Units (YPG) and left-wing activists stormed a Social Democrats Party (SPD) building in northern Germany's Hamburg on Monday.
The PKK/YPG's sympathizers and the activists protested Germany's "involvement" in the ongoing Operation Olive Branch in northwestern Syria's Afrin region via arms sales to Turkey. The group of protesters reportedly shouted some anti-Afrin operation slogans and hung up a banner reading "blood on your hands" on the SPD building's balcony.
German riot police stepped in, emptying the building and detaining two of the six pro-PKK protestors. A criminal complaint was fined against the remaining four.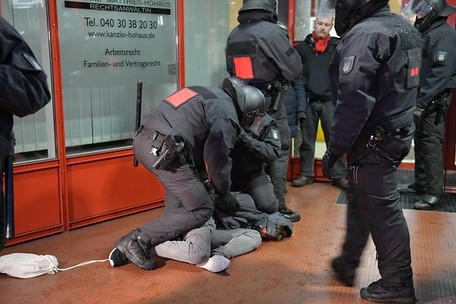 PKK supporters have resorted to violence across Germany in recent weeks, attacking Turkish-German associations and mosques amid Turkey's military operations against YPG targets in Afrin.
The PKK is listed as a terror organization not just by Turkey, but also by the European Union and the United States. However, it has long enjoyed relative freedom in European cities and has a particularly strong presence in Germany with PKK supporters being allowed to hold rallies, recruit militants and collect funds.
Operation Olive Branch was launched by Turkey on Jan. 20 to remove PKK/PYD/YPG/KCK and Daesh terrorists from Afrin in northwestern Syria.
According to the Turkish General Staff, the operation aims to establish security and stability along Turkish borders and in the region as well as to protect Syrian people from the oppression and cruelty of terrorists.
The operation is being carried out under the framework of Turkey's rights under international law, U.N. Security Council resolutions, its right to self-defense under the U.N. charter and respect for Syria's territorial integrity.