Former Catalan President Carles Puigdemont, sought with an arrest warrant by Spain, was detained Sunday in Germany, his lawyer announced, sparking massive protests in Barcelona.
International arrest warrants for Puigdemont, who fled to Belgium in October, and five other fugitive Catalan politicians, were activated by the Spanish Supreme Court on Friday amid the recent crackdown on Catalan separatists.
The Spanish government stated that it had received "official confirmation from German authorities of the arrest" of Puigdemont in response to the warrant issued by Spain's Supreme Court.
Thousands of Catalans gathered in downtown Barcelona on Sunday evening to protest Puigdemont's detention.
As the rallies grew rowdy, police dressed in riot gear struck demonstrators with batons, trying to push back a large crowd attempting to advance on the office of the Spanish government's representative in Catalonia.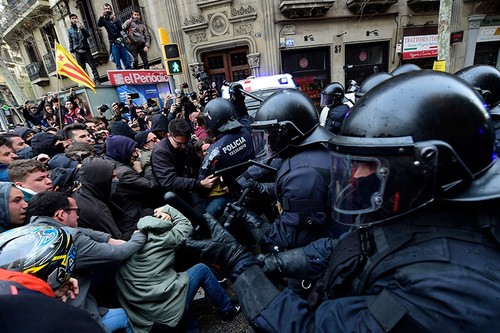 Authorities said late Sunday that that three people had been arrested and 52 people injured in the clashes. Police also said that four officers were among those hurt.
Regional emergency services said that 46 protesters were hurt in the clash in Barcelona. Two more were hurt in a smaller clash in the town of Lleida.
All the injuries were of non-serious, the emergency service said.
Puigdemont was visiting Finland when the warrant was issued, but both his lawyer, Jaume Alonso-Cuevillas, and Finnish parliament member Mikko Karna, who had invited him to visit, told The Associated Press that Puigdemont left the country on Friday evening. He attended meetings at the Finnish parliament on Thursday and gave a talk on Friday at Helsinki University. Karna previously said he believed Puigdemont had returned to Brussels.
Puigdemont had entered Germany from Denmark after leaving Finland on Friday when it appeared police would arrest him there and launch an extradition process requested by Spain. Cuevillas did not say exactly where Puigdemont was in custody in Germany.
Police in the northern German state of Schleswig-Holstein said highway police arrested Puigdemont on Sunday morning near the A7 highway that leads into Germany.
He faces up to 25 years in prison in Spain on charges of rebellion and sedition for organizing an illegal referendum for Catalonia that led to a unilateral declaration of independence in October.
Spain had originally asked for Puigdemont's extradition from Belgium after he moved to Brussels, but later withdrew the request until a judge concluded his investigation this week.
In the meantime, Puigdemont was free to make trips to Denmark, Switzerland and Finland, as part of his effort to gain international support for the secessionist movement.
Puigdemont was also able to successfully run a campaign as the head of his "Together for Catalonia" bloc in a regional election in December in which separatist parties maintained their slim majority in Catalonia's regional parliament.
He had wanted to be re-elected as Catalonia's regional boss— albeit while remaining abroad to avoid arrest — but the Constitutional Court in Madrid ruled earlier that a presidential candidate must be present in parliament for the vote in order to take up the post.
Separatists in Catalonia are currently trying to elect a leader for the regional government before a two-month time limit is up and new elections are called.
Meanwhile, the speaker of Catalonia's parliament suspended a scheduled vote Saturday to elect a jailed separatist leader as the new regional president of the restive northeastern corner of Spain.
Speaker Roger Torrent communicated his decision to the heads of the different parties moments before he announced to the chamber that there would be no vote on the candidacy of Jordi Turull, a former regional minister.
51-year-old Turull was one of five high-profile separatists jailed without bail Friday by a Spanish Supreme Court judge for their alleged roles in a failed independence bid by Catalonia from Spain in October.
Judge Pablo Llarena charged 13 Catalans with rebellion, a crime punishable by up to 30 years in prison.
Turull did not achieve the required absolute majority in an initial vote during an emergency session of parliament called for Thursday evening to beat the detention order.
Catalan Parliamentary President Roger Torrent pledged to defy the central government in Madrid. "I will not rest until I see you free," he said on Saturday in parliament, addressing his arrested colleagues.
"Yesterday the Spanish state didn't imprison five good people. It imprisoned 2 million people and spat in their faces," said Sergi Sabria of the Republican Left in reference to the number of Catalan voters who cast ballots for pro-independence parties in December. "We received a very hard blow yesterday ... butut we must pick ourselves up quickly to build a future for all."
The leader of Citizens, a pro-Spain party which holds the most seats in the Barcelona-based house, used the moment to claim the secession movement was crushed.
"Enough is enough. The independence moment has lost. It has failed," Citizens leader Ines Arrimadas said. "I only ask you that you stop thinking only about your voters, because you have generated worry, fear, indignation and shame for what is happening in Catalonia. We have warned you for years that the secession push will only end in a collective sense of frustration."
The crackdown on the secession movement provoked protests in Catalonia on Friday night. Emergency services said 35 people were injured in clashes with police in Barcelona.
Spain's worst political conflict in three decades reached its climax in October when Puigdemont flouted a ban by the country's top court to stop an ad-hoc referendum on Catalan independence. His subsequent declaration of a Catalan republic received no international recognition and provoked a takeover by Spain's central powers.
The Spanish Constitution says the European Union nation is indivisible and any changes to its top law must pass through the national parliament in Madrid.
Polls show Catalans are equally divided on the secession issue, with pro-secession parties maintaining a slim hold on the regional legislature in December elections.
The failure of Turull to be elected on a first vote Thursday started a two-month countdown to elect a new regional leader before a new election is automatically triggered.