Lord Mohamed Sheikh said Thursday calls for him to be expelled from the Conservative Party over an attendance at a Palestinian rights conference are motivated by Islamophobia and his criticism of former Foreign Secretary Boris Johnson.
Lord Sheikh, a senior Conservative member of the House of Lords, has come under criticism from Tory MPs for attending the same event that Jeremy Corbyn attended in Tunisia in 2014.
The complaint, headed by Tory MPs Zac Goldsmith and Robert Halfon, said that Sheikh was in breach of the party's code of conduct, with Goldsmith saying in a statement on Twitter that Sheikh should be "immediately expelled."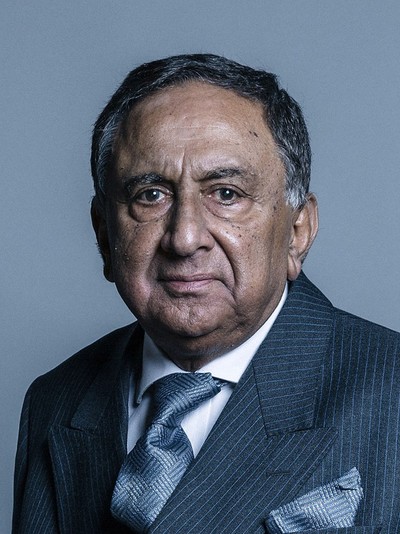 Speaking to the BBC's Today program, Sheikh said: "I think the complaints against me are politically motivated, I think the complaint against me is totally trivial and I think these people, whoever are trying to complain against me, are perhaps doing this because I have talked about what Boris Johnson has said being wrong."
The senior Muslim peer has been a vocal critic of Johnson and his Islamophobic remarks concerning the niqab and the burka. He has repeatedly called for his suspension and a full disciplinary investigation into the derogatory remarks.
Goldsmith, on the other hand, is an ardent supporter of Johnson and has defended the remarks the former foreign secretary made in the Daily Telegraph in which he compared Muslim women who wear the niqab and the burka to "letterboxes" and "bank robbers."
Sheikh also pointed out to the Islamophobic mayoral campaign Goldsmith ran against the current mayor, Sadiq Khan, in 2016 in which he linked Khan to religious extremists and exploited anti-Muslim sentiment to gain support. The campaign backfired against Goldsmith and he received widespread condemnation from within his party and throughout the country.
"I was very surprised about the fact that Zac Goldsmith has made the complaint. When Zac Goldsmith was standing for mayor at the election, he made some unsavory remarks about Sadiq Khan and that campaign backfired and I feel Zac Goldsmith should have learned following his failure to be elected mayor of London," Sheikh said.
Sheikh said that he had been invited by the Tunisian government to attend the Palestinian rights conference in 2014 where he spoke on the Arab Spring and illegal settlements in Palestine, rejecting claims he had met with members of the Palestinian group Hamas.
"I did not meet any members of Hamas," he said.
"I was not aware that there were people there who had extreme views. I am totally against extremism, I am totally against any form of terrorism," he added.
Corbyn, the leader of the opposition Labour Party, has also been criticized for attending a wreath-laying ceremony for Palestinians killed in an Israeli airstrike in Tunisia in 1985.
Critics in the government and the media have portrayed Corbyn laying a wreath on the graves of members of the Black September terrorist group. The Labour Party and Corbyn have repeatedly rejected this claim and said that he was attending a ceremony that commemorated Palestinians killed in the airstrike.
Labour has officially filed a complaint to the U.K. press regulator, Ipso, about the false and misleading coverage by several British newspapers on the event that took place in 2014.
Sheikh has denied being an antisemitic and argued that he was being targeted simply because he is a Muslim and that he is standing up to Islamophobia and bigotry from within his party.
The Muslim peer is a member of the all-party parliamentary group on anti-semitism and has worked to promote cohesion among Britain's multicultural communities.
Lord Sheikh has backed calls by the Muslim Council of Britain and other organizations to launch an inquiry into Islamophobia within the Conservative party and has written to Prime Minister Theresa May to address the issue at hand.