Spain's center-left government approved Friday legal amendments ensuring that the remains of former dictator Gen. Francisco Franco will be dug up and removed from a controversial national mausoleum honoring its civil war dead.
The minority Socialist government is certain that parliament will endorse the amendments, probably in a debate next month, deputy Prime Minister Carmen Calvo told a news conference.
Prime Minister Pedro Sanchez, who came to power in June after he ousted his conservative predecessor in a confidence vote, has made removing the late dictator from the divisive monument one of his priorities.
"As an established and European democracy, Spain cannot allow for symbols that divide Spaniards," Sanchez told public broadcaster TVE shortly after he came to power, adding such a mausoleum would be "unthinkable" in other European nations that had fascist dictatorships like Italy and Germany.
The amendments to Spain's Historical Memory Law of 2007 grant the government power to exhume Franco's body. That change aims to thwart legal efforts by Franco's descendants and supporters to block the exhumation in the courts.
Removing Franco's remains from the Valley of the Fallen, a mausoleum he ordered built 50 kilometers (30 miles) northwest of Madrid, would be a momentous event in Spain which still bears social and political scars from the 1936-39 civil war.
The vast Valley of the Fallen (El Valle de los Caidos) complex is most conspicuous public legacy of Franco's rule. It was built by Franco, also using Republican captives as forced labor in the process, as a tribute to those killed in the 1936-39 civil war when he deposed Spain's democratic government in what he called his "glorious crusade."
Some 34,000 people from both sides of the fighting are buried at the site, most of them never identified.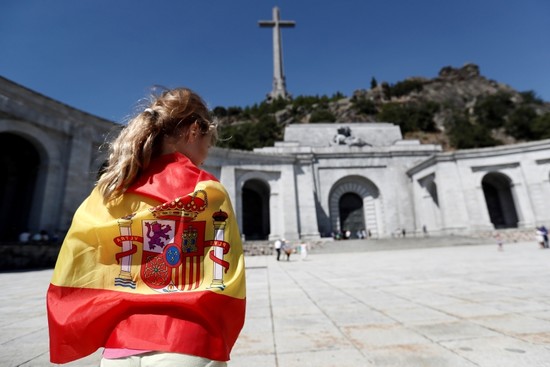 "Having Franco's tomb (at the complex) shows a lack of respect ... for the victims buried there," Calvo said. She noted that a visiting United Nations delegation said four years ago that "democracy is incompatible with a tomb which honors the memory of Franco."
The Memory Law, which outlawed public events supporting the Franco regime, fell short of addressing the broad demands of civil war survivors and victims' relatives for exhumations and reparations.
Franco's descendants will be consulted and will have 15 days to say where they would like the remains to be placed after exhumation. If they do not reply, the government will choose a "dignified place," Calvo said after the government's weekly Cabinet meeting.
Francisco Martinez-Bordiu, a grandson of Franco, described the exhumation plans as "barbaric," telling Antena 3 in an interview Friday that descendants would assess their legal options for halting it.
An exhumation of Franco's embalmed body — possibly as early as October — would cement the government's reformist and liberal credentials after taking power last June.
Removing Franco from the mausoleum, which is owned and operated by the cultural heritage agency, a public-funded body, has long been discussed in Spain.
Calvo said the government is fast-tracking the exhumation because it wants to "end a state of affairs which cannot go on any longer."
At next Friday's Cabinet meeting, the detailed administrative procedures for the exhumation will be set out, she said.
The legislative process to turn the monument into "a place of commemoration, remembrance and homage to the victims of the war" should be finished by the end of the year, Calvo added.
"Only the mortal remains of people who died as a result of the Spanish Civil War will lie in the Valley of the Fallen."
The Valley of the Fallen complex includes a mausoleum and basilica in a neoclassic style and is a popular pilgrimage site for people who are nostalgic for the dictatorship. It has a 150-meter (500-foot)-tall cross that can be seen from many kilometers away.
Franco, who died in 1975, is in a tomb in the basilica's central nave beneath a 1.5-metric ton tombstone.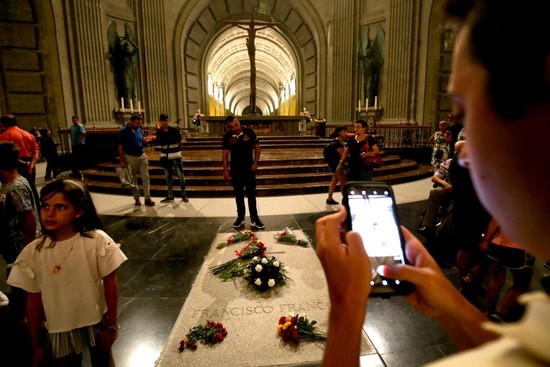 It looms over a giant esplanade and a basilica watched over by Benedictine monks where the late dictator rests, fresh flowers laid on his tomb every day.
Franco, whose Nationalist forces defeated the Republicans in the war, dedicated the site to "all the fallen" of the conflict in an attempt at reconciliation but critics say it is unacceptable to give such ostentatious recognition to a brutal dictator. During his rule, from the end of the civil war in 1939 to his death in 1975, tens of thousands were killed or imprisoned in a campaign to wipe out dissent.
And they say the families of the Republicans were never told about their transfer to the valley.
Visitor numbers to the site have soared since the government announced its plans. Spain's national heritage agency that runs the monument said over 38,000 people visited in July compared to over 23,000 in June.
Sanchez's minority government argued that Franco's exhumation was backed by a non-binding motion that was approved last year in parliament but ignored by the former conservative government.
The decree is now expected to pass in parliament as it is supported by far-left party Podemos as well as Catalan separatist parties and a Basque nationalist party.
But it is fiercely opposed by Franco's descendants who are refusing to take his remains to the family sepulchral vault in Galicia in northwestern Spain, and the main opposition conservative Popular Party (PP) which has warned it will challenge the decree in court.
"It is more important (to Sanchez) to revive the ghosts of the past than to try to seduce people with the future. He is more interested in opening the wounds of our worst past than in concentrating on our better present," new PP leader Pablo Casado told reporters on Thursday.
Aside from removing Franco's remains, the government announced last month that it wanted to establish a truth commission on wrongdoings during the civil war and dictatorship, and annul politically motivated Franco-era court decisions.
Spain is not the only country to have faced difficulties dealing with the remains of controversial leaders.
Here are some examples:
Soviet Union: Joseph Stalin
On his death in 1953, Stalin was buried in the Moscow mausoleum of his predecessor, Vladimir Lenin.
But eight years later, a process of "de-Stalinization" was launched to dismantle the dictator's cult of personality and his remains were quietly transferred to a more modest resting place near the Kremlin.
Stalin's resting place is still a site of pilgrimage for some diehard communists.
Romania: Nicolae Ceausescu
The dictator and his wife Elena were arrested after a popular anti-communist uprising in 1989, summarily judged and executed by firing squad.
Amid fears their graves might be desecrated, they were surreptitiously buried at night under crosses bearing false names.
The bodies were exhumed in 2010 to dispel doubts about the identity and reburied at Ghencea cemetery in Bucharest, this time together.
Rising nostalgia for the communist era prompted some Romanians to visit the red marble grave in January 2018 to mark the 100th anniversary of Ceausescu's birth.
Libya: Moammar Gadhafi
Killed during the Libyan revolution in October 2011, the dictator for nearly 42 years was buried in a secret location in the desert after a religious ceremony.
The military said it wanted to avoid his grave becoming a rallying point for supporters.
One official said the aim was to follow the example of what happened to Nazi dictator Adolf Hitler, whose body disappeared after his suicide as Soviet troops stormed Berlin in 1945.
Iraq: Saddam Hussein
Having ruled since 1979, Saddam was arrested by U.S. forces in 2003 as he hid down a hole north of Baghdad.
After his execution in 2006 for crimes against humanity, his body was buried in a mausoleum he had built for himself in the village in which he was born.
The tomb became a place of remembrance for his family and supporters but around 2014, it was destroyed in mysterious circumstances.
Some suggested an attack by the Iraqi air force was responsible, while others said it had been blown up with dynamite.
The whereabouts of the body, including whether it remains in the ruins, is a subject of much speculation.
Germany: Rudolf Hess
The remains of Hitler's former right-hand man, who died in prison in 1987, were exhumed in secret in 2011 in Bavaria and his grave destroyed to get rid of the biggest neo-Nazi pilgrimage site in Germany.
His remains were placed in another coffin which was incinerated and his ashes scattered at sea.
Albania: Enver Hoxha
The authoritarian communist ruler of Albania for 40 years was buried as a national hero in the Martyrs' Cemetery after his death in 1985.
But after the fall of communism, his remains were exhumed in 1992 and transferred to an ordinary public cemetery in a suburb of the capital Tirana.
A pyramid-shaped complex in his honor served for a while as a cultural center but is today in ruins.