Four people were killed in floods in the Turkish Republic of Northern Cyprus on Wednesday, following heavy rainfall and hail. Local media said the victims were four people between the ages of 18 and 23 and all were in a car that was swept away during heavy rain late on Wednesday.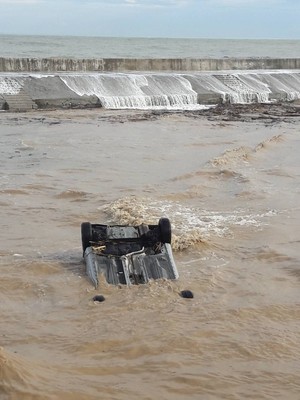 The car was swept away by floodwater in an area south of the town of Girne. The popular tourist destination was among the hardest hit areas.
It was one of the heaviest rainfalls in recent memory and Turkish troops on the island joined search and rescue efforts. Turkish Cypriot Prime Minister Tufan Erhürman told reporters that they expected more rainfall and said they were taking measures.
Flash flooding from an isolated downpour is not uncommon on the island, but sustained floods are rare.
"In minutes, it's gone from beautiful sunshine to freezing cold with rumbles of thunder in the distance," one Northern Cyprus resident told Reuters. People were sewing sandbags to prevent water seeping through window seals and under doors, she said.
Images on social media showed cars being swept into the sea or submerged in flood water and water gushing through homes. Many homes, businesses and hotels were flooded as several people were reported missing. Search and rescue operations continue across the country, according to the authorities.

Rivers burst their banks, causing damage in the Cypriot capital Nicosia (Lefkoşa) and forcing the partial closure of a motorway linking the city to Girne.
Floods also damaged power lines from the country's only power plant on the Mediterranean coast near Girne, causing major blackouts.
The TRNC's Education Ministry has closed all schools for Thursday, with the weather service forecasting more rain.
Damage was reported to the road network from torrential rain in the south of the island on Wednesday.
Turkish Vice President Fuat Oktay called Erhürman on the phone on Thursday to express condolences for the victims of the devastating floods, He said Turkey would mobilize support to provide any assistance needed and reiterated that Turkey is always at TRNC's side.