For his new exhibition in Istanbul, "The Perfect Day," Turkish artist Volkan Aslan has created an autonomous space within Pi Artworks. The gallery is located on the fourth floor of Mısır Apartmanı; built in 1910, the art nouveau building had hosted numerous important figures in the past, including the poet Mehmet Akif Ersoy and Mustafa Kemal Atatürk's Armenian dentist, Arşak Sürenyan. The building's rooftop is used as a nightclub while some of its floors are devoted to art galleries.
Not long ago I entered the gallery and felt like Alice entering Wonderland. A bench was placed at the gallery's entrance, with the words "the perfect day" written on the wall. In order to see Aslan's works you have to enter a circular hole on the wall; it is an unsettling feeling.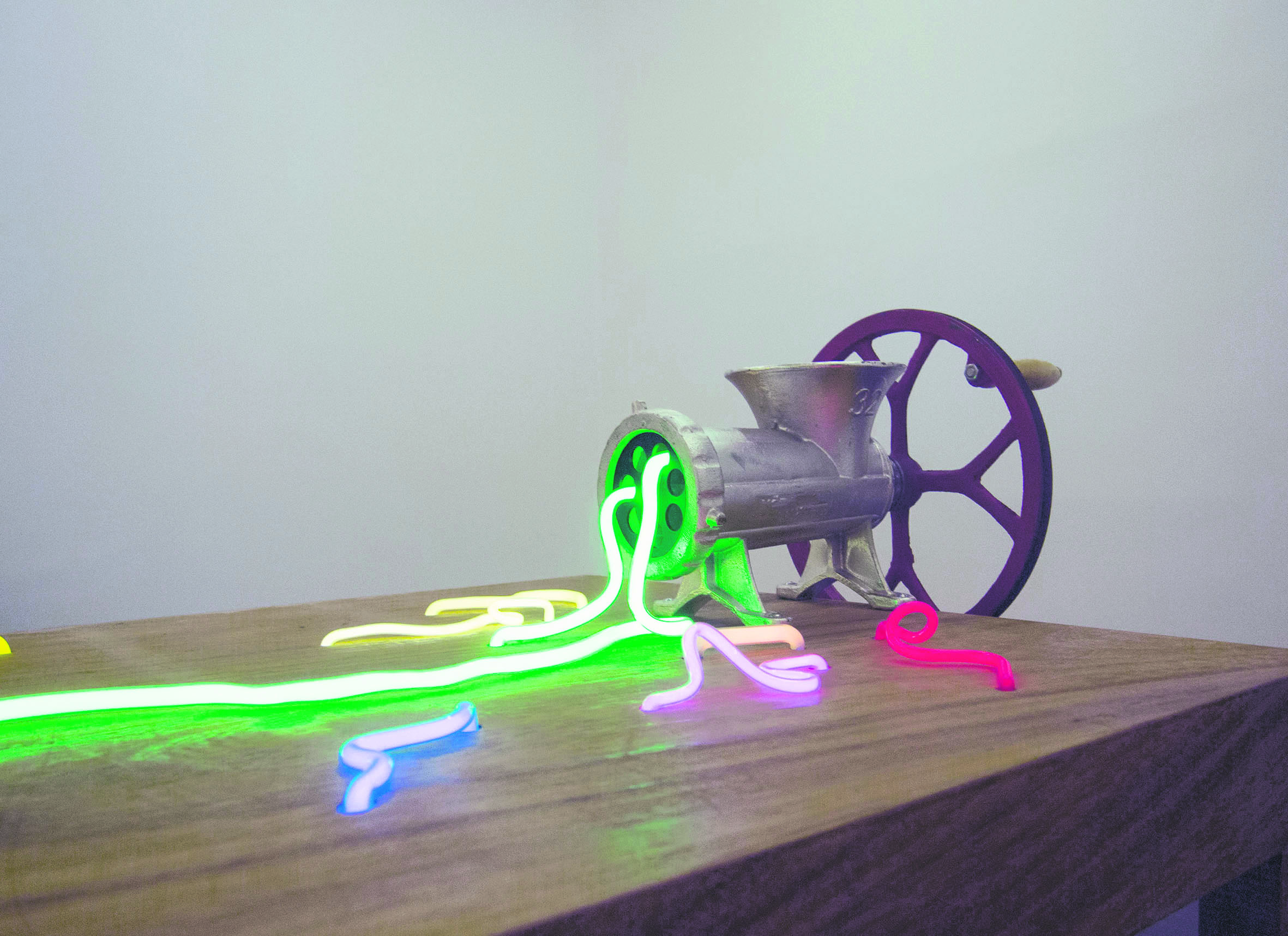 Inside you find neon installations that can best be described as surreally playful. A wooden table carries a meat grinder that sorts texts written in variously colored neon light. It is as if this grinder is a highly intelligent device, responsible for shaping discourse, and rearranging it in different colors. The work is titled "Interior, Night, Working Desk: Another Broken Part is Released Off Me Today. With Time it Gets Lighter." This reads like lines from a film script and fits well with the filmic atmosphere Aslan has produced for this exhibition.
Another neon installation is titled "Interior, Night, Studio: Red, Green, Blue or Green, Red, Blue." This is, again, a neon installation, where the works are hung on the wall like clothes at the end of a long day. They also resemble skipping ropes, carrying the atmosphere of a school playground."This is an exhibition about expressions," Aslan told Daily Sabah. "You go through a hole and enter someone's mind. It brings an understanding about how the mind works. In that sense, this exhibition is more abstract; it functions as a reflex and shows how a form is created ... I planned this exhibition as a story which has a beginning, a development and an end."
This is a point also emphasized by the gallery's curator who describes, in the exhibition program, how "'The Perfect Day' will transform the gallery with an immersive, site-specific installation that will dominate Pi Artworks Istanbul's space and act as an unconventional platform for new iterations of Aslan's neon series ... Volkan Aslan will create an autonomous space within the gallery, where the visitor will be left alone to experience his work without external visual references. Viewers will be in a direct engagement with his quotidian elements that have been given strange and illogical new functions."
The resultant show resembles an artisan's workshop. When asked about the parallels between the exhibition's title and a working day of an artist, Aslan admitted that there was a connection. "The perfect day for me is the day I am ready to work," he said. "I clean my table and then I clean the screen of my computer. If I am going to work at the studio or home, I clean everything and then I start working. It is a like opening a space in my mind. I tried to reflect the same thing in this show."Although interiors play a big role in his show, Aslan has also devoted a part of the gallery to views from the outside world. Titled "Exterior, Day, Rest House: Thinking One Thing, Saying Another," one of the most eye-catching works of the show consists of wallpaper, neon and found porcelain statuettes. Seeing this ceramic statuette placed in front of a kitsch landscape brings memories of Anatolia to the visitor but in a mysterious rather than exotic way.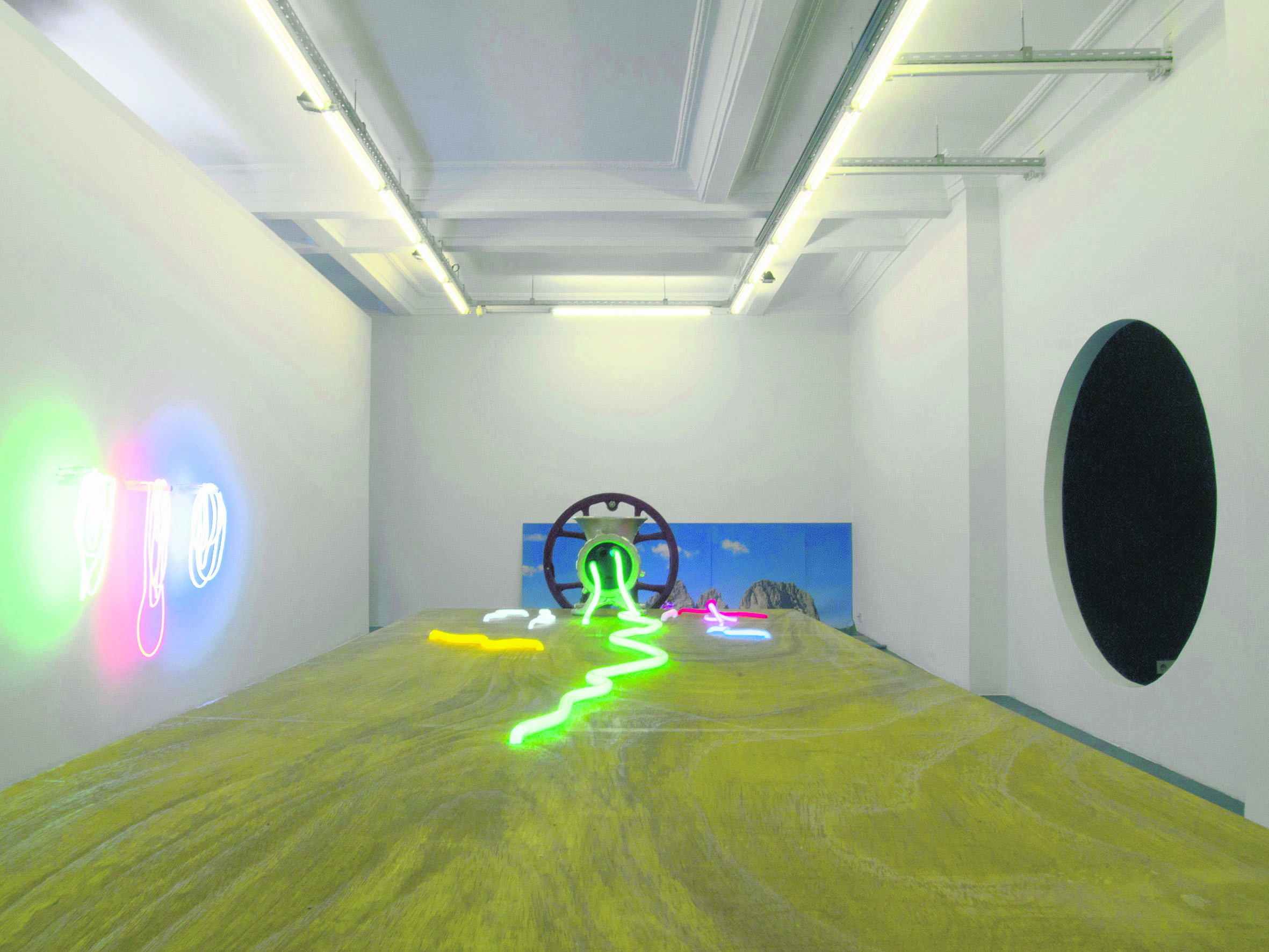 "Neon is like Play-Doh for me," Aslan explained. "It has a certain appeal. There is no other ingredient that has such fragile and light quality, which can be a color as well as a line." Volkan said he uses neon like paint."In this exhibition, Aslan presents materials such as neon and clay in their basic states," according to the exhibition program. "He avoids the spectacular expression and forms that would easily point to obvious meanings. This reflects the fact that this exhibition consists of not only new work but also that the installation will give the impression it is still under construction. The materials in the work will stand close to their unrefined state but they still exist within the story that the artist creates ... Aslan does not link the concept of 'day' with emotional and private connotations, instead he points out his common reference about time all around the world. An ordinary day for someone can be 'the perfect day' for the other. The 'perfect day' described by Aslan is the day he excitedly started the production of a new work."
Volkan Aslan's first solo exhibition was held at Pi Artworks' London branch in 2014. Co-founder of 5533, an independent non-profit art space in Istanbul's Unkapanı neighborhood, Aslan's works were most recently exhibited in this month's ArtInternational. His work was shown in numerous group exhibitions including "When Ideas Become Crime" (Depo, Istanbul, 2010), "Too Good to Be True" (Delfina Foundation, London, 2009), "Once Upon a Time (Bethanien Künstlerhaus, Berlin, 2009) and "Save As" (Triennale Bovisa Museum, Milan, 2008). For those who remember his excellent show "Don't Forget to Remember" at ARTER in 2013, the opening of "The Perfect Day" will come as excellent news.
When asked to reflect on his choice of producing a site-specific work that can only be exhibited, and experienced, in Pi Artworks Istanbul, Aslan said site-specific was not the best way to describe "The Perfect Day." "I can't say that 'The Perfect Day' is a site-specific installation," he said. "It is more 'specific' - the 'site' part comes after that."