"The 16th Century Prodigy Matrakçı Nasuh" exhibition has met with art-lovers in Istanbul on Friday, Jan. 15. The exhibition -- held as part of the Istanbul Intercultural Art Dialogues Association's (İKASD) project "16. Yüzyıl Dahisi Matrakçı Nasuh" -- aims to commemorate the Ottoman polymath Matrakçı Nasuh, who lived during the reign of Sultan Süleyman the Magnificent in the 16th century.
The exhibition was previously displayed in Sarajevo and Belgrade under the auspices of the Presidency of the Republic of Turkey, and this is the first time it is being hosted in Turkey. Art-lovers may visit the exhibition until Jan. 2016 everyday (except for Mondays) between 9 a.m. and 5 p.m. in TBMM Dolmabahçe Palace Art Gallery.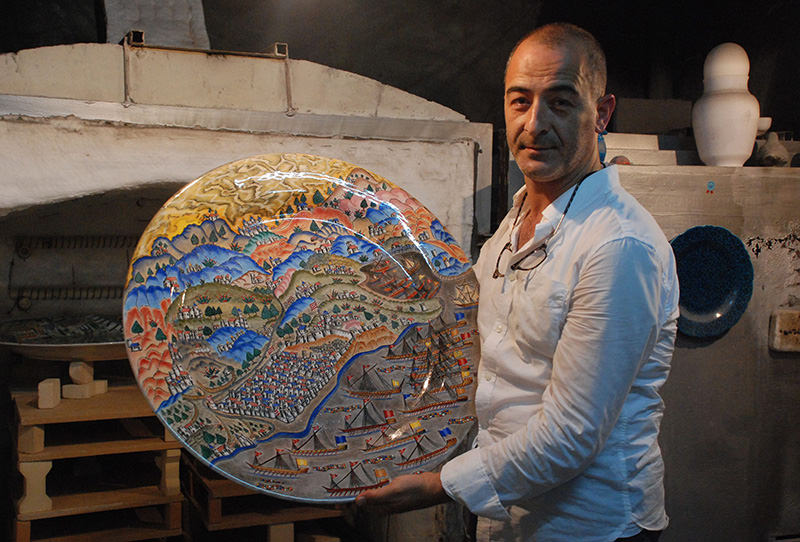 The exhibition displays and commemorates different aspects and talents of Nasuh through the works of 12 female artists: A total of 30 miniatures, which have been transferred to tile boards under the supervision of tile artist Sevim Ersoy, will reveal Matrakçı Nasuh as a muralist; the verses from the poems he wrote will help the audience witness Matrakçı as a poet; a total of 10 calligraphy works which feature selected couplets from Matrakçı's own poems will show Matrakçı as a calligrapher; and the exhibition also hosts a painting which interprets Matrakçı's life and portrays him as a painter, mathematician and a swordsman.
Matrakçı Nasuh was a 16th-century Bosniak statesman of the Ottoman Empire, polymath, mathematician, teacher, historian, geographer, cartographer, sword master, navigator, inventor, painter, farmer, and miniaturist. He was brought to Istanbul after being recruited by the Ottoman scouts in Rumelia, educated, served several Ottoman sultans, and became a teacher at Enderun School.