In the age of the selfie, most of our natural seeming images are meticulously constructed. As producers of these images we know that to be the case; and those who view those images also know it. An Instagram picture shows a man proposing for marriage ("She said yes!") and we don't quite believe it to be the actual moment of the proposal. But the representation of that act is perceived as a naturally captured moment, even when we doubt its authenticity. In such moments, the constructed triumphs over the natural.
In her exhibition "Constructed", that will continue at Istanbul's Zilberman Gallery until Dec. 31, Zeynep Kayan exploits and unsettles the fundamental changes the art of photography has been undergoing in the age of the selfie and self-defining social media feeds. Kayan uses her body as a tool in many of the images here and she presents those to the viewer as physical things. Her sculpture-like, reshaped, repurposed images all point to the constructed nature of photography.
"The series started with a photograph of an 'eye' on a birthday cake that I put onto a large mesh tray," Kayan told me in an interview last week. "It looked strange to me because it was both spontaneous and constructed in its own way. I could have easily forgotten that photograph over there but then I saw the way it was right in the middle where the mesh tray glows. I took a picture of that. Later I realized it was about parts of a physical space that are transformed into some abstract visual elements. I think the spontaneous, forgotten feeling comes from the surroundings. It is deliberately constructed."
Born in 1986 in Ankara, Kayan is a graduate of the Utrecht Graduate School of Visual Art and Design (MaHKU) where she completed an MA degree in the Fine Arts Department. After founding Ankara's independent art space Torun, she attended numerous shows including "Uncomplete" in 2013 and "Pull the Rope We're Downstairs" in 2015. Her works have been exhibited at Istanbul Modern, Rezan Has Museum and Dubai's Artsawa.
The exhibition text points to her "urge to escape the two-dimensional surface of photographs through chance and experiments with the surface... Through recollecting memories of the past and bringing them into the present condition, Kayan highlights the endless and constantly changing nature of photography and its limitless possibilities as a medium in relation to portraiture and performance."
"Photography and video are based more on exploring the infinite possibilities that could arise afterwards for me," Kayan told me. "Taking the same picture over and over again imposes a continual fluctuation on the concept of time, and this repetitive act of production, perhaps a matter of endless appropriation of the same old material that ends up being practically innumerable is intriguing for me."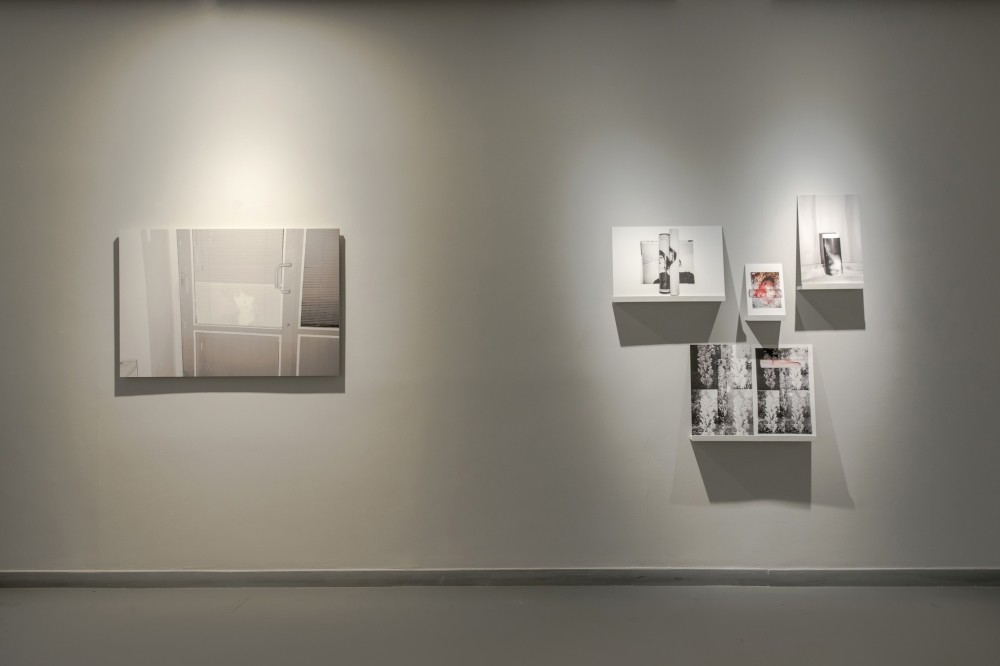 For a long time Kayan has experimented with the surface of the photographs. She played with their textures, tore photographs apart, stack them together with glue. "And all this time I stayed within the frame of a photograph. This time I wanted to look for ways in which I could go beyond this," she said. "It all started with putting the 'old' photograph within a 'new' surrounding/frame; where the parts of this physical space are transformed into some abstract visual elements. Later on new mediums and techniques were added; like projectors, 35 mm film strips and burning papers."
Kayan's voice accompanies her excavations in the "natural/constructed" dichotomy. "We are looking for something to burn, or something to drown, or something to roll here," she muses poetically. "The voice is something I was repeating to myself working in the atelier," Kayan explained. "I was literally looking for photographs to burn, to drawn, or to roll. So one day I wanted to capture
this awkward moment of talking to myself, I repeated it until I couldn't any more. I also wanted to get it out of myself and recorded it. I had no idea if it can be a part of the show or not. Then it hit me: something about it makes the experience of seeing the images stronger. It is perhaps because this is a big part of the production process and suffering, and perhaps because you come to see the burned, drowned and rolled photographs of 'photographs.' So in this sense, it says something about the presence of the artist, but I would say more about the background."
Kayan sees her works as experiments on the construction of images through the means of deconstruction. "That is mostly about finding something in the process," she said. "Each experiment takes me to another one, and in the series 'Constructed' I tried to push the boundaries of the 'natural/constructed' dichotomy. Especially in the videos, photographs act as some kind of a sculpture where that can move and change shape. But I think they are only a natural extension of my main drive and inspirations."