Artworks created specifically for the 2015 Cappadox Festival by young Spanish artist Maider Lopez will be on exhibit at three different venues from Jan. 21 to March 11 in Madrid.
The exhibition will showcase the work "25 People on 25 Hills, 25 People on One Hill," which was featured at the first solo exhibition of the Spanish artist at Gallery Espacio Minimo for the 36th Art Contemporary ARCO Madrid art fair which brought European and Latin American artists together in tandem with Cappadox 2016 where it was featured as the central image of the venue.
On the other hand, her work "Moving Stones" will be displayed at Madrid's Museo Geominero (Geomining Museum), founded in the 19th century as one of the best geo-mining museums in the world, featuring 3,500 minerals and rocks as well as 6,000 fossils.
The performative work "25 People on 25 Hils, 25 People on One Hill" was created during Cappadox 2015 and features a stunning image of people who live atop a hill in the Zemi Valley in Turkey's famous city of Cappadocia. Lopez masterfully creates a "human scale" on a beautifully crafted landscape depicting the city. The work depicts the nomadic journeys of people as they reside, settle and interact with each other in the context of their natural environment.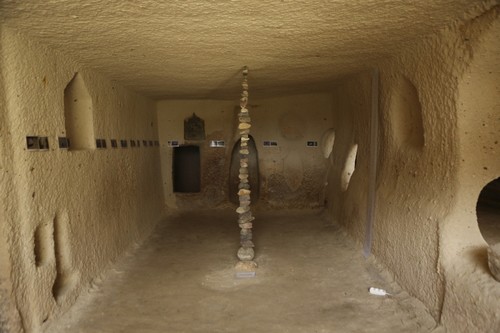 "Moving Stones," also created during Cappadox 2015, is an installation exemplifying the silent and almost invisible changes to Cappadocia's landscape, documenting the performative walks and depicting images of rocks that are moved from one location to another while providing the coordinates of the new location of these stones. The illustration depicts the careful selection and movement of single stones chosen by the artist. The stones, which Lopez took one-by-one and moved to different places with every step she took, refers to the architectural, speculative and artistic motivations behind our movements. The exhibit features stones personally chosen by Lopez and are on display on the wall of the lowest floor in the gallery.
Lopez's work titled "Zooming" is a piece that allows viewers to experience the beauty of the landscape through colors and environmental aspects. Realized during a workshop Lopez held with students from the Department of Painting at Nevşehir Hacı Bektaşi Veli University during Cappadox 2016, the piece depicts rocks, plants, soil and other natural elements marked specifically according to their colors and portrayed between the Kızılçukur and the Kızıl Valley. The project aims to encourage people to spend time in nature to discover and experience the colors of the landscape by following the clues.