The latest exhibition at Istanbul's Pera Museum clears up any doubts one might have about the institution's love for the Balkans. "Mersad Berber: An Allegory of Bosnia" arrives on the heels of two major exhibitions on Balkan art: 2015's "Images of Our Time: Works from the Academy of Fine Arts in Sarajevo" and last year's "Cold Front from the Balkans." Unlike these shows that impressively brought together works from large groups of young and legendary Balkan artists, "An Allegory of Bosnia" focuses on one defining figure of 20th century Bosnian and Herzegovinian art. Mersad Berber, the 1940-born graphic artist whose works were included in the Tate collection in the 1980s, is the subject here and while describing him in her essay for the exhibition catalogue, the show's curator Aida Abadzic Hodzic quotes Argentinian writer Jorge Luis Borges, a cultural figure who had a similarly massive influence on the young practitioners of his art: "A man sets out to draw the world... A short time before he dies, he discovers that the patient labyrinth of lines traces the lineaments of his own face."
The impact of Berber on Bosnian and Herzegovinian and Yugoslavian art in the second half of the 20th century, according to Hodzic, had been similarly strong.
"We had great cooperation with Pera Museum a year ago," Hodzic told me in an interview last week. "For the 'Images of Our Time: Works from the Academy of Fine Arts in Sarajevo' exhibition we presented works by young artists from Bosnia. Beste Gürsu, the advisor of the museum, proposed this show about one of the maestros of the Sarajevo art scene a year and a half after we presented the Academy of Fine Art of Sarajevo show."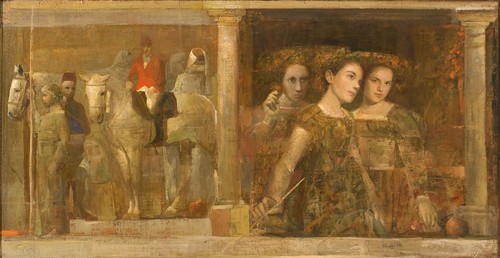 Educated at Ljubljana's Academy of Fine Arts in the 1960s, Berber combined a thoroughgoing interest in old crafts and traditions with a gift for modern visual expression. In Sarajevo, inspired by European masters, he produced cycles of prints that testified to his skills as a craftsman. "Berber belongs in an exceptionally dynamic period of contemporary cultural history of Bosnia and Herzegovina, during which extraordinary achievements were made in the domain of fine arts," Hodzic explains. "Berber led a young generation of graphic artists that opened the local scene to global trends. At the same time, he was one of the few among them whose talent and mastery enabled him to frequently exhibit in the most prestigious museums and galleries."
Berber was a key figure who helped educate and inspire many of the young artists who came to their own during their time at the Sarajevo Academy. "Even today, in terms of mastery of artistic technique, his influence is felt in Sarajevo," she told me. "Berber was a professor who never hid secrets concerning the alchemy of graphic art from his pupils. Usually graphic artists don't want to share their secrets about how to create beautiful graphic art.... But he wanted to teach his students how to do that. He gave them books, and opened to them the doors of galleries. They loved him. Also in term of subject matters, he encouraged them to read a lot, to understand the complexity of Bosnian art. So even today, there are many contemporary Bosnian artists who are inspired by traditional motifs and a reading of common historical narratives."
The horse is a central metaphor in Berber's work and visitors to Pera Museum will come across lots of them: Gravestones in the courtyards of mosques are another central motif. There are echoes of the victims of the Srebrenica massacre, as well as numerous references to the tragic events of the Bosnian War of the 1990s.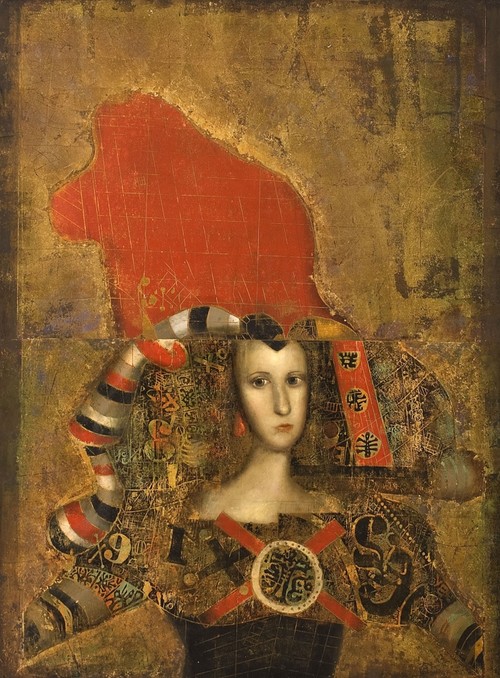 A modernist artist at heart, Berber was nevertheless aware of his debt to Balkan artistic traditions. "Great names of fine arts are like ancient caryatides," he once said. "My goal is to keep discovering the ones that are still alive and also the fruitful impulses from the past since mine are the tradition that belongs to the great traditions of European culture where ancient times... and modernism meet and intertwine, while the Islamic component gives it a special tone through a synthesis of the East and the West."
Hodzic, the curator, first met Mersad Berber after the artist had already left Sarajevo. "I didn't have a chance to meet him while he was living in Sarajevo," she told me. "Berber's atelier was under grenade fire so he left Sarajevo in the summer of 1992 and moved to Zagreb. There, he made scenography for the National Theatre. When I was preparing my PhD, which dealt with graphic arts in the 1960s and 1970s, I conducted interviews with Berber. He tried to explain to me the complexity of his graphic techniques that were, at that time, very new in the former Yugoslavia."
On the one hand, Berber made use of cuttings from images but always managed at the end to produce original combinations. "In the late 1990s he used high tech, high fidelity digital paintings made from already existent artworks," Hodzic said. "He triggered our capacity to understand reality. He asked: 'what is reality? How do we see it?'"