Originally hailing from Belgium, Carlos Le Cuistot is a chef and the proprietor of Le-Cuistot Studio in Tarabya. Having lived in Turkey for 13 years and through sharing his culinary genius to give his guests a taste of home and other faraway places, Carlos' cuisine has become a staple for many an expat, who either pick up painstakingly prepared meals to go or enjoy them fresh out of the oven at Le Cuistot Studios.
Opened in April of last year and situated in Tarabya's picturesque Ferahevler neighborhood, you can pick out Carlos' Le Cuistot Studio from its enticing display case of classic French specialties as well as from the inviting sign on his window that reads: "People who love to eat are always the best people."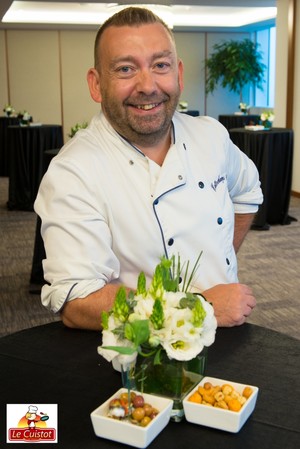 When you step through the door it feels like you have been transported into a café in France or Belgium, whether it be due to the display case of freshly baked quiches, croissants, baguettes and tarts or the smiling welcome from Carlos himself, or the variety of customers, most of which are from the neighborhood's bustling expat community. The end result is a truly unique experience. However, this isn't your ordinary café, Carlos corrects me, Le Cuistot Studio is "more like a 'trattoria' or a 'traiteur' in French, and it is a place where you can buy ready-made food to take home."
This 70-square-meter (750-square-foot) space with a small terrace seats 25 with a tantizling display case full of French baked goods, desserts and a variety of international meals for takeout. "Our concept is unique in Istanbul," says Carlos, adding that of course, you can always enjoy the meals in house, as well. In fact, Le Cuistot Studio's breakfast is almost as much in demand as his delicious variations of quiches and lasagna, which are available everyday. There is also a rotating display of different delicious dishes, such as paella, couscous, vol-au-vent and tajines, as well as a variation of soups and desserts including strawberry or apple tarts and one of his specialties, a citron tart with meringue.
But these are just a few examples of the tempting tastes of home and food from around the world that one can find at Le Cuistot Studio. However, trust me, it is well worth visiting just to experience the whiff of freshly baked croissants and chocolate-filled delicacies. "The best baguette in town!" one customer exclaims as it comes fresh out of the oven, and of course the delectable French tartelettes and delicious quiches are a staple in Carlos' sacred display case of comfort food that you can enjoy in house or take home as an easy and special treat.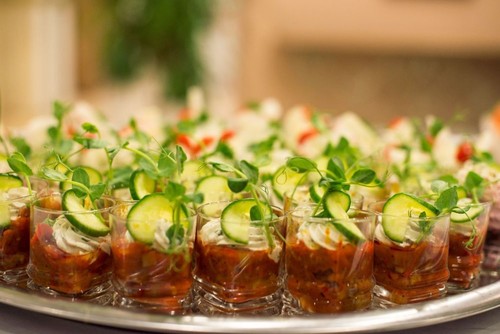 Considered the "origins" of the modern-day restaurant, in France the "traiteur" began in the late 18th century when diners who wished to dine out would go to their local guild for a fresh meal. Le Cuistot Studio has become a modern "traiteur," where customers can stop by and know they can pick up something delicious, gourmet from among international classics which can easily be reheated and enjoyed in the comforts of their own home.
While this is a comforting and exciting concept and situated in the backyard of the Bosporus in Tarabya, I highly recommend enjoying Carlos' cuisine at Le Cuistot Studio that is an experience by itself. The daily menu offers Belgium, French and continental breakfasts, equipped with croissants, French toast and raisin scones, the lunch menu has classics such as Salad Niçoise, warm goat cheese and a smoked salmon salad, to name a few. The main courses include lasagna, spaghetti bolognese and chicken schnitzel, and there is also a long list of open-faced, warm and cold sandwiches, including France's famous Croque Monsieur, Croque Madame, a Croque Hawaii and even asparagus toast. In addition to their selection of tarts, Belgium waffles, sweet crepes and cakes, Carlos also prepares special birthday cakes to order.
On Saturday nights, Carlos prepares a special gourmet dinner consisting of a four-course menu. For example, on this Saturday's menu is salade de canard fume aux poires et noisettes, cassollette de moules et crevettes au safran, filet de saumon sauce dijonaise epinard frais and tiramisu aux fruits rouges. Reservations are required, as well as at least eight participants, for this very special opportunity to meet and mingle with members of the expat crowd, who are quickly catching on to Carlos' delicious cuisine. Once a month, Carlos also hosts a theme night, creating a specially crafted menu based on a specific theme of which past examples have been "macaron, raclette, Spanish and Italian cuisines." Carlos also prepares special menus for parties or meetings during the week, upon request.
In fact, Carlos' background in Turkey began with catering, and his Le Caterer, which has catered events at venues such as the Belgian and Greek consulates. He has even cooked for the patriarch, Carlos told me.
I asked Carlos, if he gets a lot of expat customers, to which he said "yes, absolutely." As for where they are from, "mostly from France," he said, however added that there are also customers from Germany, Spain and, of course, his native country Belgium. I also asked Carlos why he choose Tarabya for the location of his "traiteur," to which he said, "Because of the expat community and to be different, to have a challenge." With a French and international school in the area, along with the peaceful setting Tarabya has to offer within the mega-metropolis of Istanbul, Tarabya happens to have a thriving expat community who have quickly caught on to what has become an indispensable need, a freshly prepared delicious meal by Carlos.
Le Cuistot Studio also offers a "breakfast basket" of croissants and baked treats that can be picked up or gifted as he also offers gift cards for his gourmet goods. There is also a bookcase of international books that customers can borrow and take home to finish.
Located on Adnan Kahveci Cad. No: 108/B in Ferahevler, Tarabya, Le Cuistot Studio is open Tuesday through Sunday. It operates from 11 a.m. to 8 p.m. on Tuesday and from 9:30 a.m. to 8 p.m. the rest of the week, with the exception of Sunday, when they close at 5 p.m. On Saturday nights, their gourmet dinner begins at 8 p.m.