Works straight from "the Bosphorus Strait: An online literary magazine about Istanbul," reads the description of the Bosphorus Review of Books, a bimonthly periodical that contains literary works from all over the world that are centered on Istanbul.

First published online in January, with a second edition released in March and their third to come in May, the "Bosphorus Review of Books" contains poetry, short fiction stories, creative nonfiction, interviews and a section entitled "Why You Should Read," containing reviews of authors. The authors are expats, foreigners and Turks alike, who all share the same compelling characteristic being they have all, for the most part, been touched somehow by this majestic city.
Luke Frostick and Thomas Parker, two expats from the U.K. and the U.S., respectively, who reside in Istanbul, are the founders and editors of this exciting and entertaining new magazine who actually met one another through Istanbul's Spoken Word Community. I had the opportunity to catch up with the two as they gear up to release the third edition of the Bosphorus Review of Books on May 1.

Both are handsome and charismatic writer-types known in the expat community for their renditions on stage in Istanbul's lively "Spoken Word" scene that have lived here in Turkey for a few years now. Luke grew up near York in Northern England and has a history degree from Birmingham University, while Thomas hails from Texas and has double degrees in Arabic and Middle East Studies from the University of Oklahoma and is currently pursuing a Masters in Critical and Cultural Studies at Boğazici University.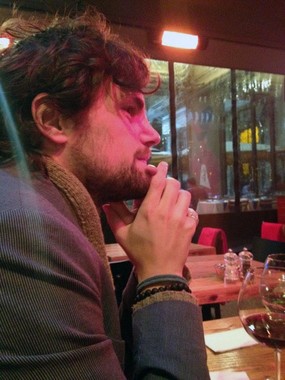 Luke, who serves as the fiction and nonfiction editor, came to Turkey in 2015 after living in Japan. "I travel the world," he tells me, sharing that when he wanted to find somewhere different to live, Istanbul was a natural fit as he had forayed into studying Byzantine and Ottoman history. As for how he got into writing himself, he said, "I've been a reader for as long as I can remember and I've been writing for a couple of years now. Istanbul is a great city to write in and I've found it has a vibrant literary community."

Thomas is a Muslim American poet, who "fell in love with literature in general through reading Arabic literature" and is befittingly the Bosphorus Review of Books' poetry editor. While living in Egypt, he paid a visit to Turkey five years ago and instantly loved it. He came back to live here close to three years ago, figuring he "could learn another Middle Eastern language in addition to Arabic and meet people from all over the world."
I asked them both how they developed the idea for the "Bosphorus Review of Books" to which Luke said, "I think there were two factors working at the same time. I have been writing fiction for about three years now and last year decided that I wanted to get some of my work published. That is a brutal process of sending letters and being rejected," he shared, emphasizing, "I realized that it wasn't just me. I'm a member of the Spoken Word Istanbul community and I met loads of talented people there who were also in the publishing doldrums and it seemed like a shame that they were not being read. That's all a writer really wants after all. So, I set up the Bosphorus Review of Books as a place for established and aspiring writers to publish their material and help showcase some of the fantastic talent that is available in Turkey." As for how the two met, Luke says, "We met at Spoken Word Istanbul. We have known each other for about a year and a half now. Thomas is one of those talented but unpublished people I was talking about."
The journal has all sorts of entries from people who have lived here, or somehow been touched by Istanbul. Luke tells me there are contributors of various nationalities, "from Turkish to Austrian and from Arabs to Kiwis. We are looking for compelling literature and interesting stories, regardless of the nationality. However, through we are interested in work about any subject from anywhere in the world, we do cherish having the opportunity to publish works about Turkey and Istanbul from writers who have some connection to this place."

I asked Luke how they connect with the contributors to which he said, "Again, a lot of them have been from the Spoken Word community and from people in our network.They have been fantastic in trusting us with their hard work. However, we are quickly expanding. We have been speaking about the magazine in various venues and sharing our submissions page in various expat pages in Istanbul. They have also recently brought on a new member to the team by the name of Erica to help focus on the marketing and submissions, We are very excited about that," shared Luke.

I asked whether the contributors are mostly expats residing in Istanbul to which Thomas said, "A decent amount of our contributors are expats, but we have also had Turks writing in English. One of my primary goals is diversity. Both Luke and I want the magazine to some degree reflect the entirety of the city we are living in and not just the sub-portion of it that speaks English. So, I speak and translate Arabic and Turkish, so I handle translations from those two languages and would love to use my language abilities to help their work reach an English-language audience."

The next issue of the Bosphorus Review of Books, which can be found on https://bosphorusreview.com/, will be released on May 1. I asked if they were looking for contributors to which Luke tells me that, "Yes, we accept submissions on a rolling basis and are always looking for new poetry, short stories, creative nonfiction and book reviews. We are looking for submissions of all kinds and have published both first-time writers and established ones as well." For more info on what and how to submit visit the full submissions page at: https://bosphorusreview.com/submission/. Although, they tell me the guidelines are just a rough guide and if there is a writer who has a project that falls outside the listed guidelines they can send them an email and they can talk about whether it is a right fit for the journal. In addition, they try to give feedback to everyone who makes a submission.
"That's the advantage of a small publication. We can be flexible, accepting of new ideas and generally we can give feedback even if we don't use a piece. If you have a project but you're not sure if it's right for the magazine, just get in touch with us and we will be more than happy to talk about it," they said.

As for the advantages of being an online literary magazine, Luke said, "We can reach a much bigger audience than we could with a print mag. One of our goals is taking work from Istanbul and bringing it to the world and I feel that online is a great way of going about that. Both Thomas and I have had friends back in our respective countries read the magazine, which is something that would not be possible if it were in print," he added.

The submission page explains their mission even better, "We hope to give emerging authors and poets an online space to publish and we provide feedback and editorial assistance for every submission. By giving the region a literary outlet in English, we hope to connect to the broader global literary community. We find it essential to raise awareness of the diversity of Istanbul and to locally build a multilingual literary community."