This week's festivities in the city will certainly inspire everyone to get outdoors, embrace their youth and be active.
Held in honor of May 19, a holiday devoted to celebrating youth, sports and commemorating Atatürk, the founder of the Republic of Turkey, the third annual "Beşiktaş Youth Festival" will begin today and run to Friday, May 19, closing out with the exciting "Color-Up" run.
May 16 holds special significance for the Beşiktaş neighborhood; it was the first spot in Istanbul where Mustafa Kemal Atatürk arrived at on boat from Bandırma nearly a hundred years ago in 1919 to launch the fight to secure the nation.
To commemorate the significance of this special place and time in history, a special "First Step" march will take place on Tuesday night, starting at 7:30 p.m. in Akaretler. This special ceremony will conclude with a performance by former Eurovision contender Can Bonomo in Barbaros Square starting at 9:30 p.m.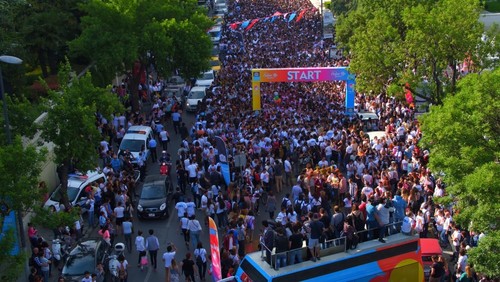 The festivities will continue on Wednesday, May 17 with a concert by the popular Turkish alternative pop-rock band, Adamlar. The very next day another popular alternative pop band, Mabel Matiz, will take the stage.
Starting at 9 p.m. at the Barbaros Square in Beşiktaş, both shows will be free.
The festival will gain speed, literally, on Friday, May 19 with the "Color-Up" run, where runners will be painted in different colors for a free run.
The run that starts at 5 p.m. in Bebek will end with an evening full of musical performances at 6 p.m. in Kuruçeşme for free.
On the bill will be DJ Mahmut Orhan, Piiz, Gece Yolcuları, Pinhani and Redd.
Bebek festivities from May 19-22
The annual Bebek Festival, a very special event of sorts celebrating this beautiful neighborhood that sits along the shore of the Bosporus, will take place this weekend from Friday May 19 to 21 and is set to be bigger than ever.
There will be workshops held throughout the day, activities for children, gift, food and beverage stalls and a wide-range of wonderful music and dance performances scheduled throughout the weekend and held at Bebek Park.
On Friday, May 19, the festival will kic
k off with a special yoga session led by Cihangir Yoga, starting at 9:30 a.m.
At 10:30 a.m., Mothers' Land, an innovative center in Levent which offers mental, nutritional and exercise support for mothers, will be holding a special exercise session.
At 11:15 a.m., Depo Dans, a dance school and café with spaces in Cihangir, Bakırköy, Bostancı, Beylikdüzü and soon to be in Ataşehir, will be holding a Zumba session for kids.
The day will continue with DJ Levent Özbay at 1 p.m., followed by a special performance by the reggae group Zeytin, who will take the stage at 3:30 p.m.
Zeytin is a reggae rock band fronted by Melissa Clissold, who is half English/Irish and Turkish and also the co-founder of Jam Sessions Turkey.
Following at 5:30 p.m., is Turkish rock outfit Zımba and at 7 p.m. the dance studio Dans Fabrika will be putting on a special performance.
At 7:30 p.m., the Evrencan Gündüz Quartet will perform their renditions of jazz, blues and rock and roll classics.
The ever-so talented singer-guitarist front man, who also happens to be the son of the late beloved blues maestro Asım Can Gündüz, is fast making a name for himself on his own accord and he is definitely one of the most anticipated performers to take the stage this weekend.
It can definitely be argued however that the next line-up is one of the most exciting music shows to come to town as The Archives ft. Puma, the live band for the Thievery Corporation and pioneers in their own electronic world music genre, will be taking the stage at 9:15 p.m.
To cap off the night will be Turkish pop star Mirkelam, who will be performing at 10:15 p.m.
On Saturday, May 20, the day begins with breathing exercises guided by Mothers' Land at 9 a.m., followed by a Pilate's session led by Cihangir Yoga at 9:30 a.m.
At 1:30 p.m., DJ Emre Ergen will be getting people into the groove and at 4 p.m. Depo Dans will be holding a social Latin dance workshop.
At 6 p.m., the Sahte Rakı Blues & Rock'n Roll Band will take the stage and at 8 p.m. The Archives ft. Puma return for another great night of music.
It will be headlined by Grup Gündoğarken, one of Turkey's most-loved folk bands that have been gracing the stage for decades, on Saturday at 10 p.m.
Starting at 8:30 a.m. on Sunday, May 21, the festivities will start off with a run, held by the running group, İstanbul Koşu Kuvvetleri (İKK).
At 9:30 a.m., Cihangir Yoga will be doing their thing and at 10:30 a.m., Mothers' Land will return with another exercise class for moms.
At 11:15 a.m. Depo Dans will be holding a Zumba workshop for kids and at 1:00 p.m., DJ Emre Ergen will be spinning again.
At 3:30 p.m., the Istanbul Lindy Hoppers, Turkey's first-ever swing dance school and community will be holding a special workshop.
At 5:30 p.m., jazz vocalist Şenay Lambaoğlu will perform.
At 7:30 p.m., the expat-heavy Uninvited Jazz Band, who perform traditional jazz music from the 1920s, think New Orleans 'hot and hokum' music, will be taking the stage to get everyone dancing.
At 9:30 p.m. Korhan Futacı & Kara Orkestra will be performing.
Although I can't say enough about this festival headliner, it must be known that Korhan Futacı is probably one of the best saxophonists to come out of Turkey and his band's music, an improvisational mix of psychedelic world music is perhaps the most perfect embodiment and expression of the beautiful, complex and chaotic city that is I
stanbul.