The coveted season of summer is upon us and therefore it is the opportune time to get outside, get social and to have a good time. Istanbul's expat community makes it easy and inspiring to try something new and so there is no reason why you too shouldn't put on your dancing shows and your listening hat and check out what's going on in town and beyond.
May 24 - Wingmen at Peyote
Tomorrow, Wingmen will perform at Peyote from 10 p.m. to 12 a.m.
First formed in 2006, Wingmen have been steady on the scene as both a rock cover band and in composing their own material. While a number of members have since been replaced, they have always been an expat-majority band with Irish vocalist Rod McKee at the helm. Guitarist Marat Zagidullin hails from Tatarstan, bassist Arya Afshar is from Iran and Turkish drummer Erdem Eroğlu, rounds up the group. They have graced stages all over town, including the Rock and Coke Festival TedxReset and have the 2013 album "Look at You" under their belt and are currently recording their second album set to be released early next year.
May 24 - Friends Trivia Night
Don't deny it; if you are like most anyone in the Western world you are probably well-familiar with the popular television sitcom of the past Friends. Tomorrow, you can have the chance to test your knowledge of the show with other like-minded fans in a very special Friends Trivia Night held at Souq Dükkan, located in the Kanyon Shopping Center in Levent from 6:30 p.m. to 9 p.m. with free entrance.
May 25 - Yabangee Presents: A Summer Welcoming
The expat-oriented website Yabangee will be hosting their first-ever event in Ortaköy, at Hobo Kitchen Bar on Thursday, May 25 from 7 p.m. to 2 a.m. With stunning views of the Bosporus from their top floor, Hobo Kitchen Bar is a hip and happening venue, with an enticing menu to boot. Entrance is free and they will be offering a happy hour from 7: 00 p.m. to 9:00 p.m. with special discounts on beverages and burgers. There will be grooving music and lots of mingling in what is set to be one of Yabangee's final events of the season before everyone sets off on summer adventures.
May 27 - Zeytin at Kaset Mitanni
Zeytin is a fusion reggae rock band with an Oriental twist formed in 2014 and featuring English/Irish and Turkish vocalist and guitar player Melissa Clissold, who is also the co-founder of Jam Sessions Turkey. Performing songs in Turkish and English, Zeytin has played in festivals in Turkey and abroad and were the winners of the 2016 Roxy Music Days. They have also released two songs and music videos for 'Sabır' & 'Nerdeyim?, which are now being played on Turkish airwaves and are working on soon releasing an album. The concert takes place on Saturday, May 27 from 10:30 p.m. to 1:30 a.m. at Kaset Mitanni, located on Barbaros Boulevard in Beşiktaş. Entrance is TL 15 ($4).
May 25 - 26 Souq Sayfiye
​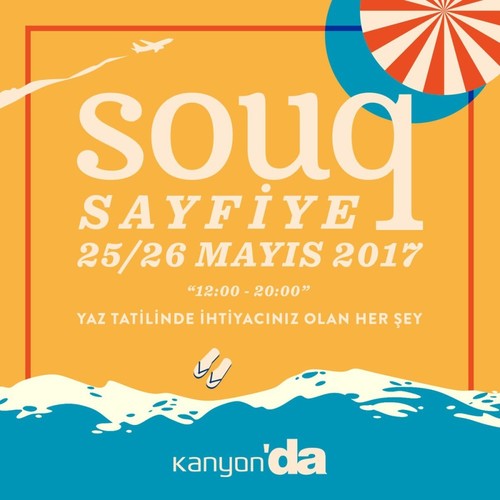 Starting on Thursday, May 25 through to Friday, May 26, Souq Dükkan, located in Kanyon, will be hosting two days of summer shopping. Souq events were once popular pop-up designer and boutique shopping events, however now they have set up a permanent shop in Kanyon. This two-day shopping extravaganza will be focused on anything and everything one may need to make it through the summer months. Specially selected designers and brands will be showcasing their summer gear, including swimwear, apparel, accessories, beauty products and home décor all under a single roof. Entry is free and doors will be open from 11:30 a.m. to 8 p.m.
June 2 - 4 Speech Bubbles 'Skool of Rok'
The English-language multicultural performance community and school of all ages, Speech Bubbles, will be performing their summer production of the musical "Skool of Rok" on Friday, June 2 at 8 p.m., on Saturday, June 3 at 3 p.m. and 7p.m. and on Sunday, June 4 at 3 p.m. at the Profilo Shopping Center in Mecidiyeköy. Tickets are TL 40 for adults and TL 20 for children and all proceeds are donated to charities.
June 14 to 16 - Fête de la Musique at bomontiada
​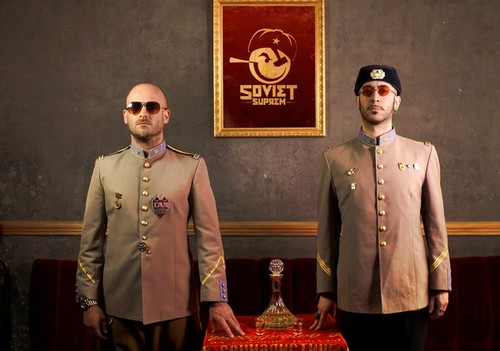 From Wednesday, June 14 to Friday, June 16, bomontiada and French Cultural Institute in Istanbul will be joining forces to bring us Fete de la Musique. Taking place from 9:30 p.m. - 11:30 p.m. each night with free entry, there will be Kolektif Istanbul starting out the series on Wednesday, June 14. Known for their fusion of pop, funk and jazz with Balkan wedding music, Kolektif Istanbul has been performing for over a decade now and was started up and is led by French expat Richard Laniepce on saxophone and his wife Aslı Doğan on vocals.
On Thursday, June 15, guitarist and bazouki player Titi Robin takes the stage with his group for a special performance inspired by writer Yaşar Kemal and Anatolia. Then, on Friday, June 16, La Caravane Passe perform traditional gypsy-klezmer music of Eastern Europe.
June 15 to 18 - the 14th Int'l Istanbul Tango Festival
Held at the Gran Salon of the Shangri-La Bosphorus Hotel in Beşiktaş, this will be a three-day event with a wide variety of classes taught day-long by teachers from all over the world and nightly milongas. Check out http://www.istanbultangofestival.org for the detailed program and prices, but keep in mind, tickets purchased before May 25 are subject to early bird discounts.
June 28 to July 2 - Family Storytelling Camp in Fethiye
Turkey's resident storyteller and French expat Judith Liberman and her team at Masalhane will be hosting a four-day storytelling camp for the whole family and storytellers of all ages. In addition to storytelling and learning the art of, there will also be yoga, breathing exercises, dance, music, songs, art, drama, games and storytelling by a bonfire. The event will be held at the Pastoral Vadi Eco Farm in Fethiye's Yanıklar Village and accommodation will be in private or shared stone, mud and wood bungalows. If you can't make it this time, don't fret as there will be another session held from August 3 to 7. Contact anlatmaokulu@gmail.com for more info.