This year, Global Wellness Day will be celebrated on June 10 worldwide as a day that brings together exercise, healthy living and inner health as a social movement to raise awareness of living well throughout the world. This is an opportunity for the wellness world to come together in a single platform and with an inspiring mission, This year's slogan is "One Day Could Change Your Life," which pretty much sums up the ongoing theme in which countless wellness practices are practiced and introduced to people in an inviting environment in the hopes that more people will engage in healthy practices for a better life.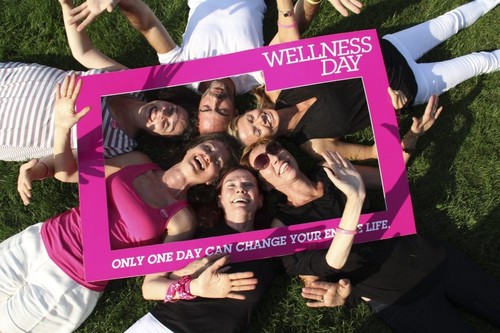 This year's Global Wellness Day, will be held on Saturday, June 10, in 4,000 locations in 100 different countries all over the world. Going into its fifth year and held annually on the second Saturday in June, a lesser known fact of what has now become a global phenomenon is this day, or event as it were, was first initiated in Turkey.
Yes, that's true. Five years ago, the first Global Wellness Day was held at the Richmond Nua Spa in Sapanca and brought together throngs of people creating intense interest, which has since spread exponentially all over the world. It's founding under the notion of providing people with tools to lead a good life, stems behind the increasing rate of depression, which has increased by 18 percent worldwide, now accounting for 4.4 percent of the world's population. The collective effort behind this now international event, aims to show that for many, the cure for depression could be in our own hands, we just need to figure out which wellness method works best for us. Therefore, on this day countless trainers, instructors, speakers and guides will be on hand to share their own wellness practices in events held in destinations worldwide.
In Istanbul, Global Wellness Day will be held on Saturday, June 10, from 10 a.m. to 4 p.m. at Küçükçiftlik Park in Maçka. Attendance is free and open to all. The event aims to introduce a wide variety of disciplines, practices and mindsets to people, so they can pick and choose if they like, a style of health practice that will allow them to live a healthier life.
There will be three different areas set up and devoted to workshops for adults, as well as a book-signing area and a children's activity space, with fun and educational workshops such as basketball, dance and zumba taking place throughout the day.
The program for the day is as follows:
In Workshop Area 1, the day starts out with Yoga with Gem Akcan from 10:15 a.m. to 11:00 a.m. From 11:15 a.m. to noon will be Dilara Koç and Prof. Dr. Murat Aksoy giving a talk on "The Journey of a Good Life". Following at 12:15 a.m. to 1 p.m. will be Murat Berkin teaching pilates. From 1:15 to 2 p.m. Ümit Aktaş will discuss the relationship between nutrition and health. From 2:15 p.m. to 3 p.m., Aret Vartanyan will be delivering a talk best translated to "We are People; There is Nothing to be Ashamed of". From 3:15 p.m. to 4 p.m., Ayşegul Demirsöy will be leading a Zumba session.
Workshop Area 2 will have Eser Mutlu teaching "Laughter Therapy". From 12:45 to 1:30 p.m., Özden Kaftan Thomas and J.D. Thomas will be giving a session entitled "Life is Hidden in Your Breath". From 1:45 p.m. to 2:30 p.m., Figen Küçükkoner Kırca will discuss how "Feeling good begins with the Family." From 2:45 p.m. to 3:30 p.m., Gül Kaynak will discuss "Detox and the Alkali Lifestyle".
The Life Workshop area will have Kübra Güner Koymen providing a "Wake-Up" Service from 10:15 a.m. to 11:00 a.m. From 11:15 to noon, Sırma Belin will show how to "Meditate with Tibetan Singing Bowls" and from 12:15 p.m. to 1 p.m., Handan Önder will give a talk entitled, "Who Guides You". Dilara Eda Gürsoy will discuss "Astrology as the Key to the Puzzle of Life" from 1:15 p.m. to 2 p.m. and from 2:15 p.m. to 3 p.m. Neşe Cesur will deliver a talk entitled "Add Color to Your Life and Taste Every Color." While I have translated the topics and titles for our readers in English, these talks will be given in Turkish.
There will also be a special book signing corner with a number of the day's speakers also discussing their books with readers. From 12:05 p.m. to 12:50 p.m., will be wellness and nutrition coach Dilara Koçak, who has written half a dozen books on her "Afiyet" (health) diet and quality living journals. From 13:05 p.m. to 13:50 p.m., Surgical specialist Prof. Dr. Murat Aksoy, who also hosts the talk-show "Doktorum" and has written a book by the title "Doktorum Yanımda" (My Doctor is With Me) From 2:05 p.m. to 2:50 p.m. will be phytotherapy and acupuncture expert Dr. Ümit Aktaş, who has written two books, "İlaçsız Yaşam" (Living without Medicine) and "Bitkisel Kürlerle İlaçsız Tedavi" (Treatment with Herbal Cures and not Medicine). And finally, from 3:05 p.m. to 3:50 p.m. Aret Vartanyan will be on hand to meet with his readers. The founder of "Yaşam Atölyesi" (Living Workshop), Aret Vartanyan is a popular figure, motivational speaker and writer, who has written nearly 20 books, with "A Breath of Istanbul" translated in English. His latest book released last year is "Siyah Gözyaşı- Uyanış" (Black Tears- The Awakening).