Who says summer is dull in Istanbul? This month kicks off with music, music and more music. Add to that a sprinkling of comedy and a dash of dance and there you have a well-rounded serving of events and activities to attend this month that either showcase, involve, interest or are organized by expats.
June 9 – Uninvited Jazz Band at bomontiada
The Uninvited Jazz Band is an eclectic group of expat musicians from around the world that perform 1920s New Orleans jazz. They bring their music to the courtyard of the bomontiada complex in Şişli on Friday, June 9, as part of the latter's Avluda Caz concert series, which will take place every Friday starting at 8:30 p.m. and runs into August. Admission is free.
June 9 – Country for Syria at Böcek
Country for Syria is a band that blends traditional Middle Eastern music with American country and is made up of musicians from all over the world. Spearheaded by an American accordionist and Syrian guitar player, the band contributes their earnings to aid Syrian refugees and those afflicted by conflict around the world. They perform Friday, June 9 at Böcek, a café, breakfast place and live music venue in one in Moda. The show starts at 10 p.m. and entrance is TL 20 ($5.64).
June 11 – Malignant Humor II (Stand-Up in English)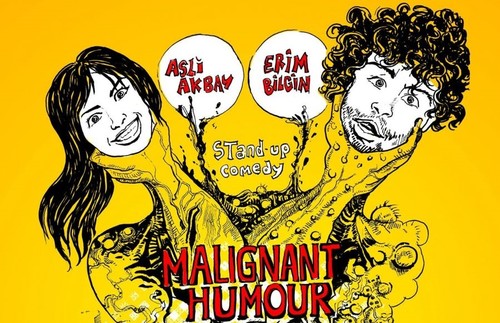 British-Turk Aslı Akbay of the Take Me up the Bosphorus and Çok da Fifi Hatunlar comedy crews will be joined by Erim Bilgin, a comedian from Istanbul, for an evening of stand-up comedy in English. The 90-minute performance, "Malignant Humor II", will begin at 6:30 p.m. on Sunday, June 11, at kargArt Sahne on Kadıköy's lively Kadife Street. This show is 18+ and tickets are TL 20, cash only and will be available at the door from 5:30 p.m. onward.
June 10 – Worldwide Knit in Public Day
Hosted by Bazaar Bayar Eskici Café Handcraft Workshop on Saturday from 2 p.m. to 5 p.m., this will be Turkey's first-ever Worldwide Knit in Public Day celebration. Guests are asked to bring a project they are working on and come and continue their work in public with other like-minded handcrafters while enjoying tea and coffee in a cozy street-side garden in Sultanahmet. The event is free and organized by members of the founding team of the Handmade Istanbul craft markets.
June 10 – Wingmen/ Housing Crash at Pendor Corner
An exciting double bill of the expat alternative rock groups Wingmen and Housing Crash will perform at Pendor Corner, located on Yeşilçam Street off İstiklal Avenue. The show begins at 10:30 p.m.
June 15 – Yabangee Trivia Night at Bunk Roof
The expat website Yabangee, devoted to informing foreigners in Turkey of events and activities, continues to create their own. On Thursday, June 15, Yabangee's now traditional Trivia Night resumes for its third session, held from 7 p.m. to 10:30 p.m. at Bunk Roof, the top floor of the luxurious design hostel Bunk in Harbiye. The rules are maximum six people to a team, but feel free to come solo or with a friend, as they will find a team for you. Participants must be 18 or older and entry is TL 10 per person. Cell phones are not allowed during the game. The top-three teams win prizes.
June 15 – Monality at Mentha
Monality is the latest musical venture by Allen Hulsey, an expat from New York who has been performing regularly in the rock and blues scene in English and Turkish for years all over the country. Monality is his live acoustic-electro collaboration with Erdem Tunalı, a deviation into deep house and ethnic electronic music. The two perform at Mentha, on the Demirören İstiklal Palas Hotel Terası off İstiklal Avenue on Thursday, June 15, starting at 10 p.m., with Monality taking the stage at 11:30 p.m.
June 16-18 – Balfolk Istanbul Festival
The first ever Balfolk Istanbul festival will take place from Friday, June 16 to Sunday, June 18 at Şevin Teras Cafe off İstiklal. Balfolk is a dance event of European folk dances from a variety of countries such as Italy, France, Germany, Poland, Sweden and include group dances such as the Chapelloise or Circassian Circle, fast couple's dances like Scottish dances and the bourree and romantic dances like the mazurka and waltz. This two-day event will have dance and music workshops in the afternoon and dancing balls in the evening with live performances from Deli Reçel from Istanbul and La Burle from France.
June 20-22 – Gundecha Brothers Come to Town
The Gundecha Brothers are the most well-known performers of Indian classical dhrupad music. They arrive in Istanbul this month to lead workshops on Nada Yoga, sound therapy and instrumental music for three days followed by concert performances in the evening. The program begins on Tuesday, June 20, with a Nada Yoga and dhrupad workshop at Beşiktaş Yogaevi from 10 a.m. to 4 p.m., with an Indian lunch served by Bhakti Café. In the evening, there will be a concert at Tuva Sanat in Taksim between 7:30 p.m. and 8:30 p.m. On Wednesday, June 21, there will be a workshop from 6 p.m. to 8 p.m. at Damdayız in Beyoğlu's Asmalı Mescit neighborhood, followed by a concert from 9 p.m. to 10 p.m. Then on Thursday, there will be a workshop from 7:30 p.m. to 9:30 p.m. at Tuva Sanat in Taksim.
June 23 – Avluda Caz with Flapper Swing
Flapper Swing is another expat group that transport its audiences back to 1920s ballroom parties with Gypsy jazz and swing songs and will be performing at bomontiada on June 23 as part of their Avluda Caz concert series. The show is from 8:30 p.m. to 10:30 p.m. on Friday, June 23, and admission is free.
June 27 – Allen Hulsey at Dorock XL
Allen Hulsey performs his repertoire of Turkish and English rock classics and originals at Dorock XL in Kadıköy on Tuesday, June 27. Definitely a performance well worth catching if you have not yet, as the New York native is one of the most charismatic and talented musicians to come to town, and fortunately for us, stay. The show starts at 10:30 p.m. and tickets cost TL 25.