Many people world round love the Beatles, and Turkey is no exception. You may not know, however, that Turkey has its very own Beatles cover band that has received well-deserved international recognition having been invited to festivals around Europe and regularly playing in Istanbul. Their next show is on Wednesday, June 14 at Dorock XL in Kadıköy with tickets costing TL 25 ($7.10), available at Biletix.
The Beatles are arguably one of the most influential bands there has been. However, since their heyday has long passed and they no longer perform and two of them are dead, having the opportunity to hear their songs performed live in a way that does them justice, is a rare treat anywhere in the world. Yet, here in Istanbul, we have that chance as Turkey has its very own Beatles cover band both aptly and comically named Meat the Beetles.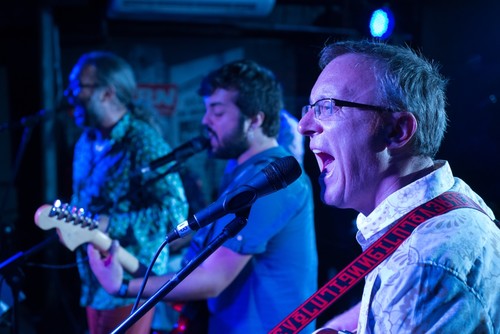 Meat the Beetles is made up of vocalist Emre Çötelioğlu, Görkem Baharoğlu on lead guitar and vocals, Selçuk Tüzel on acoustic guitar and vocals, İlker Göçmen on rhythm guitar, keyboards and vocals. Arif Ortakmaç plays bass and Canberk Emir on drums, and (who they jokingly refer to as the seventh Beatle), Eren Tan Doğan, is their sound engineer. I had the opportunity to catch up with lead vocalist Çötelioğlu ahead of their show and asked him how they became Turkey's resident Beatles cover band.
In perfect English, he told me: "We were always big fans of the '60s and '70s style of rock and blues music. And some of us were Beatle maniacs from childhood due to the influence of our families. Emre, Selçuk, İlker and Arif are mates from Istanbul Technical University (engineering gang) from the early years of the '90s. It was back then while hanging out and playing music just for fun on the university grounds and in our homes that we decided to form a band called My Deer Friend – no typos," Emre jokingly tells me. They were playing oldies songs from the Beatles, Rolling Stones, Pink Floyd, Supertramp, The Mamas & the Papa's and such in an acoustic style with İlker on the sax, Selçuk and Arif on guitar and Emre on vocals and kazoo. "In time," he says, "we fell apart musically and went to do our different styles of life and music. In 2009, we realized that we missed playing and singing together. So we got together again for some sing along fun and decided to do a Beatles project. But this time we wanted to do it properly, so we invited our young(er) friends Görkem and Bartu to join the band and we went electric. This is how it all began. We thought it would only last a few gigs. Because we didn't think that many people would come and listen to Beatles music. It turns out that we are wrong," he said with a grin.
I asked Emre to tell me about the songs they cover and he said: "We are able to perform about 70 Beatles songs from the first album to the last." At a standard club gig, such as the one coming up at Dorock XL tomorrow night, they will perform about half of their repertoire, meaning they can fit in 30 to 40 songs a show.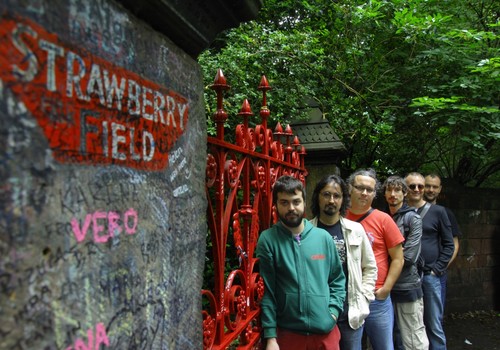 I was curious as to which were some of the audience's favorites, to which he said: "Our audience kind of falls into two categories. Some of them are true Beatles lovers like us. That bunch enjoys it a lot when we play the Beatles' later songs from mostly the psychedelic era. 'I want you (She's so heavy)' is usually a big hit, as are the songs 'Dig a Pony' and 'Lucy in the Sky with Diamonds'.
"The other category is more focused on having fun and dancing to oldies-style music and especially rock 'n' roll. These guys prefer the earlier songs like 'I Saw Her Standing There' or 'Twist and Shout'. However, in all of our performances, we can safely say that no song hits home as strongly as 'While My Guitar Gently Weeps'. That one really carries the audience away."
Their popularity here in Turkey has also led to international recognition with their first oversees experience being the 2012 International Beatleweek festival in Liverpool, where they played 12 gigs in one week. This made them the second-ever Turkish band invited to play at this esteemed annual festival. They have also been invited to play in Sweden a few times, including their 2014 revival of the famous Rooftop Concert performed by the Beatles on Gothenburg Terrace. Meat the Beetles returned to play Beatleweek in Liverpool in 2014 and 2016, and even had the honor of closing the festival at the legendary Cavern Club stage in 2016.
Of honorable mention
​
If you were wondering who the first Turkish group was that was invited to perform at Liverpool's legendary Beatleweek, it was D.E.F. Orkestra. Made up of the initials of the members who founded it, D.E.F. Orkestra is a trio of esteemed musicians who released an album of Beatles covers performed in an Alaturka style with Turkish instruments. Made up of Dağhan Baydur, Erdal Kızılçay and Fuat Güner, you might be familiar with the latter as one of the members of the timelessly popular Turkish band MFÖ. As for the other two members, Baydur, is the founder of Musikotek and a multi-instrumentalist who also composed Turkey's Eurovision contender "Sevince" in 1978. Kızılçay is another prolific multi-instrumentalist musician who composed the Tina Turner song "Girls" and played a pivotal role on David Bowie's "Never let me Down" album. He toured with Bowie in over 100 shows and played practically every instrument on Iggy Pop's "Blah Blah" album. He has also worked with the likes of Queen and Brian Eno.
Together, they produced the 2001 album "Beatles Alaturka", an alaturka reinterpretation of 10 Beatles classics The songs on the album are "A Hard Day's Night", "We Can Work It Out", "Across the Universe", "I Feel Fine", "Love Me Do", "Ticket To Ride", "She Said She Said", "Don't Bother Me", "Nowhere Man" and "Tomorrow Never Knows".
As the story goes, an advisor to Queen Elizabeth II saw D.E.F. Orkestra perform at International Beatleweek, upon which he invited the group to perform at the Golden Jubilee of Queen Elizabeth II's Golden Jubilee in 2002, celebrating her 50th year on the throne, where they shared the same stage with Eric Clapton, Cliff Richard, Tony Bennett and Paul McCartney, who, by the way, had also sent the group a letter expressing his admiration for the new versions of his songs.