Saturday, June 24 was the end of the Holy month of Ramadan and "arefe," the "eve" before the highly anticipated three-day holiday to follow, referred to in Turkey as "Şeker Bayramı" (Sugar Feast) and as Eid al-Fitr in the greater Muslim world. Starting on Sunday, June 25 until Tuesday, June 27, millions of Muslims will be celebrating having taken part in a month-long daylight fast in what is the single largest communal form of worship practice and in the world. The Holy month of Ramadan, which has now come to a close, marks the month in the Islamic calendar in which the Quran was first revealed to the Prophet Muhammad, which is commemorated by a month-long fast from dawn to dusk.
After spending this past holy month focusing on spiritual reflection, self-improvement and increased devotion, the next three days will be an opportunity for Muslims to celebrate their success at such a difficult task, spending time enjoying family and feasting on sweets. In Turkey and in most Muslim countries, this is the most sentimental, if not significant holidays there are. With elements of the Western world's Christmas, Thanksgiving and Halloween all wrapped up in one, this makes "Şeker Bayramı" in Turkey quite the celebration.
It's all in the name: 'Şeker Bayramı'
In the Arabic world, this holiday is referred to as Eid al Fitr. "Eid," which means "festivity" and "Fitr," which refers to "iftar," the breaking of the fast. The question that remains is why then is it referred to as "Şeker Bayramı," in other words "Sugar Feast" in Turkish?
There are two trains of thought on the issue, the most predominant being that the name is actually a mispronunciation of the word "Şükür" which means to give thanks and gratitude. This holiday was supposedly referred to as "Şükür Bayramı" during the Ottoman era, however due to a mix up of letters during the transition to the Turkish alphabet, the word was said to have been misinterpreted, thus becoming "Şeker Bayramı." "Şeker," meaning sugar, also refers to the greater world of sweets and candies and "bayram," which is the Turkish word for "holiday."
The contesting belief is that the name is derived from the Ottoman tradition of the palace to distribute desserts and sweets to soldiers and children following the 15th day of the month of Ramadan, which led to the common folk also preparing desserts and sweets, thereby creating this tradition.
As for why sugar is eating during this holiday, the belief is that it was derived from the tradition of Prophet Muhammad partaking in a date before taking part in the salat, Islamic prayer for eid. In any case, sugar is considered a symbol of peace and is the culinary focus of this holiday and the recipients are well deserving of the extra calories during these three days as they have just spent a month withholding.
The etiquette of bayram
Similar to Christmas and Thanksgiving, "Şeker Bayramı" is traditionally spent with family. However, instead of celebrating with just one meal, in Turkey, this holiday's tradition is to conduct family house visits that take place over the course of three days. An inherent hierarchy is set with priority given to visiting the eldest member(s) of the family first. To this absence is no boundary, so do not be surprised to see crowds flocking to cemeteries to pay their respects to those family members no longer with us. For the most part, visits to the homes of the eldest and closest members of the family take place on the first day while the following days are devoted to visiting extended members of the family and neighbors.
This tradition is referred to as "bayramlaşma," and could best be explained as "wishing a merry holiday." The three holiday greetings used most frequently in Turkey are, "Bayramınız kutlu olsun" and "Bayramınız mübarek olsun," both which translate into "May your bayram be blessed" or "Mutlu bayramlar," which simply means "Happy bayram."
On the first day of bayram especially, each member of the family dons their best and in many cases new outfits and gets all dolled up to pay visits to the homes of fellow family members. The younger your status is in the family means the more you will have to go around visiting those who are senior. The parents and elder family members, on the other hand, have their homes prepared and ready to welcome visitors who will most likely stick around to partake in tea or coffee and snack on classics such as baklava and stuffed grape leaves.
When giving this holiday greeting, one of the most steadfast traditions in addition to being offered a sprinkling of lemon cologne, is for those younger to kiss the hand of the elderly. The unspoken rule is that if someone is of the grandparent age they then warrant being kissed on the hand. This kiss on the hand is not done in a long exaggerated way as may come to mind in its most romantic versions. Instead it is a short peck on the back of the hand, which is then touched lightly on the forehead. These elders may give their own grandchildren a gift of pocket money on this day, to symbolically spend on something sweet, which they used to in the old days wrap up in a handkerchief.
The sweetest thing about 'Şeker Bayramı'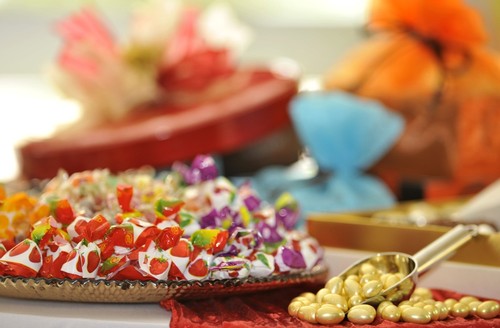 The other steadfast tradition on this holiday feast of sweets and is what its name refers to is that sweets of any and many kinds are offered to visitors during this time. For weeks now, different boxes of chocolates and hard candy have stocked the shelves along with Turkey's traditional sweets, such as lokum, helva, kestane şekeri, badem ezmesi, akide şekeri, marzipan and of course the beloved baklava, which many households attempt to prepare handmade during this special time.
Güllaç is a very special dessert prepared during the month of Ramadan that serves as the single rival to baklava in popularity during this holiday season. Best described as a twist on bread pudding prepared with phyllo dough instead and seasoned with rose water, where it gets its name, and is stuffed with pistachios and hazelnuts in-between its paper-thin layers. This three-day holiday also serves as the jubilee of this special dessert only served during this sacred time. Another sacred item will also be leaving the shelves once bayram comes to an end is the beloved "Ramadan pidesi," a puffy round flat bread, which although revered by most everyone, is traditionally only prepared and sold during this holy month of Ramadan.
One important note: It would be wise to have some form of candy on hand if your neighborhood is conducive to this sort of thing, as similar to Halloween, during the Şeker Bayramı kids tend to knock on neighbor's doors to give their holiday greetings in exchange for, you guessed it, candy!
On another note: Do not be alarmed if the employees of your residence or those less financially fortunate knock on your door as this holiday is also about compassion and giving to those in need.
Cities are silent while everywhere else is packed
"Şeker Bayramı" is traditionally spent in homes in Turkey, however, due to it also being an official holiday, which this year falls in the summer months, many working people use this opportunity to take a vacation out of town. With these two factors combined, Turkey's big cities tend to get a bit of respite during the Ramadan Holiday. While the streets are quiet and most shops and all official buildings are closed during the three-day break, an interesting quirk is that the city's transportation remains surprisingly bustling as those who remain in the city try to make their way around it to pay those aforementioned family visits. Cemeteries and their vicinity also become populated due to the turn out to visit the buried beloved. Transportation during the holiday will be discounted by at least 50 percent and in some cases free of charge such as the July 15 Martyrs Bridge and Fatih Sultan Mehmet Bridge in Istanbul and certain toll roads. In Ankara, buses will be free of charge.
Pay extreme caution when planning long distance journeys during this time. The traffic leaving the city and descending upon holiday destinations is famed for being horrific, with news channels later counting down the numbers of deaths as a result of the fearful "traffic monster" that can rear its ugly head. You may be hard pressed to find options on intercity public transportation also as flights and long distance busses tend to sell out weeks prior.
This is also not a good time to travel rogue, in other words without prior reservations as holiday destinations will become crowded over the next three days with a blowout of concerts and festivities. While this is not the historical tradition of this holiday, it is the norm for Turkey's popular pop performers to take the stage in hotels and open-air venues such as in Bodrum, Antalya and Cyprus performing for big parties.
The bayram's obligations
According to Muslim tradition, the holiday begins with the Ramadan prayer ceremony, which was held this year at around 6:00 a.m. Sunday morning. Prior to this, the devout who fit all of the requirements, such as not being in debt themselves, are supposed to donate "zakat," an obligatory charity given to the poor by every Muslim who can afford it. This form of alms is considered a religious obligation and ranks right after prayer in importance.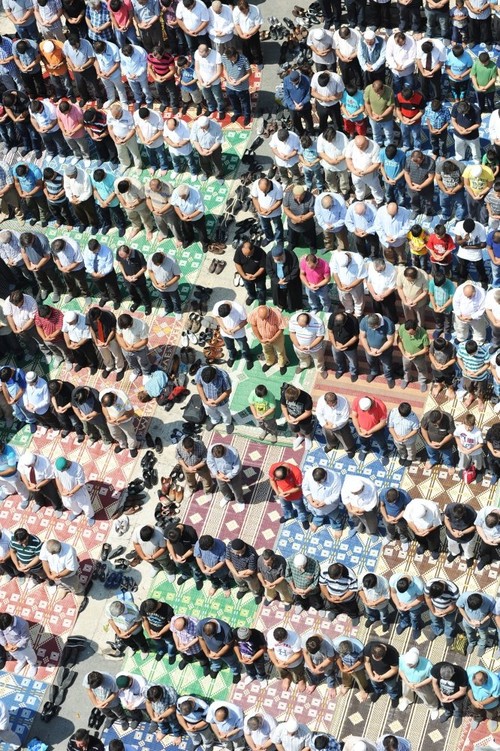 Muslims performing eid prayers in mosque on the first day of Ramadan holiday. (Photo by Murat Şengül)
Another obligation is that it is strictly forbidden to fast during the first day of the Ramadan holiday, making this one of those rare times when under no circumstances are you to refrain from enjoying yourself eating. The "Şeker Bayramı" is also a time of forgiveness, when people reconnect, call those they haven't seen and forgive those they haven't been speaking to. After all, as the Turkish saying goes, "Tatlı yiyelim, tatlı konuşalım," which means "Let's eat sweet and talk sweet." Happy bayram to all!