FARIT Archaeological Trip to Gordion
The Istanbul Friends of ARIT (American Research Institute Turkey) have organized a trip to Gordion, Midas City and the Phyrigian Highlands to take place over the weekend of July 15 to 16.
Led by the director of the Gordion Excavation Team Prof. Brian Rose, ARIT president and professor of Classical Archaeology at the University of Pennsylvania, this will be a unique opportunity to discover the capital city of ancient Phrygia and its history, which spans back to the 12th century B.C. Now named Yassıhüyük and located 70 to 80 kilometers southwest of Ankara, the tour to Gordion will begin on Saturday, July 15 with a 7:30 a.m. departure by bus, which will set off from in front of the Levent metro station. After enjoying the day in what was once home to King Midas, Saturday night will be spent in Midas City, which is now present-day Yazılıkaya, a village in Eskişehir. The following day, Sunday, July 16, will be spent exploring the highlands inhabited by the Phrygian cult of Cybele and the return will be from Eskişehir to Istanbul by fast train taking off at 6:25 p.m. and arriving at Pendik at 9:00 p.m.
Accommodation will be in double rooms and is included in the price of TL 750 for non-members, which also covers all bus and train transport, meals and museum entrances. The slots available are few so you must act fast to reserve your spot and contact FARIT, the Friends of The American Research Institute in Turkey (ARIT), a non-profit educational institution dedicated to promoting North American and Turkish research related to Turkey in the fields of humanities and social sciences that also operate a center located on Uvez Street in Arnavutköy.
Sketching & Watercolor Series by Circuit Istanbul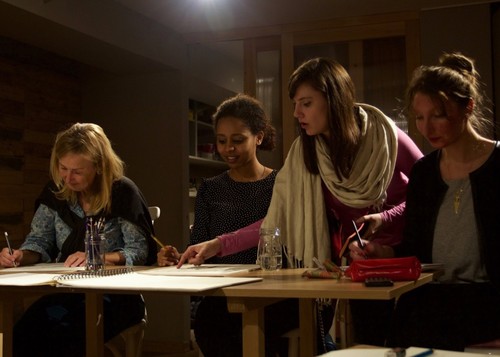 Learn the basics of on-site sketching and watercolor painting at a special "Outdoor Sketching and Watercolor Series" offered by Circuit Istanbul on Tuesday evenings this July. Led by the lovely U.S. expat and visual artist Gabrielle Reeves Oral, this series will take place on the terrace of the Kadıköy-Eminönü Ferry Station for students of all levels to be able to learn how to capture a cityscape on paper from direct observation and will culminate with the creation of a complete outdoor watercolor painting. Broken down into three sessions, Part 1: "Getting Started: Demos and Thumbnail Sketches" begins on Tuesday, July 4 from 7:00 p.m. to 9:00 p.m. Part 2: "Completing a Sketch in Pencil" will be held on Tuesday, July 11 from 7:00 p.m. to 9:00 p.m. and Part 3: "Final touches in Watercolor" will take place on Tuesday, July 18 from 7:00 p.m. to 9:00 p.m.
This series, which will be taught in English, costs TL 120 ($33) for all three classes. While registration is recommended, drop-ins are always welcome and the cost to take part in just a single class is TL 50. Materials will be provided by Circuit Istanbul for an additional TL 10 to 15.
The meeting point will be Circuit Istanbul, an arts and culture space located in Yeldeğirmeni, Kadıköy. Formerly named Closet Circuit and once located in Çukurcuma, Circuit Istanbul is a venue and organization run primarily by expats. There is Jessica Sim from Canada and Paul Browlee from the U.S. on the management team, along with Turkish nationals Ülkü Çağlayan and Özge Multu, whom together organize gatherings, exhibitions and creative education programs to encourage self-inquiry, environmental awareness, and community mindfulness. This month, they will also be offering a two-part workshop on film photography, which will take place on July 16 and July 30. On Saturday, July 29, they will be hosting a Summer Bazaar and during the week, they hold regular yoga and dance therapy classes that are held in English and also led by expats.
Game of Thrones-based concept game night
On Thursday, July 13, there will be a special Game of Thrones night and "Bloody Game" held at Arsen Lupen, located on Mis Sokak off of Istiklal Avenue. The event will take place from 8 p.m. to 11 p.m. and will involve a night of game playing for fans as they await the highly anticipated new season of the mega-popular fantasy television drama series.
The event will consist of a concept networking game, involving participants being grouped into the seven different kingdoms from the show to then battle it out for the throne. They must set out to complete a series of tasks they must complete as dictated by cards broken down into categories of money, pride and military. These tasks sometimes necessitate mingling and establishing alliances making this a great opportunity to meet new people. Tickets are TL 30 and available on Biletino. The organizers behind this event, Atölye Noktası have hosted similar nights for Game of Thrones and other popular shows and movies such as Sherlock and Harry Potter. In fact keep your eyes out for the dates: Thursday, Sept. 7 and Friday, Oct. 13 for two Harry Potter Concept Nights followed by a Christmas at Hogwarts event on Dec. 25, all of which will be held at Arsen Lupen.
Black Mirror to be discussed at Studio-X
On Tuesday, July 18, Studio-X Istanbul will be hosting a "Black Mirror" night devoted to the popular science fiction television anthology. Held regularly at Studio-X, this evening's discussion will be centered around the episode entitled "White Christmas." The event will take place at 7:30 p.m. with a showing of the episode followed by an hour or so discussion. This event is free but attendants must be over the age of 16. Located in Tophane on Meclis-i Mebusan Street, Studio-X Istanbul is an off-campus event space and urban futures think tank run by Columbia University Graduate School of Architecture and is part of the Studio-X Global Initiative, with similar venues in New York, Beijing, Amman, Mumbai, Rio de Janeiro, Johannesburg and Tokyo.