Once named Imbros, with a history spanning back to Ancient Greece, Gökçeada has been inhabited throughout history, starting with the Persians, Romans, Greeks, Venetian and Genoese. Straddling the Dardanelles, Gökçeada and its sister island Bozcaada were the only Aegean islands to remain in Turkish hands following the Treaty of Lausanne that concluded the Greco-Turkish war. While the island's predominantly Greek inhabitants were exempt from the population exchange, over the decades their numbers dwindled from the thousands to just the few hundred that still remain. However, their influence and presence is openly visible as the two cultures have lived in relative harmony since then and over the past decade a number of schools that had formerly closed for low attendance have even reopened.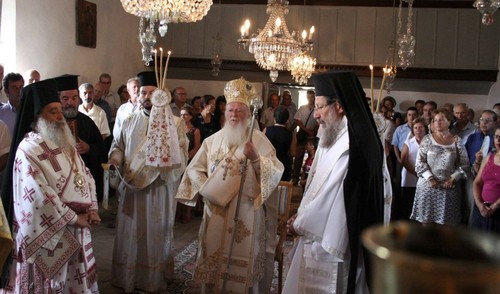 Gökçeada celebrates Assumption of the Virgin Mary Every year, those former residents of Gökçeada, who moved to Greece or other countries abroad, return to the island, as do their younger generations, to visit what they still considered in spirit to be their homeland and to commemorate the Assumption of Mary on Aug. 15 in a special festival referred to in Turkish as the Meryam Ana Panayırı that takes place in the Tepeköy village on this Aegean island.
As a result, the island is inundated with visitors from Aug. 14-16, the former in order to take part in the painstaking preparations including cooking up massive pots of stewed meat. Then, on the day of Aug. 15, the date of the Virgin Mary's death, a special meal is served on tables set up in the village and traditional dances and music such as Sirtaki is performed late into the night. It will take place today and is a special time to be in this unique and beautiful island.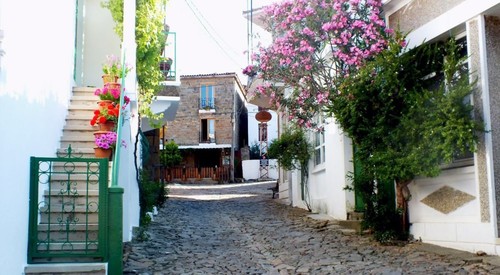 An island worth discovering
Gökçeada, the first-ever island to be named a cittaslow, has just as much spectacular nature as it does history and interesting intermingling of Greek and Turkish cultures. There are remnants of a castle built during Suleyman the Magnificent's reign, stunning coves each with their own natural wonder, Turkey's first-ever underwater park and a salt lake where you can take mud baths. Furthermore it is just a half-a-day's drive or bus ride from Istanbul to Eceabat where there are ferries or continue on to Çanakkale from, where you can also arrive by boat. In summer, there are even airplane services. Keep in mind that services are limited in the winter months and there are so many sights worth visiting on the island that you may want to consider arriving by or renting a car, however there are also regular dolmuş services available.
The ferry arrives in Kuzu Limani, however it is just a 5 kilometer dolmuş or car ride to Gökçeada Centrum and then just 5km more to the more appealing and lively Kaleköy, the former capital that as the name suggests houses the castle built during Süleyman the Magnificant's reign as well as the island's most upscale boutique hotel Anemos and the island's most popular tavern Barba Yorgo, which dishes up the island's signature stew of goat fed on thyme while overlooking the 1780 Ayios Yioryios Church. Meanwhile, Mustafanın Kayfesi, located in the garden of the Ayia Marina Church, serves up the best village breakfast on the island.
Zeytinli is where the remaining Greek Orthodox community resides and is where you can try their dibek kahvesi at Nostos Café, which was established in 1860 and is still run by descendants of the original owners, while Tepeköy is the most decidedly Greek village and the hosts of the annual festival in honor of the Virgin Mary.
Eski Bademli village has the best sunset watching spot on the island. While many ancient Greek villages have since been deserted, they still have evidence of a culture that once was as well as spectacular views as they were built on hills such as Tepeköy as the name suggests, in order to remain secluded from pirate attacks.
It is the beauty of the coves that frame the island and the natural wonders that have occurred here that make Gökçeada especially special. There is a running waterfall at Marmaros, Turkey's first-ever underwater marine park and the Peynir Kayalıkları, rock formations on the left of Kuzu Limanı that resemble blocks of cheese. There is also a salt lake, where you can take a mud bath as well as a sunken allied ship from the Dardanelles campaign all conveniently located near the Aydıncık and Kefalos beaches, both of which are excellent for windsurfing and kitesurfing with half a dozen schools to attest to it.
Gökçeada is considered to be one of the consistently windy locations in Turkey making it an ideal located for windsurfing and kitesurfing, while the memorial of Kilitbahir makes for the backdrop. Namely, Crazy Island, Gökçeada Surf Eğitim Merkezi, Çelik and Radikal Surf School are the schools located on the beach, while the village they are situated in is referred to as Eşelek Köyü and most of the schools offer accommodation.
Kilyos hosts the Istanbul Kite Festival until Aug. 20 Growing immensely in popularity in Turkey as well as all over the world, kite surfing is a spectacle to watch and you may have had that chance this week as kite surfers from Europe came out to contend in the Cross Bosphorus Race, where they surfed from Kilyos to Ortaköy as part of the Istanbul Kite Festival, which will also be holding the Maximum Kiteboard Turkish Open and the European Kiteboard Championship.
The festival continues until Aug. 20 and will be held at Kilyos Tırmata Beach. For the remainder of the week, you can watch brave souls jump and spin and cruise over the water at breathe-stopping speed from 10 a.m. to 5 p.m. daily and then join them at a happy hour that will be held every evening from 5 p.m. to 8 p.m. followed by live musical performances by Jabbar, a Turkish alternative band on Friday, Aug. 18 at 5 p.m. and GoyGoy Rock Band, who close the event with a concert on Sunday, Aug. 20 at 8 p.m.