The newest news to come from Bodrum was the arrival of Saudi Prince Talal bin Abdulaziz Al Saud, also one of the richest people in the world, earlier this week, who is rumored to have arrived with an entourage of 150, 300 suitcases and 30 bicycles. It's undeniable the draw of Bodrum will most likely be eternal, attestable to the number of new and exciting openings this summer.
First of all, the world-famous film production company Paramount opened its first hotel in this enticing and lucrative region in May and called it The Bodrum by Paramount Hotels & Resorts. Even Nicole Kidman came out for the opening of this impressive resort depicting the ultimate in luxury and aptly located on the road to Torba upon entering Bodrum.
Meanwhile, Caresse, a Luxury Collection Resort & Spa, located directly across from Karaada, was voted as Europe's Top Resort by Conde Nast Traveler readers and continues to offer the ultimate in spa facilities.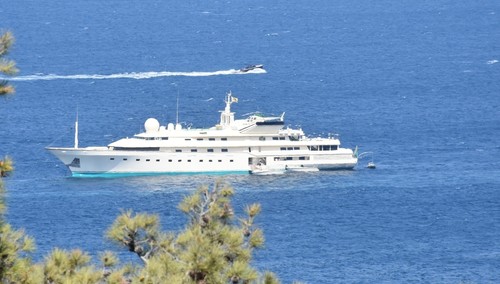 Saudi Prince Talal bin Abdulaziz al Saud's yacht anchors in various bays around Bodrum.
Best Beach Clubs

While Xuma Village remains to be the most exciting and chill-out beach in Bodrum all at the same time. What started as a solitary beach club, being the first to bring music into the mix nearly two decades ago, has now turned into a village and a lifestyle space equipped with a restaurant, a wellness center and even a recording studio. There are live music performances and DJs spinning throughout the summer and its location, once feeling like the end of the world, is now embedded among the vast development in Yalıkavak, one of the most in demand districts on the Bodrum peninsula.
The Sands Beach Club, which opened this summer as part of the Mandarin Oriental Hotel in the luxurious resort haven of Cennet Koyu, is a delicately decorated French-inspired beach club with DJ sets and good food that supposedly brought out the soft sand on the beach straight from the Maldives.
New nightlife

The most exciting edition to Bodrum's nightlife is the innovative Dada Salon, established by none other than the equally unique talk show host Okan Bayülgen this year smack dab in the center of Bodrum in a quaint former sponge factory. This two-level yet intimate space is in high demand since its opening early this year so reservations are a must, but they are worth it as not only will you get to experience the Dada-esque decoration, hence the name, as well as catch one-of-a-kind musical performances by some of Turkey's most respected vocalists and musicians.
Meanwhile, Katip, is Bodrum's first-ever speakeasy, located in Eskiçeşme within the Ha La Bodrum Hotel and is a relaxing, hip and special find for drinks and a food menu among the busy Bodrum streets, but is only open on Fridays and Saturdays.
Opening last year in Bitez, Savra Bodrum has quickly become a popular spot for dinner as well as live music performances by the likes of Evrencan Gündüz, Mirkelam and Yüksek Sadakat on Aug. 23-25, respectively. Off Gümüşlük, which opened last year in this laid-backand bohemian area of Bodrum, is an equally relaxed venue that books top-notch musical acts all summer. Coming up this week alone is İlhan Erşahin's Istanbul Sessions on Friday, Gündoğarken on Saturday and Jehan Barbur on Sunday just to give you a feel.
The Istanbul invasion

Bodrum's culinary and nightclub scene has been taken over by the big city's favorites, with newcomer 29FoodBar, brought to Bodrum by Ulus29, now dominating the scene in the ultra-luxurious Palmarina in Yalıkavak, joining the ranks of Japanese giants Zuma. Cihangir's popular Hazine has arrived in Yalıkavak's Tilkicik Koyu, making for a more upscale evening out, while Klein has opened their sister venue Eva Klein in Bardakçı for the electronic music aficionado.
Best bites

As for food, Orfoz remains the favorite for fish, as does the now luxurious Sait chain. Malades, Apiko and Su are the best for Aegean meze, fish and Turkish specialties. The best pizza in town remains to be Arka located right off the main drag and Ox Burger, like Orfoz situated near the once-was Halikarnas, is hands-down the best burger in town.
Best breakfast
​
Bodrum is fast becoming famous for its village breakfasts and more and more places seem to be consistently outperforming one another. What also started a good decade ago with Havva Ana in Yalıkavak's Gökçebel neighborhood, led to the opening of a new wave of village breakfast locales that are increasingly gaining popularity as a leisurely spot to while away the hours. Parpali is the newest village breakfast addition in the same neighborhood, while Pal Residence is a more rustic experience equipped with western breakfast options as well as on-site horseback riding facilities. Asmalı Çardak is a newer village breakfast venue located on the road to the deserted yet picturesque Sandıma village in Yalıkavak.
The village of Çamlık, located inland on the way to the airport yet engulfed in pine forests as the name implies, has single-handedly turned breakfast into an art form. At Kır Sofrası you will get the biggest breakfast buffet ever and at Zip Zip, an equally impressive spread is laid out for you both on grassy knolls with peacocks and chickens roaming the place.