There are truly so many ways in this world to be active, socialize and become better integrated in a community and Turkey certainly has a number of interesting options in which to do so. Whether it is kicking around a ball on a field, throwing a frisbee or even juggling, there are a lot of fun outdoor activities and events coming up this month to become immersed in a hobby while meeting new and playful people, expats and locals alike. Here are some of these sports group for which you can sign up:
Ultimate Frisbee
Bet you didn't know Turkey has quite the active Ultimate Frisbee scene. "Ultimate," the non-contact sport involving throwing a frisbee to teammates in an end zone, has grown exponentially over the past decade especially in the U.S., from where it hails. Turkey also has an active community with nine ultimate frisbee teams in Istanbul alone: six of which are university teams (Boğaziçi Burn, Itu Frizbi Teknik, Özyeğin Grizzlies, Bilgi Madducks, Sabancı Seahawks, Yeditepe Ultimate) and three that are club teams, namely Caddebostan Olympics, Steamhuck and Türk Kasi. There is both a club league and a university league that will resume in a few weeks on Sundays most likely and will last for three months and occasionally there are pick-up games held in Maltepe. There is also an active scene in Izmir with the U.F.I.C. (Ultimate Frisbee Izmir Collective). A newer team is the Fethiye Flamingos and tournaments have also been held in the capital in the past.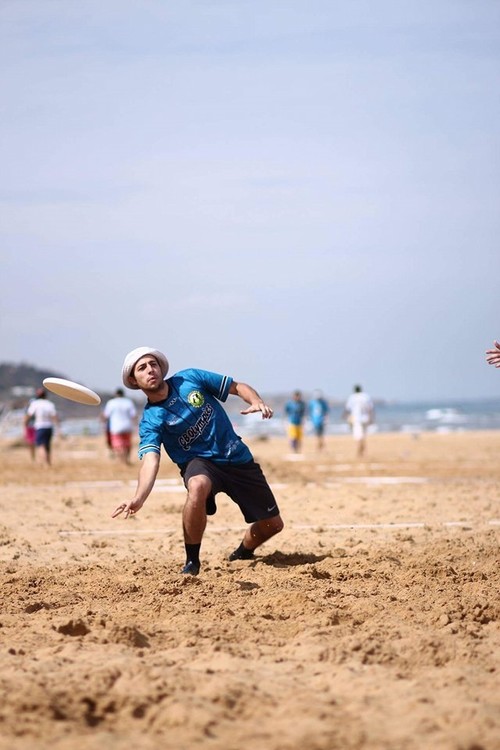 This month is an exciting one for those interested in checking out Turkey's community involved in this relatively new and relaxed competitive sport with two beach tournaments, the first being the 34Hat Tournament this weekend in Kilyos and Flover's Hat 2017, which will be held in Çeşme's Altinkum later this month.
This will be the seventh edition of the 34HAT Beach Ultimate Festival, held from Sept. 8 to 10, at Boğaziçi University's Burç Beach on the Black Sea in Kilyos. This is a mixed hat tournament of 100 players open to participants of any age, gender and skill level as the festival very much aims to introduce new people to the sport, thereby spreading it. Accommodation will be at a hotel near the beach from Friday to Sunday and includes two dinners and breakfasts. The fee for players is TL 185 ($53) and TL 170 for students or TL 125 if you want to stay in the hotel but remain a spectator. Or, simply visit Burç Beach during the days to watch! For further information, check out: www.34hat.com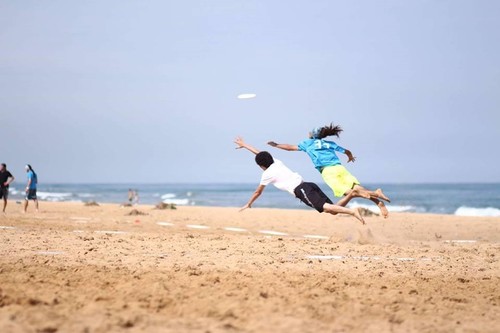 Flover's Hat 2017 will take place at Dharma Beach Club in Çeşme's Altınkum from Sept. 22 and 24. This year's theme will be India and the weekend is set to be a whirlwind of workshops on Indian arts such as mandala, batik, henna, yoga and meditation. Accommodation will be camping out on the beach and under the stars with breakfast and dinner. Oh yes, and of course, there will be two full-days of all sorts of frisbee fun, from ultimate matches with 120 players divided into teams of five broken down into the categories "try hard" and "fun" as well as a variety of fun frisbee competitions such as a discathlon and the games spike ball and kanjam. Registration is TL 180 for players and TL 110 for those who want to watch. To register and find out more, check out: www.flovershat.org
Juggling at J-Fest
From Sept. 25 to Oct. 1, the 12th edition of the annual J-Fest, Turkey's Juggling Convention will be taking place at Sundance Nature Camp in Antalya's Tekirova. Camping out under the stars or in treehouses on a beautiful beach on the Mediterranean facing the spectacular ancient site of Phaselis is all par for the course as is the plentiful juggling performances, games, workshops, parades and parties. The cost to attend is TL 150 for adults, TL 100 for those aged 16 to 18 and free for anyone under 15 years of age. Check out www.j-fest.com to register for this festival, which has fast become one of the most popular juggling events in the world.
Istanbul Bike Polo
Istanbul Bike Polo is a mix of Istanbul expats and locals that meet to play the emerging urban version of polo, which instead of riding horseback is done on a bicycle, while hitting a small ball with a long-handled mallet. The Istanbul community of players meets every Saturday evening until 1:00 a.m. in Fenerbahçe Park in Kalamış as well as some Thursdays. You can check out their Facebook page to stay afloat of upcoming games.
Geocaching
Istanbul also has an active geocaching community of locals, expats and travelers alike. This new global phenomenon and sport of sorts involves using a GPS to track down treasures hidden all over the world and Turkey certainly has a number of these "caches", as they are referred to, buried all over the country. A sport than can be practiced individually, but is certainly more fun with crowds, as the Geocaching Turkey Official group, a mix of locals and expats, have proven. Check out their Facebook page to find out about meetings they hold occasionally to discuss the sport or to go out and play together. Their next meeting will be held at lunchtime on Sunday, Sept. 24 starting at 12:45 p.m. in Anadolu Hisarı.

Eat, Pray, Football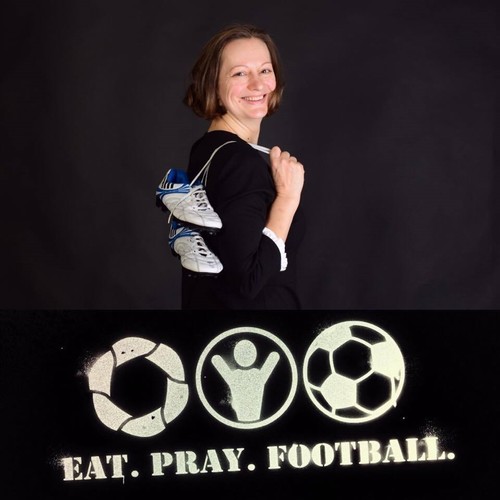 "Eat, Pray, Football" is an organization formed by a Russian expat from Latvia, Alina Belhan that plays co-ed soccer three times a week. Alina came to Istanbul in May of 2015 with her Turkish husband, where she became introduced to the soccer culture, and more specifically, playing, which was easy, she says with all of the different stadiums and good weather. With her husband assisting her as a coach, the 40-year-old Alina began organizing matches and training sessions for females and even participated twice in "Kızlar Sahada" (Girls on the Field) tournaments. Since the end of last year, she has started up a mixed gender game series; she calls "Mix Match" events that take place three times a week.

Everyone is invited to participate in these games there are no age or skill limits. "We have 17-year-old players and 50 + players from more than 35 countries: Turkey, Russia, USA, Netherlands, Iran, Iraq, Saudi Arabia, Belgium, Spain, Nigeria, Kenya, Libya, Colombia, Tunisia, Afghanistan, France, Morocco, Great Britain, Germany, Israel, Algeria, Egypt, Canada, Japan, South Africa, Poland, Sweden, Guatemala, Syria, Yemen, Slovakia, Palestine, North Morocco, Lebanon, Australia and the list goes on. Some come regularly, some - randomly, some just like tourists for one or two games only while they are in Istanbul," explains Alina.

Matches are held on Mondays and Saturdays in Feriköy, Şişli from 9 p.m. to 10 p.m. and every Thursday in Bostancı from 8 p.m. to 9 p.m. The drop-in fee for a game is TL 25 and TL 40 for couples and includes the venue rental and water. For more info, check out: https://www.facebook.com/iTeamFootball/

Girls on the Field

"Kızlar Sahada" is Turkey's first private women's soccer league that also functions as a charitable organization introducing soccer and sports to underprivileged children. This league is for women of all ages and levels and will take place through October and November with registration coming to a close Sept. 22. For a fun and exclusively female soccer experience, Kızlar Sahada is truly an excellent organization.