Opening its doors this past May, this hotel was the culmination of three years of planning and lots of hard work by Australian expat Jason Noble and his wife Sirem, who made the big move to Turkey to realize this dream and new chapter in their lives after meeting and spending two decades in Britain. Their story, which is an interesting one, was also filmed over the course of six months for an episode of the television program "Our Dream Hotel", which is set to run on the UK's Channel Five this fall. Their website, www.ioniaguesthouse.com, which introduces the guesthouse also features a captivating blog that Jason and Sirem started from the very beginning, telling the story of moving to and building in Turkey.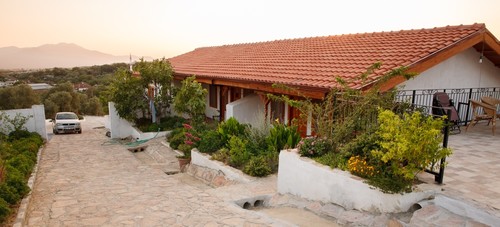 While plans are to expand to double in size in the near future, the Ionia Guest House currently has two spacious rooms with en suite bathrooms and private verandas. There is also a swimming pool with a large terrace, and an adjoining café surrounded by olive groves overlooking the village of Hıdırbeyli.
Jason and Sirem bought the land, originally a fig orchard, which was to become the Ionia Guest House back in March 2014 and made the big move of quitting their jobs and relocating to Turkey just a few months later. Suddenly they were living in a small farmhouse adjacent to their fig trees which they now had to learn how to harvest. Their plan was to build a small hotel with four rooms around a central garden courtyard and pool. They are passionate about green building so they used 100 percent local materials. The walls are timber-frame, with straw bale in-fill, and finally covered in layers of lime plaster. All this gives excellent insulation against both the summer sun and the winter cold. They also plan to grow their own fruit and vegetables, to use great local food, and to raise chickens for eggs for an adjacent café that will also serve breakfasts open to outside visitors
I had the opportunity to catch up with Jason and Sirem about their project, making the big move, the upcoming television show, life in general in Turkey, and now running their Ionia Guest House. Jason, hailing from Sydney, Australia, and Sirem, who grew up in the town of Ereğli, near Konya, met back in the day in the U.K., in Brighton, where Jason was studying for his PhD at Sussex. "I had a Turkish friend at the university, and you know how it is: once you have one Turkish friend, you quickly have twenty Turkish friends," he says smiling, "and so, we were introduced to each other at a party."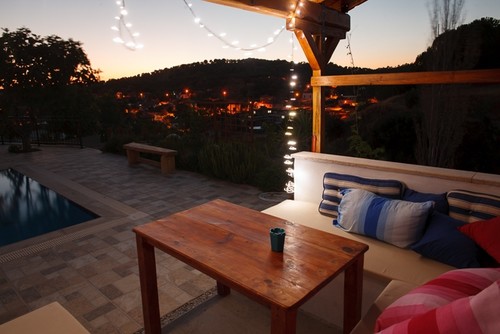 After spending a good two decades in England and a short spell in Germany, they both decided to leave their jobs and move to Turkey to open a bed and breakfast. So Jason, once a senior lecturer in computer science at Southampton University and Sirem, who, with a background in law, had been working in the social housing sector in the U.K. for over 10 years, packed up all their stuff, loaded it onto a truck and then a ship, and finally they themselves made the big move.
I asked Jason why they chose to relocate to Turkey and he said, "I think it was the usual story of both working for too long in large organizations, and starting to get frustrated with some aspects of our respective organizational cultures. And maybe we had lived through too many British winters, but we didn't want to wait until retirement to live somewhere sunnier and to do something different so we decided to take a chance, sell the house, and see whether we could build a nice place in Turkey that people would want to visit."
Jason and Sirem named the bed and breakfast Ionia Guest House in reference to the ancient civilization that once ruled this area of the Aegean. "The biggest tourist attraction, I think, is the incredibly rich profusion of archaeological sites around the Meander Valley. Everybody has heard of Ephesus (located just half an hour away) but there are so many lesser-known ancient cities that are equally rewarding to explore...Priene, Miletus, Didyma, Magnesia, Tralleis, Aphrodisias, etc. That's one thing that we hope will bring visitors to our place," said Jason.
At the start of the summer, the Ionia Guest House opened their first two rooms to bookings; however their plan is to eventually build another two rooms and to complete their café kitchen. "We're also going to experiment with opening the cafe for serving breakfast to people who are not staying at the hotel, especially on the weekends. There are great breakfast places in the Kirazlı valley, and some in the hills behind Aydın, but there's not much around here, so hopefully our place could catch on with local families as somewhere to go for Sunday breakfast", explains Jason, while also sharing that visiting the Köy Sofrası restaurant in the village of Kirazlı was one of the inspiring moments for their decision to settle in the Aegean agricultural region of Germencik.
I asked them if they plan to stay for good and they assured me that most definitely, as they enjoy living in Turkey for so many reasons, citing "the weather, the food, the relaxed pace of village life, being able to go to great beaches like Pamucak or Dilek National Park whenever we want - all that sort of thing. We also get a lot of satisfaction out of visiting and photographing the local ancient sites, and we get the advantage that we can now call it work because we will put the photographs on our website."
Ionia Guest House featured on 'Our Dream Hotel'
The U.K. TV production company "TwoFour Productions", also caught wind of Jason and Sirem's project from their entertaining blog detailing their experience of transforming their lives as professionals in England to move to Turkey as first-time hoteliers. The production company happened to be working on an upcoming television program called "Our Dream Hotel," which will air on British broadcaster Channel 5.
They were specifically looking for people from the U.K. who had quit their jobs and were involved in projects to build hotels or B&Bs with no previous experience in the hospitality industry. "So we were a good match for them and they were a good match for us. Think 'Grand Designs' but with hotels and B&Bs instead of houses", Jason explains, adding, "It's not something we planned for and not the sort of thing we've ever been involved in before, but we were keen to do it as it will presumably be great publicity for the hotel". They also happened to be big fans of "Grand Designs" the popular show which tracks people pursuing and realizing their vision of building their own homes. And so, throughout their build, a three-member production crew flew out from the U.K. every two months or so to check on and film their building's progress. The Ionia Guest House will be episode four of the Channel 5 series "Our Dream Hotel", anticipated to air this fall, while the Dutch version of the 42-minute show has already aired in the Netherlands on RTL4.