Circuit Istanbul is an arts and culture space in Kadıköy's colorful Yeldeğirmeni neighborhood that connects people through gatherings, exhibitions and creative workshops. Founded and run in part by expats, their programs focus on mindful living, environmentalism and sustainable creativity. In addition to hosting regular yoga sessions and a variety of art-related and movement workshops, they also organize a Ye-şil-len-dir-e-lim program, which is a workshop series focused on building relationships with each other and with our environments. The workshops are facilitated by Circuit and funded through U.K.-based Creative Climate Leadership http://creativeclimateleadership.com/ program and provide an opportunity for people to come together, share their experiences about living in the city, and work together to expand Istanbul's green community.
On Saturday, Oct. 21 they will host the fourth in their series of Ye-şil-len-dir-e-lim, an evening of food, company, and creative discussion about our human nature connection. The event will take place from 5 p.m. to 10 p.m. and participants are advised to arrive on time as they are planning a special opening activity!
While doors open at 5 p.m., there will be a special activity entitled "Meet Your Neighbor and Your Nature" that will take place between 6 p.m. and 8 p.m. This social activity will give participants the chance to get to know their fellow attendees. "Prompted by a series of questions, you will share city life experiences with friends and strangers. It is an opportunity to listen and to be heard about how it feels to live in the megacity of Istanbul and how we might support one another in building greener and more mindful communities."
From 8 p.m. onwards there will be a Tupperware Dinner with music and more. The dinner will be potluck style, meaning everyone is invited to bring some food or a dish to share. For Circuit Istanbul, avoiding unnecessary disposables, in other words using sustainable or reusable packaging, has always been an aim they achieve to strive to, so keep that in mind. In other words, don't bring single-use packaging unless it is recyclable.
On the following weekend of Nov. 4 to 5, Circuit Istanbul will also be hosting an autumn bazaar with sustainably-minded brands by designers from Istanbul. Held from 1 p.m. to 6 p.m. on Saturday and Sunday, this is a great opportunity to check out sustainably creative products, while enjoying tasty food and a festive atmosphere. Both events are free and will take place at Circuit Istanbul, located on Uzun Hafız Sokak No: 39 in Kadıköy's mural-laden Yeldeğirmeni neighborhood, which if you haven't visited recently is definitely worth checking out in itself. Visit www.circuitistanbul.com for more info.
Social Networking and more

Circolo Roma Istanbul is an association that was founded in 1931 to promote and support the Italian community living in Istanbul. Located out of the Italian House on Meşrutiyet Street between the Pera Hotel and Museum in Tepebaşı, it not only functions as a home away from home for the Italian community, but they also host a wide array of interesting events and workshops, such as cooking courses, book clubs and training in the arts.
"Speednetworking" is an especially interesting event coming up that will be hosted by Circolo Roma Istanbul on Monday, Oct. 30 from 7 p.m. to 9 p.m. Think speed dating, but in this case the focus will be on networking, in other words, being introduced to new people of different nationalities, to meet and interact for either business intentions or to simply make new friends.
Facilitated in English by professional performer and Italian expat Martina Pavone, who just so happens to be a corporate trainer with the "Let's Improv to Improve program," a women's empowerment coach for WonderFULL and the co-founder and CEO of Onar as well as the artistic director of Raise your Woice Festival. This event will be "Italian Style, she adds, explaining that in addition to having a table system, there will also be group and team building activities held.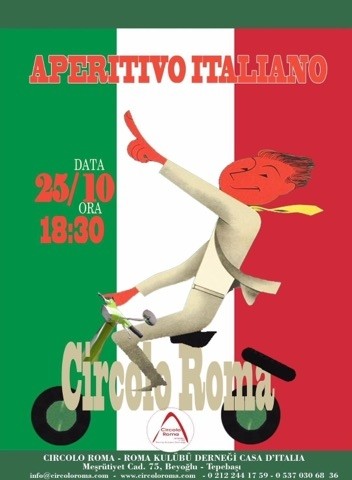 On Wednesday, Oct. 25, they will also be hosting an Italian Aperatif Party from 6:30 p.m. to 9:30 p.m., a sort of socializer with Italian food and music.
Meanwhile earlier in the day, their Introduction to flamenco class will begin, held on Wednesdays from 11:30 p.m. to 12:30 p.m. and taught by Maria Pura, an expert in the dance style who has performed with dance troupes all over the world. Check out www.circoloroma.com or contact: info@circoloroma.com for information and to reserve your spot for these events.
Blast from the past!

Tomorrow night, Saturday, Oct. 21, two of Turkey's top cover bands of legends from the past will be taking the stage in two separate performances on the night.
Meat the Beatles are a highly successful Beatles cover band that has even performed at Beatles Week in Liverpool. They will be performing at DasDas, located in the impressive Watergarden in Ataşehir, one of the newest and fastest-growing live music venues the city now has to offer. The show starts at 10:30 p.m. and tickets are TL 23 ($6) and available on Biletix.
The Doors Trip are you guessed it, are a cover band that performs music by The Doors. They will be performing at The Wall Taksim on Saturday at 10:30 p.m. for a free show in this pub located in the heart of İstiklal.