Erman Balkın Küçükebe and Sarper Sesli are the motorcyclists behind Cape2Istanbul, a project that started in early May in which they have been riding their motorcycles for four months all the way from South Africa to Istanbul.
As the name Cape2Istanbul implies, their route started in Cape Town, located at the southern tip of the African continent. From there, Erman and Sarper made their way through Namibia, Botswana, Zimbabwe, Zambia, Malawi, Tanzania, Kenya, Ethiopia, North Sudan, and Saudi Arabia, which is where they were when I had the chance to catch up with them. Since then they have boarded a ferry from Dubai in Saudi Arabia, a three-and-a-half day journey that will take them through the Suez Canal to Iskenderun, where they will complete their journey to Istanbul.Both Erman and Sarper are experienced riders, athletes and travelers.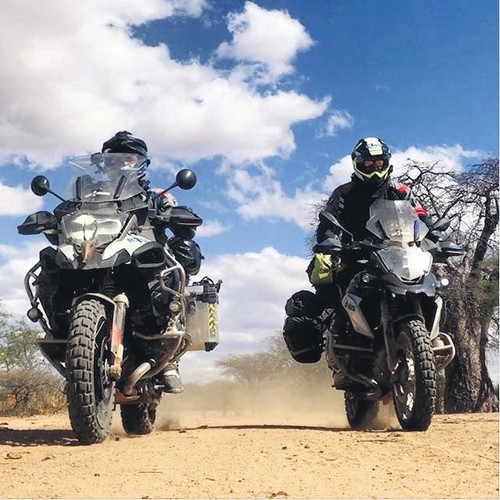 Before the tour even began the two took part as a team in Cape Epic, dubbed the "The Untamed African Mountain Bike Race," in March 2017, which they completed in, making them the second Turkish team to do so in its 14-year history. This, my friends, is no easy feat as Cape Epic is widely considered to be one of the toughest mountain bike races in the world. It takes place over the course of eight days and encompasses 691 kilometers of South Africa's Western Cape, 15,400 meters of which was done climbing. The most televised mountain bike race of all time, Cape Epic falls into the prestigious Hors Catégorie, the literal translation of which means "Beyond Categorization" and is a French term used in cycle races to designate an incredibly difficult climb.
This, however is nothing new for Erman who has competed in countless similar competitions, whether it be biking, motorcycling or even the global off -road driving adventure competition Land Rover G4 Challenge, the successor to the Camel Trophy, in 2006 and in 2009, when he made it to the finals.
Sarper's experience in adventure sports began with bungee jumping as Turkey's first "Jump Master", since then he has trained extensively in motorcycles, completing courses such as "Advanced Riding Skills, Enduro, Tour Guiding, First Aid and Mechanical Skills with none other than BMW Head Trainer Thomas Wolf. After working as a manager and senior instructor in Turkey's first international motorcycle training and life center, BMW Rider Academy in Istanbul, Sarper started the first commercial motorbike tours in Turkey, which has since extended to Europe, the Middle East, Asia, South America and South Africa, which has been his home since 2008. Through his tour company Ride the Earth, Sarper has held 163 motorcycle tours with 1,469 "happy riders," he tells me.
Therefore, these two were more equipped than anyone to take on such an epic challenge and I had the fortunate opportunity to catch up with the two motorcyclists and athletes traversing the world yet hailing from Turkey just as they got set to board the three-day plus ferry that will finally bring them home. They are the first Turks to take on this particular route in which they not only took part in local activities, but also concluded via ferry from Saudi Arabia.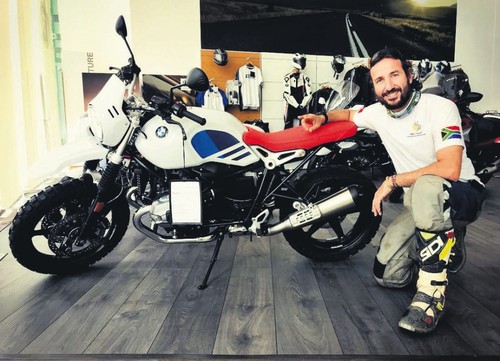 I asked Erman to tell me a little bit about the bikes and gear they took with them on this hardcore adventure to which he said, "The motorcycles were BMW R1200GS and BMW R1200GS Adventure, which were equipped with certain additional accessories to make them more suitable for a long trip like this. These included accessories such as fog lights, wider foot pegs, headlight guards, shorter brake and clutch levers, hard and soft panniers, USB ports, etc. We also carried basic and even advanced medical supplies, tools, camping gear, cooking and barbecue gear of course, cameras and even a drone," he explained.
Their journey began on May 9 and involved four months of traveling, excluding a nine-week break they were forced to make to work out certain customs regulations in Ethiopia, during which they had to store their bikes in Nairobi and flew to Turkey and then back to complete the route.
I asked Erman how far they would travel on average, to which he said, "Our daily mileage ranged from 0 kilometers, when we would stop to take part in certain activities to anywhere up to 600 kilometers, when we would have to cross a certain stretch where there were no accommodation facilities. We tried to do as many activities as possible on our route, including game drives, visits to national park, indigenous tribes and even took part in the Victoria Falls half marathon in Zimbabwe."
When I asked what sort of animals they came across on their travels, they told me that on the "game drive tours," which they explained is the preferred term for safari, which does not imply hunting, they got to see many animals native to the continent including lions, hyenas, cheetahs and giraffes, to name a few, while they also would come across beautiful beasts such as elephants and giraffes on the public roads in countries like Botswana, Kenya.
Asking what the reception was like from locals when they learned they were two Turks riding all the way from Cape Town to Turkey, Erman said, "We were absolutely welcomed warm-heartedly in every country, especially in Sudan and Saudi Arabia. Since there aren't many Turkish motorbike riders touring on this route, most of the time we were the first ones they had ever met." Upon this my question was how was their perception of Turks, to which he shared, "I would say, the Africans love and respect the Turks in general, but in this regard, I especially have to mention the Sudanese."
As for where they enjoyed the most out of all of the countries they traveled, they told me, "We loved every country and tried to make the most out of each of them. But," Erman adds, "if I had to travel again, I would choose Namibia, Botswana, and Kenya."
I also asked the two if there were any interesting stories they could share from their travels in which they told me, "In Botswana, we had to ride through a 1-kilometer stretch which was flooded due to catastrophic heavy rains. A detour was possible but it would have added another 1,800 kilometer to that day's ride, so we had to just do it, but it took one hour just to cross that one kilometer stretch." They also shared that they were surprisingly met and greeted in Turkish by two priests in a roadside restaurant in Tanzania; one just happened to be of Turkish origin and had been in Kadıköy just the week prior. The priests then asked if they would mind being blessed by them for a safe trip. "Of course, we accepted their offer and this was the first time we had ever been blessed in our lives," they shared.
But the stories don't end there; they also were faced with an armed Mursi fighter in Ethiopia, a member of an indigenous tribe known to be less social and even aggressive at times, in which case they were forced to make a quick 180-degree turn, while fearing for their lives.
As for what they missed from their homeland, they said, "Well, besides our loved ones, Turkish food is always something anyone would miss, wherever you are on earth. Other than that, we tried to adapt to the circumstances in every country we visited and to not compare it to anything we knew of before. But, we did miss the cool waters of the Aegean Sea more than anything," Erman shared.
As for what lies in the future, Erman, a true athlete to the core, will be focusing on cycling training for the upcoming season while Sarper will resume his tours as a registered professional adventure tourist guide in South Africa. Through his Ride the Earth program, he offers 4x4 and motorcycle tours with a minimum of six riders and a maximum of 10 that include both a support vehicle and a spare bike in the areas of his expertise, which covers Africa, South America, New Zealand, Europe and Australia. Visit ridetheearth.org for more info on tours and check out Cape2Istanbul on social media to find out where these two skilled athletes and adventurers will end up next!