Speech Bubbles is Istanbul's longest standing English-language theater company, which was first started up in 1989 by Tom Godfrey, who is also the director and founder of the International Training Institute, who along with other English language instructors would perform sketches with English material to students of the language.
Since then, Speech Bubbles has developed into a full-fledged theatrical company based in Istanbul that is made up of English-language speakers and learners from a variety of nationalities and ages that consist of musicians, actors and dancers that perform theatrical and musical and productions and teach theatrical skills in courses held throughout the year. The annual Christmas pantomime, which Speech Bubbles has held since 1992, is one of two performances the theatrical troupe holds each year to raise money for charities.
True to the format of a traditional Christmas pantomime, what they do is take a fairy tale and turn it into a comedy with songs and dances and months of rehearsal. An entertaining event for all ages and expats and locals alike, you can check out this year's talented roster in their performance of Aladdin, a traditional English pantomime "full with evil baddies and innocent goodies from Egypt to China," as they describe. Suitable for kids and adults, the pantomime is interactive fun throughout as you boo those up to no good and cheer as the hero tries to defeat evil, all with songs and dances and laughs mixed in.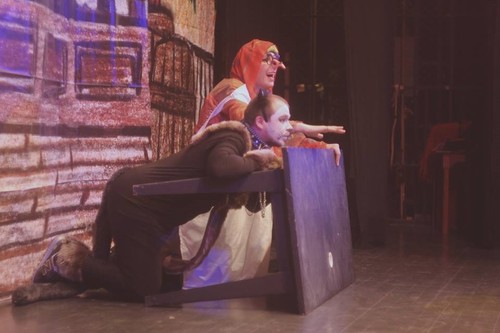 This weekend, Dec. 9-10, there will be three performances of Speech Bubbles' "Aladdin" at Şişli Terraki on Saturday at 3 p.m. and 7 p.m. and on at 3 p.m. Tickets cost 35 TL ($9) for adults and 30 TL for children and can be reserved online on the Speech Bubbles website at www.speechbubbles.org and will also be available at the door.
All proceeds from the show will go to Mor Çatı, a charity dedicated to victims of domestic abuse. Speaking with director Kenny Laurie ahead of this weekend's show, he explains, "In 2016, Speech Bubbles' two shows were able to raise over TL 24,000 for worthy causes, and we are hoping to donate a similar amount this year."
I asked Kenny what the prospective audience should expect from this weekend showing and he said, "Good old fashioned family fun. Pantomimes are very unique, loud, interactive, colorful, silly, funny and familiar. It is Aladdin this year, so everyone is familiar with the story and some of the characters involved. There are lots of dances and songs, with kids and adults performing."
Speaking with Kenny I asked how many people were involved the show to which he said that between the cast and all the dancers, the front of house, backstage crew, sound and lights, there at least 60-plus people involved in the production.
I asked Kenny to describe who all was involved and he said, "The cast comprises of some Speech Bubbles veterans, tried and true performers that have done pantos for years and some newer actors who have brought some freshness and enthusiasm to the project, as well as obviously talent."
While the majority of people involved in the production are adults, the very nature of a pantomime show is more geared toward children Kenny confirmed, explaining that this format of play allows kids to interact with the actors while they're onstage, in other words, "to boo the baddies and cheer on the goodies. Often the goodies need help learning how to do the right thing and the kids provide the direction and so every year the panto is a big hit with the kids."
This however in no way means that these shows are any less entertaining for adults. You see in essence, Speech Bubbles consists of two parts, the theater group that will be performing this weekend and the School of Performing Arts which takes place on Saturday mornings from 9:30 a.m. to 12:30 a.m. during which they teach children, teenagers and adults host to sing, dance and act, "not only to perform on stage and beyond, but more importantly to perform better in life."
Not only are the classes for novices to learn how to perform for others, but Speech Bubbles also offers training for teachers of the performing arts in English, so basically there are many ways to become involved no matter what age or background. "While the kids love being involved in the Speech Bubbles classes and they get the chance to perform what they've learned in the main season shows, on the stage with the adults, the best way for adults to get involved is to join the big productions," shares Kenny, which is exactly what he did.
Well-known in Istanbul's expat performing circles for his prowess in improv, Kenny Laurie, the director of "Aladdin," who has worked on four Istanbul "pantos" thus far, says pantomime was a chance to reconnect with his language and culture as a teacher working in Turkey. "I had done a lot of improv theater in Istanbul but taking over the pantomime was a huge job. The panto is an old tradition but I hope we can give a few new jokes and surprises to keep everyone entertained. It is all for a good cause."The comedy may be British, but each year the show attracts expats of various nationalities as well as Turks and Brits. The event brings on the holiday spirit and the show provides good entertainment for family fun, while the proceeds go to assist local charities. Check out Speech Bubbles entertaining production of Aladdin this weekend at the Şişli Terakki Vakfı Theater in Levent.